Reviewing Burt's Bees Organic Soap Bars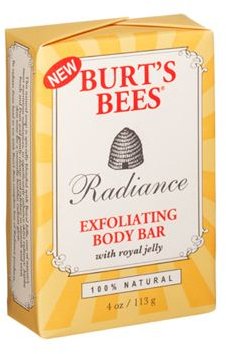 Burt's Bees Eco Bath Bars
Burt's Bees offers a line of eight different eco soap bars. Each bar is created from a base of Soybean, Coconut, Palm and Olive oils with a Jojoba butter to add a thicker and creamy consistency to the bar. The bars range in size from 4oz, 3.5 oz and 2oz bars all of which are packaged in 100% recyclable materials.
For more information on other green products from Burt's Bees, see Eco Soaps: Burt's Bees Facial Cleansers and Organic Hair Care: Burt's Bees.
Organic Soap Bars Collection
Radiance Exfoliating Body Bar - This bar uses a high concentration of organic Royal Jelly for optimal skin nourishment and Jojoba beads for gentle exfoliation of dead skin cells. Scented with Rosemary leaf extract, Billberry extract and Orange fruit extract. This bar is not recommended for those who are predisposed to Spring time allergies.

Naturally Nourishing Milk & Shea Butter Body Bar - This bar contains organic wild crafted Shea Butter and organic Milk powder. The Milk powder is de-fatted, which makes it a nourishing skin cream. Soy proteins and safflower round out this highly hydrating skin cleanser that has been proven to increase skin moisture by 42% just after one use. This product is not for people who have oily skin.

Extra Energizing Citrus & Ginger Root Body Bar- This bar is based on Coconut, Safflower and organic pure Orange Oil. Organic honey is added for moisture, while the sugar esters are used to create softer feeling and smoother skin. Essential citrus oils and ginger root extract combined with coconut and sunflower oils create a wonderfully rich cleansing complex for your skin. Naturally moisturizing honey and sugar esters nourish and soften skin, while an abundance of aromatic botanics rejuvenate the body. Scented with Ginger Root, Neroli, Clary Sage, Bergamot with Orange and Lemon peels for additional texture.

Citrus Spice Exfoliating Shower Soap - This bar was created to exfoliate and invigorate your skin while cleansing. Combining Lemon oil from both the fruit and the peel of the Lemon tree, gives this bar an astringent and anti-irritant effect for over all skin health. Bay leaves are ground up along with almonds to add to the exfoliation effect. Scented with Patchouli, Clove and Cinnamon oils makes this a spicy smelling bar. This bar is not recommended for those who have highly sensitive skin.

Fabulously Fresh Peppermint & Rosemary Body Bar - This is a highly fragrant bar that was created to both cleanse the skin and stimulate the senses. Ground Almond flour is added to the base ingredients to give skin that super silky feeling. The Peppermint oil used for this bar is wild crafted from the Mediterranean.

Poison Ivy Soap - This bar was created to help relive skin irritation and itching. A blend of organic Jewelweed, Tea Tree oil and organic Pine Tar acts as both an antiseptic to affected skin and can also help sooth the urge to itch. This bar is not for everyday general use but for use when you are dealing with the skin being affected by Poison Ivy, Oak or Sumac and to help deal with bug bites while in the great outdoors.

Peppermint Shower Soap - This bar is based from organic Peppermint oil and also contains ground almonds, calendula flower and comfrey. The bar was created to gently exfoliate the skin, while giving a little natural "tingle" to the skins surface while cleansing. Not recommended for those with sensitive skin.

Baby Bee Buttermilk Soap - This bar combines a base of organic Oat flour with Buttermilk powder to gently cleanse and sooth the skin. Honey is also added for its skin calming and anti-fungal qualities.
To learn more about Burt's Bees eco soap bars and for ordering information, visit their main web site at: www.burtsbees.com