Burt's Bees Organic Body Washes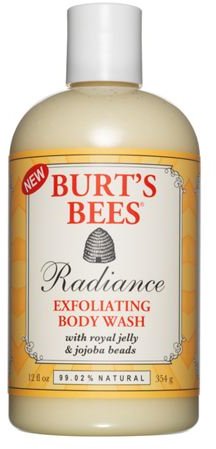 Burt's Bees Creates Body Wash
Burt's Bees has created a line of eco soaps that include both organic bar soaps and organic body washes. Using a base formula of soy and wheat proteins combined with essential oils, and various plant extracts to bring you a blended variety when choosing an eco soap product. Their product line of organic soaps include four distinct body washes which we will be looking over in this article.
The majority of these organic washes contain Royal Jelly. Royal Jelly is a natural bee product that the hive regularly produces for the queen and for a select number of female bees that will become the queen. A combination of nectar, bee pollen and various flower parts contribute to a very dense vitamin and mineral rich skin emollient. Due to its very organic nature, Royal Jelly use is not recommended for people who are predisposed with strong allergies during spring time.
For more information on other green personal care items that Burt's Bees has created, see Organic Hair Care - Burt's Bees and Eco Soaps: Burt's Bees Facial Cleansers.
Organic Body Wash Choices
Radiance Exfoliating Body Wash - This organic wash is a creamy blend that contains Royal Jelly and Jojoba Beads to gently exfoliates the skim while you cleanse. Scented with Billberry extract, Sugar Cane extract, Sugar Maple extract with Orange and Lemon fruit extracts.

Naturally Nourishing Milk & Shea Butter Body Wash - This product contains organic wild crafted Shea Butter and organic Milk powder. The Milk powder is de-fatted, which makes it a nourishing skin cream. Soy proteins and safflower round out this highly hydrating skin cleanser that has been proven to increase skin moisture by 42% just after one use. This product is not for people who have oily skin.

Extra Energizing Citrus & Ginger Root Body Wash - This clear liquid formula is based on Coconut, Safflower and organic pure Orange Oil. Organic honey is added for moisture, while the sugar esters are used to create softer feeling and smoother skin. Essential citrus oils and ginger root extract combined with coconut and sunflower oils create a wonderfully rich cleansing complex for your skin. Naturally moisturizing honey and sugar esters nourish and soften skin, while an abundance of aromatic botanics rejuvenate the body. Scented with Ginger Root, Neroli, Clary Sage, Bergamot with Orange and Lemon peels for additional texture.

All In One Wash - This creamy formula is created from soy proteins to cleanse your entire body, including hair and face. The organic Sage oil andorganic Rosemary Oil are used for a more medicinal feeling clean. Sugar esters are added to soften the skin, while Peppermint and Lime oils are used to sooth and stimulate the skinsurface at the same time. Lemon fruit oil is also mixed into this wash for an astringent like and squeaky clean feeling.
With the exception of the All In One product that comes in a 4oz bottle, all other body washes come in larger 12 oz bottles. If you would like to learn more information about Burt's Bees organic body washes or to order any of the above,visit their main web site at: www.burtsbees.com