Eco-Friendly Engagement Rings - Buy Vintage or Made from Sustainable Materials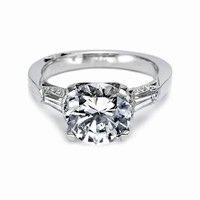 Shopping for Eco-Friendly Rings
Are you ready to take your relationship to the next level? If so, it is time to start engagement ring shopping. Aside from the day a woman's children are born, and the actual wedding day, the day she is proposed to is certainly one of the most memorable and important days of her life. When choosing an engagement ring a unique design isn't always best, most women tend to like more traditional styles of engagement rings. However, the engagement ring you present your wife to be with can still be one of the most unique engagement rings that she has ever laid eyes on because of its eco friendliness.
Eco friendly engagement rings are a trend that is slowly catching on, but at the time being is still in its beginning stages. Just like when choosing a traditional engagement ring you must take the three C's into consideration. Cut, Color and Clarity. Modest sized good quality engagement rings start at $800 at the bare minimum. This is certainly not the time to scrimp and save, after all you are asking the woman that are madly in love with to spend the rest of her life alongside you, you have to give her some incentive (kidding).
However, there are a few things that make shopping for an eco friendly engagement ring a bit more unique. You have far more options when shopping for "green" engagement rings, you can buy a vintage (in other words used) engagement ring. Another option is to create a custom engagement ring using recycled metal for the setting and lab produced diamonds instead of mined diamonds. When shopping you can also inquire where the diamond is from, to ensure it was mined using safe and legal practices. Don't forget to shop for eco-friendly wedding rings as well, better to do it sooner rather than later, because those wedding expenses will sneak up on you pretty quickly.