Styling Hair Organic Products -Try John Masters Organics for Organic Styling Products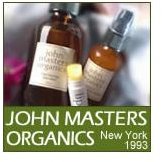 John Masters is a cosmetologist who worked in high end salons through late 70's and 80's. In the later part of the 80's he decided to start experimenting in organic hair care due to wanting to create a healthier environment and healthy products for himself and his clientele. In 1991 he came out with his first organic styling product and has since opened his own organic salon in New York, while developing his organic hair care line.
The John Masters Organics line carries six styling products. Each product is certified organic both on a national and international level and are endorsed by PETA (People for the Ethical Treatment of Animals) due to none of his products being tested on animals. Through Masters love of animals, he has even created an organic pet care line but for this article we are just going to take a deeper look at the organic styling products that he has created.
Shine On: Touted as a leave in conditioner that offers supernatural shine and softness, this product uses organic kelp in place of synthetic silicone to coat the hair for smoothness. Carrot seed oil, Aloe and Chamomile are blended to lock in extra moisture to the hair shaft.

Hair Pomade: This product is safe to use on color treated hair and designed to add moisture while controlling the hair style. Based with mainly beeswax for that pomade stiffness, this product also contains Jojoba oil and Mango butter.

Bourbon Vanilla & Tangerine Hair Texturizer: This product is an extra strength pomade made with Shea Butter, Orange and grapefruit peel oil for added shine and a more defined texture than the regular Hair Pomade. Safe for use on color treated hair.

Sweet Orange & Silk Protein Styling Gel: Created from hydrolyzed silk protein for added body, this product also contains Honeysuckle, Soy and Cedarwood oil for an uplifting fragrance with shine and control.

Deep Scalp Follicle Treatment & Volumizer for Thinning Hair: This product was created to promote healthy new hair growth and stimulate the scalp for thicker hair. Made from a combination of herbals that include Irish Moss, Burdock Root and White Tea. Safe for use on color treated hair.

Sea Mist Sea Salt Spray with Lavender: Designed to give that fresh, full bodied look that comes from being outdoors. Sea Salt and Lavender oil, along with water are the only ingredients in this product. Safe for use on color-treated hair.
The John Masters Organics collection also includes a line of organic body care products. To learn more about the entire collection of John Masters Organics or to order any of the organic stylizing products listed above, visit his main web site: www.johnmasters.com