Types of Cloth Diapers: Read This Style Guide for All the Eco-Friendly Options for Your Baby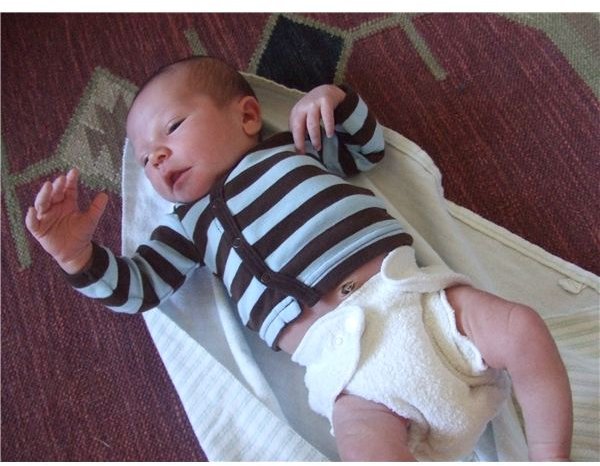 Cloth Makes a Comeback
Cloth diapers have recently been revolutionized. No longer secured with sharp pins and covered with vinyl pants, today's cloth diapers have been obsessively re-designed to work great and be easy to care for. The market has recently seen a boom in cloth diaper choices and a growing interest in choosing cloth diapers over disposable ones. Start researching this new trend, and you can become overwhelmed with the diaper choices available today. The first thing you need to know is what styles of cloth diapers exist so you can evaluate your family's needs and decide which diapers will work for you.
Diapers & Covers
Many - but not all - cloth diapers need a waterproof cover to keep your baby's pants dry. Today's diaper covers are made from breathable materials and are designed to hold the diaper in place without pins. Many come in fun, colorful prints. Polyurethane-laminate (PUL) covers are most common, though diaper covers can also be made with polyester fleece or wool. Diaper covers usually come in sizes ranging from newborn to toddler, but some new PUL styles are size-adjustable. One diaper cover can last through
several changes. They can be air dried and re-used until they are soiled or smelly.
Under the diaper cover, parents can choose from prefold diapers, contoured diapers, or fitted diapers. Prefolds are soft cotton diapers that need to be folded in thirds to fit inside the cover. These traditional-style diapers are the most cost-effective way to cloth diaper your baby. When shopping for prefolds, you will notice you can choose from Chinese or Indian diapers. Although they are very similar in construction, Chinese diapers generally last through more wear-and-tear than Indian diapers. Look for the label "DSQ" which tells you the diapers are diaper service quality. Choose unbleached cotton to avoid associated dioxin production. You can read more about how to fold and use prefold diapers here.
Contoured diapers are hourglass shaped and therefore, do not need to be folded. They are made from several layers of absorbent material - usually cotton or hemp. They are quick and easy to place in a cover during a diaper change.
Fitted diapers have Velcro or snap closures on the front and elasticized leg openings. Though fitted diapers need a separate cover to be waterproof, babies can wear them alone around the house allowing for extra air flow. Using fitted diapers can also decrease the amount of diaper covers you will go through by containing messes within the diaper.
All-in-One Diapers
All-in-one (AIO) diapers are just that - a waterproof cover sewn onto several layers of absorbent material. They go on just like a disposable, making AIOs a good choice to leave with grandma or other caregivers who may be uneasy about using cloth. Many AIOs come with additional snap-in liners to add at bed time or when extra absorbency is needed. Depending on the brand you buy, AIO diapers can come in different sizes or be size-adjustable. AIOs can be expensive to buy for your entire diaper stash, but having at least a few can be handy when convenience is a priority.
All-in-Two Diapers
All-in-two (AI2) diapers consist of a waterproof shell and snap-in soaker pads. The shell (essentially the diaper cover) can be air dried and reused until soiled or smelly. You purchase many more soaker pads than you do shells, making this an affordable diapering system. Some of the best AI2 diapers on the market today are GroBaby and Softbums diapers. Both these brands are one-size diapers and designed to fit a baby from birth (or shortly thereafter) until potty training.
Pocket Diapers
Pocket diapers are wildly popular with parents and babies alike. Pocket diapers combine a waterproof cover with an inner layer of stay-dry material. The pocket formed between the layers can be stuffed with anything absorbent - usually an included microfiber insert. Since the absorbency can be adjusted, parents who use pockets can double-stuff for nighttime or with heavy-wetters. Pocket diapers dry faster than AIOs after washing. They are available in separate sizes or as adjustable one-size diapers.
Finding What Works for You
Keep in mind that most parents choose a combination of diaper styles to use in different circumstances. Many parents feel that a basic diaper, like a prefold, works great for use at home but using a pocket diaper at night helps keep their baby dry. All-in-ones can be great to use at daycare or when on a short trip. Many online cloth diaper retailers offer special starter packs with several different diapers so you can see which ones you like best. Whichever diapers you choose, know you are making the best choice for the environment by using cloth.
Photo: Author's own
This post is part of the series: Using Cloth Diapers
From basic supplies, to what to do in emergencies, learn the ins and outs of using cloth diapers for your baby.