Shell Pattern Knit Afghan: Free Knitting Pattern for Shell Stitch Afghan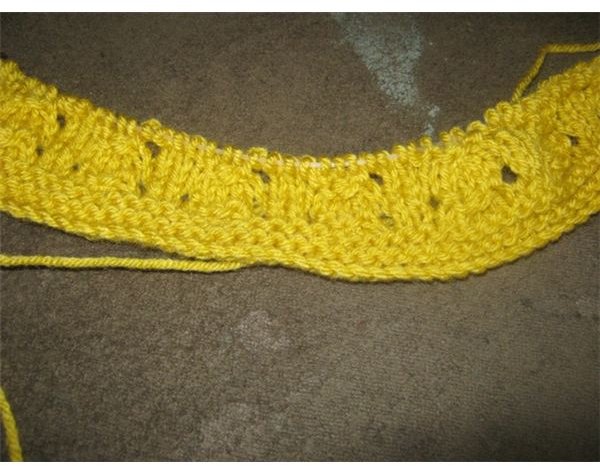 Little Shell Stitch Afghan
Whether you want a full-sized afghan for an adult or an heirloom gift for a new baby, the little shell stitch is a good choice. The knitting shell stitch is lacy but not overly open, so it will provide warmth and decoration all in one blanket. The pattern is a simple one, consisting of 4 rows of stitching repeated over and over again. Only one of those rows is anything more than straight knits and purls, so this project is suitable for even a beginning knitter.
There are a lot of different things you can do with this stitch as well. Make a narrow version of this afghan and call it a scarf or a wrap. Use it as a table runner or make several of them up as place mats. I knit mine for a kitten, and you could use this pattern to make a blanket for other pets as well. The size I made would be ideal for a baby doll, and slightly larger than that would work for a real infant.
Knitting Preparations
I'm the queen of Dive Right In knitting. You know the type - who cares about gauge and swatching, let's just go ahead and cast on! However, I understand that being this type of knitter often means I have to rip out my stitches and start over when something turns out the wrong size, and that sometimes even something like an afghan needs a little planning and preparation. So, in the spirit of that knowledge, let's do a little prep work before starting an afghan, OK? OK.
First off, this pattern is fairly straightforward. It has a garter stitch border of four stitches on either side to make it flat, and it starts and ends with four rows of garter stitch for the same reason. The lace portion is easy to memorize, so it's simple enough for even a beginning knitter. If you can knit, purl and yarn over then you can knit this afghan.
If you want to knit a gauge swatch, cast on 9 stitches; this is one pattern repeat. Knit the following four rows until you get a square:
Row 1: Knit all
Row 2: Purl all.
Row 3: Knit 2, YO, P1, P3Tog, P1, YO, K2.
Row 4: Purl all.
Measure this square, particularly the width. Determine how wide you want your blanket to be in order to know how many pattern repeats you will need.
For my afghan, I used Worsted weight yarn (also known as Aran weight yarn) and size US 9 (5.5 mm) needles. You can knit this afghan out of any yarn and any coordinating pair of needles, just understand that your afghan will be larger or smaller depending on how far away from my yarn and needle sizes you go.
Images
Materials and Abbreviations
Use the yarn of your choice for this afghan; choose a knitting needle size that corresponds to that yarn, maybe one size larger than recommended to get a really open lace pattern. In my case, again, I went with worsted weight yarn and size US 9 (5.5 mm) needles. Use circular needles that are long enough to hold enough stitches for your afghan; in other words, if you want your afghan to be 50 inches wide, don't use 16-inch circulars.
In addition to the yarn, you will also need a pair of stitch markers. This isn't absolutely necessary, but it helps keep track of the border stitches. You will also need a large eye blunt needle to weave in all of your ends when you finish knitting.
The abbreviations used in this pattern are:
K - Knit
P - Purl
P3Tog - Purl 3 stitches together as one (decrease)
YO - Yarn Over
PM - Place Marker
SM - Slip Marker
Sts - Stitches
Knitting the Afghan
In order to knit a shell stitch afghan, begin with the cast-on you prefer. To figure out the cast-on, determine the number of pattern repeats you need based on your swatch. You did swatch, didn't you? Good! So let's call your pattern repeat number "X" and do a little knitting math.
Cast on: 7X + 10. In my case, I'm knitting my afghan kitten-sized for Gary the Cat, the newest addition to our family. With my worsted weight and size 9 needles, I cast on 66 stitches (8 pattern repeats times 7 is 56, plus 10 is 66).
After you cast on, knit your afghan in the following manner:
Rows 1-4: Knit all stitches.
Row 5: K4, PM, K across to last 4 sts, PM, K4.
Row 6: K4, SM, P to last marker, SM, K4.
Row 7: K4, SM, K2, *YO, P1, P3Tog, P1, YO, K2.* Repeat from * to * across to last marker; SM, K4.
Row 8: K4, SM, P to last marker, SM, K4.
Repeat rows 5-8 for the body of the afghan.
Final 4 Rows: K all stitches. Remove markers as you bind off.
Thread your yarn tails onto an embroidery needle or other large eye blunt needle and weave in your ends.
Further Resources
Need a little knitting refresher? Check out these resources:
Casting On: Knitting Basics
Pattern based on author's experience
Image by author