Organic Halloween Costumes for Kids - Try These Organic Companies for Chemical & Plastic Free Masks & Costumes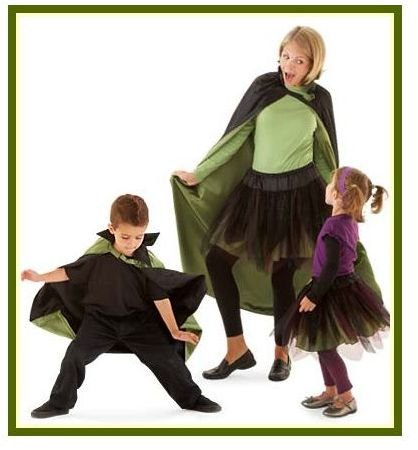 Dressing Up Fun for Halloween
Little one's all over America get excited about dressing in costume for Halloween. Granted the excitement maybe more over gathering the candy but getting to dress up can play into a large part of fun for the holiday.
There are many options when it comes to picking out the right costume from most of the mainstream retail stores but the mass produced costumes come with one major down side: processed chemicals. Plastic chemicals that are prevalent in face masks, paints and capes can introduce unwanted toxins to your child's skin and lungs.
Organic and Safe Halloween Costumes
There are organically safe companies that create green Halloween costumes in fun and breathable materials. Here we are going to take a look at the various fashionable offerings available for online ordering.
Magic Cabin is an organic doll making business that has branched out into making Halloween costumes. For full costumes they offer: Little Witch, Girl's Pumpkin, Silk Princess, Fairy, Mermaid and Native American. Costume accessories range from the Pirate Collection to wings and capes. To view their costume line visit Magic Cabin Halloween Costumes.
Harrison's Halloween creates hand made and organic costumes for babies. Currently, they offer a witch, spider, Frankenstein, Dracula and Vampira. See their selection at Costumes for Your Little Monster.
Sarah's Silks offers hand cut, dyed and sewn silk costumes from California. In addition to the silk princess dresses, they also offer costumes for Dragons, Knights, Unicorns and Wizards. View their costume gallery at Dress Ups.
Nova Naturals offers a selection of non-toxic face pencils to add that extra sparkle or spookiness to your little one's costume. Available in two set's of six colors, the pencils are made from natural wood and palm oil that is easily washed off. You can find them here under Face Pencils.
Ideas to Make Green Halloween Costumes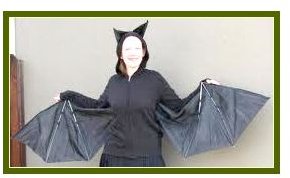 Now, if you are looking to create something greener at home for a costume, try going through some old clothes and recycle them. You could create a gypsy dress, a coat of many colors or anything else along the lines of your imagination.
The following are some ideas other green parents have come up with for creating a toxin-free Halloween costume for their kids:
Recycle an umbrella to create bat wings
Recycle old cardboard boxes to create robots, legos and other square formed characters
Recycle old plastic garbage cans and containers to create armor
Recycle paper as leaves or make a costume out of old newspaper and junk mail
Piece together old clothes, sheets, blankets to create a new costume
These are just a few ideas to get you started when creating a green costume at home. In the image to the left is an example of the bat costume made by recycling an umbrella. You can find a full tutorial on making those bat wings at Evil Mad Scientist Laboratories. Another way an umbrella could be used is by creating wings and turning them around. Remember to use non-toxic paints when embellishing your homemade costumes and to keep the focus on recycling items that you already have around the house.
*images provided by and © 2010 Evil Mad Scientist Laboratories, © 2010 Magic Cabin