How to Make Natural Brass Cleaner at Home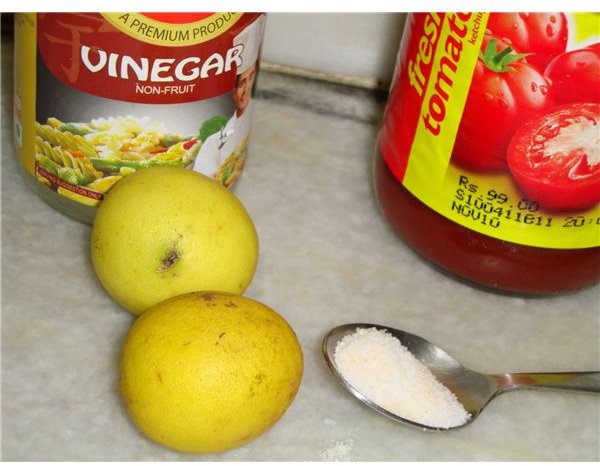 While some brass objects look simply awesome when they develop a rich patina, other brass articles, especially things like door knobs and latches, look grimy. There are two ways to restore that golden brilliance of your brass items. One option is to grab a pack of some commercial brass cleaner, and the second one is to make a natural brass cleaner at home. The second option is definitely smarter and more pocket friendly. Homemade brass cleaners are quick to make and they're as effective as the ones you pick up from the market. So, we'll teach you how to make brass cleaners with your own home ingredients, which are non-toxic and completely organic. Here are five brass cleaner recipes, all of which call for ingredients that are easily available in every kitchen.
Brass Cleaning Recipes You can Make at Home
Before you get started cleaning, it's always advisable to remove brass fittings and fixtures from the furniture. All the recipes discussed here are acidic in nature and thus can cause some damage to the polish on your furniture. Also, to make your job easier, wash the articles with a mild soap solution before using the cleaner on them.
Homemade Brass Cleaner Recipe # 1
This one is the easiest - all you need is some tomato ketchup. Just spread an even layer of tomato ketchup on the brass
item, and rub it well with a cotton ball. Let the tomato sauce stay on the item for half an hour and then wash it off with plain water.
Homemade Brass Cleaner Recipe # 2
For this brass cleaner recipe you need three ingredients –
one part vinegar (white only),
about three tablespoons of salt, and
one part water
Mix the ingredients in a saucepan and bring it to a boil. Add the brass articles to the pan and simmer for about 5 - 10 minutes. Let the items remain in the solution for another 15-20 minutes. Finally, rinse them in cold water and buff them dry. Avoid using this recipe on embellished articles, as this can cause damage to the embellishments.
Homemade Brass Cleaner Recipe # 3
The above two recipes may not be practical for larger brass objects, so here's another one that can be used for cleaning almost any brass item.
Mix 1/2 cup fresh lemon juice with 2 teaspoons baking soda. Apply this solution to the article. You can use a cotton ball for the application, and it's even better if you use a lemon wedge instead. The lemon wedge will do a good scrubbing job. Let the solution dry on the item for about half an hour and then you can either wash it off with water or wipe the item clean with a wet cloth. And finally, don't forget to buff it dry.
Homemade Brass Cleaner Recipe # 4
This recipe is for a brass cleaning scrub:
Half a cup of flour
One cup vinegar, and
2-3 Teaspoons of salt
Make a runny paste using all three ingredients, and scrub the brass articles with it. Leave a thin layer of the paste on the object, and let it dry. Finally, wash it off with water and wipe the article dry. If you have problem removing the scrub, use a soap solution and a sponge to remove it.
Homemade Brass Cleaner Recipe # 5
And here's the last one. For making this brass cleaner you need –
Cream of Tartar – 1 tablespoon
Lemon Juice – 1 tablespoon
Mix the two ingredients to make a paste and scrub the brass item with this paste. You can use a sponge or cotton ball for scrubbing. This recipe is one of the strongest and doesn't need any waiting time before you rinse the item clean.
Brass Care Advice
Although all the above recipes are non-abrasive and contain natural ingredients, you shouldn't try them on lacquered brass. Lacquered brass has a fine layer on its surface to prevent it form oxidative damage, and any scrubbing or the use of any acidic material will cause damage to this layer. For cleaning lacquered brass, just stick to a mild soap solution and a soft sponge.
Another important point I'd like to add in here is about the after care. To minimize oxidative damage, rub a little olive oil after you're done with the cleaning and buff the item to remove excess oil and give the item a shine. However, avoid using oil on brass fixtures or they will become slippery. The other way out, especially for brass fixtures, is to coat them up with transparent fingernail paint (the one you use as the base coat on your nails). You need to be really skilled to do this, as what we need is a really thin and smooth layer.
So now that your know how to make brass cleaners with your own homemade ingredients, you won't have to rush to the market and waste your money, the next time your brass door knob gets tarnished.
References & Credits:
This article is entirely based on the knowledge and experience of the author.
Image Credit:
Image by – Sidharth Thakur