Top 5 Shoes Made from Recyclables for Kids, Toddlers & Babies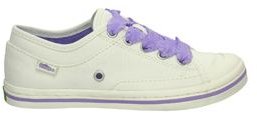 Little Green Feet
A large part of making green choices for kids' footwear is following the three "Rs," reduce, reuse and recycle. Buying or acquiring used shoes and donating old shoes when kids outgrow them are good ways to reduce and reuse, particularly for kids who often outgrow their shoes before wearing them out.
Choosing new shoes with recycled material is another important way to keep kids' feet green. Shoes with recycled content are becoming increasingly available as companies strive to improve their sustainability and as more people choose green options in footwear. A growing number of shoe companies now use recycled and eco-friendly materials in their shoes, for adult and children's sizes alike.
In the past few years, choices in eco friendly shoes have blossomed, and are increasing every year. Take Simple, for example; in 2007, the company began using recycled polyethylene terephthalate (PET) from recycled soda and water bottles in its shoes, in 2008 it introduced recycled car and bike tires and inner tubes, and in 2009, it brought in recycled carpet padding. Now every shoe Simple makes contains sustainable and recycled materials. Other companies are incorporating these materials in their shoes as well, such as Timberland, Patagonia, Chaco, and the four other companies featured in this article. Although it is still difficult to find a 100 percent recycled shoe, there are many options for shoes with recycled content.
Simple
Every pair of shoes Simple make is eco-friendly. It incorporates recycled plastic bottles, tires, inner tubes and carpet padding in many of its shoes. The materials that are not recycled are natural and sustainable materials including hemp, jute, organic cotton, bamboo, natural rubber, wool and eco-certified suede and leather.
Simple has a wide range of kids' shoes for infants up to big kids. Most of the kids' shoes have partially recycled bottoms and natural fiber or leather uppers. A few of the shoes have uppers made partially of recycled PET. Many of their kids shoes have recycled PET elastic laces as well. It is not just Simple's shoes that are recycled – shoeboxes and foot forms are made from post consumer recycled paper with soy based ink and starch based glue. The featured shoe, "Girls Take on the Ribbon," is a vegan shoe and available in sizes for ages 4 to 12 years. The uppers, lining and footbed are blends of recycled PET and organic cotton. The sole is 40 percent recycled car tires and 60 percent natural rubber.
ScooerBees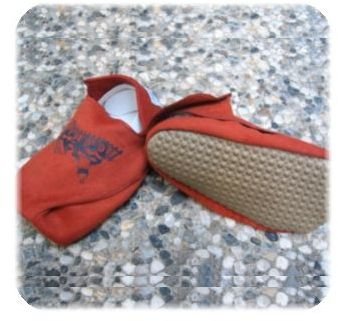 Developed by a mom, ScooterBees are specially designed to be easy to put on and take off little feet. They are durable, washable, and soft-soled, ideal for developing feet. These shoes are for babies and toddlers, and are available in four sizes for infants to two-year-olds. The fun thing about ScooterBees shoes is that each pair tells a story with changeable pictures on the top.
ScooterBees shoes are made of Sensuede, a faux-suede fabric made from post-consumer and post-industrial recycled materials including PET. The bottoms are made of a material called ThermoPlastic Elastomer (TPE), a water resistant, anti-slip, biodegradable product made of carbon and hydrogen. The shoes are CPSIA certified to be lead-free and phthalate-free.
Pedoodles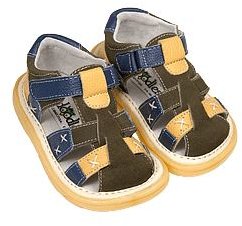 Pedoodles make shoes for children newborn to four years old. The company prides itself on making shoes that are good for children's feet, with flexible and breathable leather and flexible rubber soles that protect feet while simulating barefoot conditions, as pediatricians recommend for developing feet.
All of Pedoodles shoes use premium leather and suede remnants that would otherwise be thrown away, but are the perfect size for making little shoes. The repurposed leather and suede is safe for children, tested to be free of lead and other harmful chemicals. The soles of Pedoodles shoes are made of recycled rubber, and the shoes come in gift boxes made of recycled paper. The company also uses recycled paper for its orders and recycles or reuses all of its shipping materials.
Ocean Minded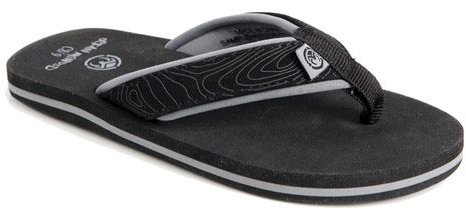 A California based company, most of the shoes Ocean Minded make are flip-flops and sandals. It offers mens, womens, and childrens shoes, and many of its shoes incorprate recycled materials including recycled PET bottles, car tires and recycled wool. The boy's "Reeler" is one of the kids' models with the highest recycled content. The lining and toe post are made of recycled PET, and the midsole is 25 percent post-industrial recycled foam.
Ocean Minded is an environmentally-minded, socially responsible company, operating on the premise that "everything ends up in the ocean" Aside from using sustainable materials, Ocean Minded frequently organizes beach and community clean-ups to keep the oceans clean for everyone to enjoy.
TOMS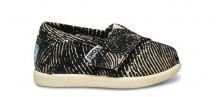 TOMS is a unique shoe company in that for every pair of shoes purchased it donates a pair of shoes to a child in need in a developing country. Blake Mycoskie, inspired after visiting Argentina where many children do not have shoes, started the company as a way to provide shoes to children in need. The model for TOMS shoes is the traditional alpargata style of shoe worn in Argentina. The youth shoes are of the alpargata style, which the company calls the "classics" style and come in sizes 12 to 6. TOMS shoes for smaller kids, called "tiny TOMS," have a hook and loop closure and are available in sizes 2 to 11.
The company is working toward using more sustainable materials, and a few of their shoes are vegan and made of recycled materials, including a select number of the youth and tiny TOMS shoes. To find childrens designs that contain recycled materials, type "recycled youth" or "recycled tiny TOMS" in the search bar within the site.
References
Simple, https://www.simpleshoes.com/ph/index.aspx
ScooterBees, https://www.scooterbees.com/index.html
Ocean Minded, https://www.oceanminded.com/
TOMS, https://www.toms.com/
Pedoodles, https://www.pedoodles.com/
Image Credits:
Simple, Little Kids Shoes, https://www.simpleshoes.com/ph/productslist.aspx?g=k&categoryid=482
ScooterBees, Products, https://www.scooterbees.com/product.html
Pedoodles, Our Shoes: 2 to 4 years https://www.pedoodles.com/section.php/12/0/
Ocean Minded, Kids Sandals https://shop.oceanminded.com/kids-oceanminded/kids,default,sc.html
Toms, Tiny TOMS https://www.toms.com/youth/tiny?view=all