Ideas for Computer Case Repurpose Projects: Turn that Box into a Planter, Shelving, Storage & More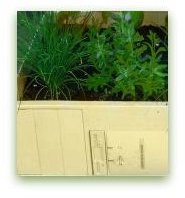 Repurposing at Home
The idea of repurposing and upcycling items that we have around the house has grown in popularity over the past ten years. Some people do it to save money buy not having to buy new things, some people do it to save on waste at the local landfill and some people do it just because they like to be crafty at home. Whatever your reasons for taking old items and finding new uses for them, the overall end is good for both the local and global environment.
Some common items that people reuse are books, newspapers, buckets and clothing. Here though we are just going to focus on computer case respurposing ideas. Here we will take a closer look at different ways that you can take those old pc towers and turn them into something useful around the house. It is important to keep in mind that in each of the following ideas, we always start out with a case that has been gutted out. This means that any case you use will have to have all boards, wires and drives pulled from it before repurposing.
Now This is a "Green" Computer
Whether you live in an apartment or a house, you can still use an empty PC case for decorative plant housing. In order to create a new home for your plants, all you will need are the case and container pots.
In this is basic use system just take your case, lay it flat and place the container pots in them. One advantage to doing it this way is that it easy to place the case near a window so that the plants get plenty of light.
What plants you use are completely up to you but many people have had success with ivy plants. The ivy grows outward and trails along the case creating a nice green view where once there was a basic case. You can also decorate your case if you want to look at something a little more colorful than the common beige.
If you have a yard for planting, then you can also fill the case with dirt for outdoor use. Just take the case, add potting soil and embed your plants. The case can also be used for a small scale version of lasagna gardening using layered planting materials when placed outside.
Shelving Uses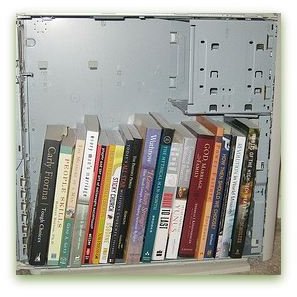 Empty cases are also great for building makeshift shelves. Much in the style of using milk crates to house books, switching the crates out for empty PC cases can be just as useful.
In order to make a safe and effect shelving unit, you will need a Dremel tool with the sanding attachment. Another tool with sanding capability can be used but many who have created this type of shelving tend to rely on a small handheld. Use the Dremel to carefully smooth down the sharper edges of the PC case if it is made from sheet metal. Other case housing such as plastic may not need this extra step.
Once your edges are smooth, place the case upright on a smooth surface with the empty side facing out. Insert books and now you have a simple bookcase or other item shelving. Some people have taken the cases and attached them to walls for shelving units instead. To hang the case you will need to drill holes through with the Dremel tool and check the wall area for studs before hanging.
Under the Bed Storage
A simple and space-saving way to repurpose old computer cases is to use them for storage. Many people buy expensive storage boxes that they fill with shoes, blankets or seasonal clothes just to hide them away under the bed.
Use up the empty PC cases instead and you'll end up with an easy to slide container to store a myriad of small items in, and you won't have to shell out a single cent. If you have a sheet metal case, then it is a good idea to sand down the sharper edges before you start using it for storage.
Beyond the ideas above, there really is no limit to what you can do to when reusing old cases. The only limitation is in your imagination and resources. Other ideas that people have come up with include the following:
PC case mini-fridge
Holding Art Supplies
Creating Upcycled Art
Pet Beds
Two more options are to rebuild a computer using an old case, or recycling the housing at a local computer outlet who rebuild machines for charity.
References
Randy Sarafan, 62 Projects to Make with a Dead Computer & Other Discarded Electronics, Workman Publishing Company, 2010
Image Credit: Bookcase, Scott Gottreu, https://www.treutech.com , CC BY 3.0
Planter, royalty free image