10 Ideas for Recycled Plant Markers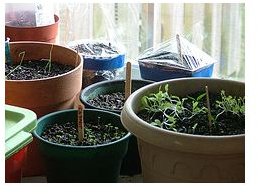 Gardens are an eco-friendly method to not only add beauty to your space, but also grow your own food. You can add to the effort by using recycled or repurposed items in and around the garden. Recycled plant markers are both creative and efficient items.
The Famous
The most famous recycled plant marker is the legendary ice cream or Popsicle stick. These wooden flat sticks look like tongue depressors but are the leftover from a tasty snack. Gardeners long ago realized that you could write on them with marker to label the rows of seeds and seedlings in the vegetable garden.
Household
Many household items can become recycled plant markers. Plastic knives and spoons can be written on with marker at the end that usually goes in the mouth. Here's an article by Keren Perles on why this is the best option for plastic spoons and knives. Stick the handle in the ground. Plastic lids also are useable; write the plant name on one half of one side of the lid and bury the other half in the dirt. Metal lids cut from cans may also be used although the potential for you or an animal to cut themselves is raised. Cut up cardboard egg cartons; use the flat sides cut into strips to make plant markers. The backing from razors, batteries and toys can also be used as long as there is no printing already on it.
Bits and Pieces
Cut up old mini blinds into pieces. An article by J.C. Wilkenson shows how here. Milk jugs can also be recycled into plant markers by cutting the sides into triangular shapes. Wash out the jug and remove the label. Draw a group of thin "x" marks up each side of the jug with the open ends facing the sides instead of the top and bottom. Use a sharp pair of scissors to cut out the shapes. Mark each triangle with the name of the plant and put the narrow end into the ground. Large pot shards, or broken plates can be written on to make ceramic recycled plant markers. Sand down edges to avoid sharp corners.
Tips for Use
Use insoluble or permanent marker to write plant names on plant markers being used outdoors. Rain and humidity will wear off the words otherwise. Plastic outlasts wood if you want to have the same set of markers for multiple seasons. Indoor gardens can use repurposed cardboard or wood items. Metal lids will rust over time; limit their use to single seasons. Paint brushes, both wood and plastic, will last multiple seasons. Metal forks with labels weaved through the prongs will allow you to change labels each year.
Recycling and repurposing items takes a little imagination, but if you get creative you can make almost anything into something else. Use shoeboxes to hold your new plant markers during the off season.
Resources
Personal experience of the author as a gardener
RecycleThis.co.uk - https://www.recyclethis.co.uk/20110215/what-can-i-reuse-or-recycle-to-make-seedlingplant-labels
LittleHouseInTheSuberbs.com - https://littlehouseinthesuburbs.com/2009/03/aluminum-can-plant-markers.html
WeekendGardener.net - https://www.weekendgardener.net/blog/2008/02/home-made-plant-labels.htm
Image Credit: Flikr/ConnieMjc