5 Ways to Repurpose Doors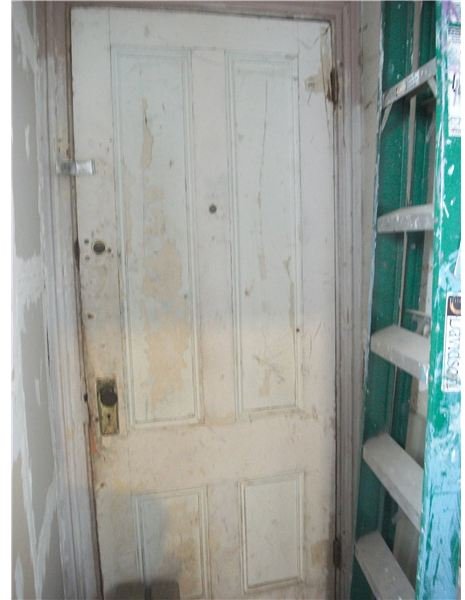 Repurposing and Recycling
The concept behind recycling is basically to give an item a new life or use. Recycling cans, paper and cardboard is often done on the community level with the material going back into more cans, paper or cardboard. The conecpt behind repurposing is essentially the same; take an old or no longer used item and give it a use. Repurposing differs at this point because the item often gets used for something other than originally intended. Tires and buckets can be used as planters. Coffee cans become storage containers. Repourposing doors follows the same idea.
Ramps
One of the simplest methods to repurpose a door is to make a ramp from it. The door has to be solid wood to support the weight. Doors used as ramps can be used to bring motorized chairs or scooters up stairs. You can also move items up ramps via dollies and carts. Older heavy doors make the best ramps. Remove all of the hardware, handles and trim before using to make the surface as flat as possible.
Tables and Trays
Another way to repurpose doors is to make them into flat surfaces to put things on. Tables and trays are examples of this. Artula Gupta wrote an article with two great uses for doors both large and small. Attach posts to large wooden doors for sturdy tables; you can attach doors to the tops of filing cabinets to make a work desk. Use smaller doors from cabinets to make trays. Add a handle opposite to the existing handle to create a way to carry the tray.
Cabinets and Shelves
Along the same tone, you can repurpose larger doors into cabinet doors and shelves. Measure and cut the doors to size. Make sure the hardware is removed. Sand down the rough edges and stain to suit the décor of the room. You can attach suitable hinges and handles to the smaller cabinet doors found at local home stores. If the door had recessed panels, cut a thin piece of plywood to cover one side for a smooth surface. Cut the doors lengthwise to make the shelving.
Room Dividers
Here's an idea that allows you to be creative with interior design. Room dividers can create added storage space or hide appliances such as washers and dryers or furnaces. Doors can also become privacy screens. Add mirrors and hangers on one side to make your own changing room. If you have a toilet in a small bath, use a door to separate the toilet from the room for privacy.
Greenhouses and Cold Frames
The last method that reuses old doors makes use of glass and storm doors. Sandi Johnson wrote a Bright Hub article on building a simple greenhouse. This method uses old doors and windows. Using the existing frames of the doors and windows you can nail or screw the pieces together. You may need to build or replace the framework to get a good fit. Plan the greenhouse before building it to ensure no gaps are produced.
A similar idea is to make cold frames from old glass doors or windows. Attach hinges to adjacent sides and they become a folding cold frame. Use the cold frame over plants planted outside to keep the frost away and extend the season a few days.
Reusing old doors, wood or otherwise, not only saves them from taking up space in the landfills but creates an added individuality to your home. You can personalize the new item with stain, paint, papers, or sand down the wood to make a natural look. Storm doors can be painted with a metallic paint; for the greenhouse idea use black paint for the frame to attract heat.
References
Personal Experience of the Author as a Property Maintenance and Management Business Owner.
Image Source: William A. Swan