Reviews of the Best Interior Solar Shades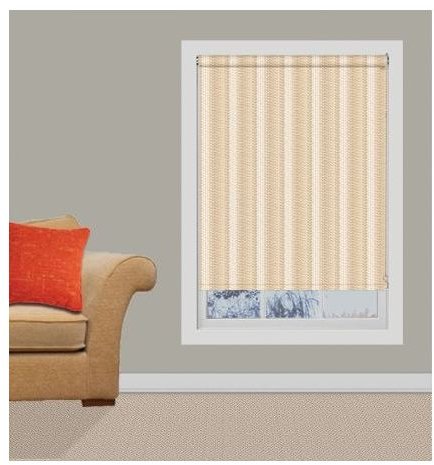 Depending on the brand and model, interior solar shades can reduce heat by up to 80%, reduce glare by up to 97% and block UV radiation up to 99%, providing huge and instantaneous energy cost savings to a home, including reducing home heating and cooling costs by up to 15%. At the same time, they allow continued visibility outdoors. Some of the best interior solar window shades on the market today come from Bali, Comfortex, Graber, Halcyon, Levolor and Phifer.
Bali Solar Shades (5 out of 5)
All Bali solar shades are made from 75% PVC and 25% Polyester. Depending on the design, they provide between 5% and 14% openness (most designs providing about 10%) and offer up to 90% UV protection.
The Bali collection of solar shades comes in various hues from white to black, including ivory, beige, pewter and brunette, as well as several attractive patterns with names reflective of their design, including Arbor, Benton, Fairmont, Lanai, Mist, Regatta, Shoji, Skylar, Solarium, Steppe, Tropics, Weave and Vineyard.
Bali solar shades are customizable with cordless lifts, an easy and safe alternative to corded operation. Other options with the cordless lift include wood or color-coordinated tassels. Alternatively, customers can opt for color-coordinated chain operation. Customers can also order Dual Shades that combine two solar shade and/or roller shade fabrics.
Customers almost uniformly rate Bali solar shades high on quality, ease of installation and appearance. There seems to be virtual consensus on customer's total satisfaction with the blinds' appearance and near-total satisfaction with quality, there being only a slight dip when it comes to ease of installation.
Bali solar shades are sold with a limited lifetime warranty.
Comfortex SilverScreen Solar Shades (5 out of 5)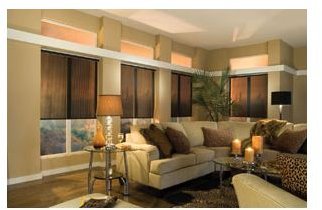 Comfortex offers a variety of energy efficient interior shades ranked using the company's own EcoGreen Rating system that looks at the environmental responsibility of materials used, the sustainability of manufacturing practices and, of course, the energy efficiency of the shades.
Many Comfortex products even come with GreenGuard certification for indoor air quality. Customers also have the option of choosing PVC-free fabrics for their choice of shade material, including the one official "solar shade" fabric in their product line SilverScreen fabric. Like other brands of solar shades, SilverScreen fabrics feature a super-thin aluminum layer to boost energy performance without decreasing visibility. It is made of PVC-coated glass fiber and contains no formaldehyde or other potentially hazardous VOCs (volatile organic compounds).
According to the Comfortex EcoGreen Rating system, the Envision roller shades and Serenade Roman shades, the two solar shades made with the SilverScreen fabric, are among the top-rated Comfortex interior shades. They offer 4% openness, 96% UV reduction and reflect 76% of the heat away from the building.
Envision roller shades are available in an array of designs, including as part of the Comfortex Coordinates Collection, coordinating with their Ballet Performance drapery sheers, Harmony Cellular verticals and Panel Track shades. The Serenade Roman shades are available in choice of contemporary flat panel and classic tear drop designs. When purchasing Envision or Serenade shades as SilverScreen solar shades, they are available in choice of 6 different colors.
Comfortex energy efficient interior solar shades are available in hundreds of colors in an array of solid and patterned designs in styles both traditional and contemporary.
Graber LightWeaves (5 out of 5)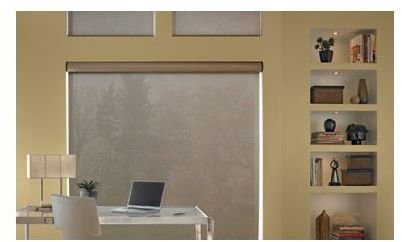 Graber interior solar shades offer from 1% to 25% openness, depending on the ratio of privacy to UV protection that you seek.
The options for customizing Graber solar shades are vast, including choice of standard or reverse roll, with color-selectable beaded chains, tassels or hem grips, and utilizing continuous loop lift, Smart Pull lift, cordless lift or motorized lift systems. Graber LightWeaves solar shades come in choice of 55 different colors and with a variety of cornice and valence options, in styles from rustic to classic to elegant.
For wider windows, Graber interior solar shades coordinate with Graber Panel Accents sliding panels. They can also be customized to fit bay windows and corner windows.
Graber has been a trusted name in window treatments for over 70 years, starting business in 1939 and promoting a Green by Nature philosophy of ecological sound and responsible business practices. They offer a limited lifetime warranty on their solar shades.
Halcyon Shades (5 out of 5)

Halcyon Shades are made from transparent polyester and feature an ultra-fine layer of aluminum. In terms of home energy conservation, they provide up to an 80% reduction in heat. They also reduce glare by 97% and block up to 98% of the sun's UV rays.
There are several different styles of Halcyon Shades, including embossed and soft-pleated designs as well as both motorized and permanent skylight designs. The selection of operating mechanisms you have to choose from with Halcyon's interior solar shades is vaster and more diverse than many other brands, with open retro and closed fascia tubes from which to hang them, as well as wood valences and metal and plastic cassette options.
Halcyon Shades come in either traditional or embossed film. The traditional film is completely smooth, providing perfect clarity in outside visibility; the embossed film utilizes a "hex-pin" texture that, while providing reduced clarity, adds extra durability and scratch-resistance.
They also come in two different tinting configurations: silvered film, tinted solely on the outer-facing side, and double color film, tinted on both sides. Silvered film has a mirrored finish facing the outside, providing greater privacy during the day; double color film offers less privacy but greater heat reduction. Both configurations provide equal UV protection.
Levolor Solar Screen (5 out of 5)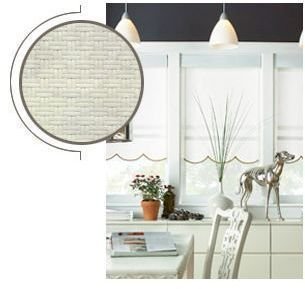 Levolor offers their roller shades in a choice of fabrics, including the option to use solar screen fabric. Solar screen comes in three styles: Solar Screen 3 that offers the maximum UV protection, Solar Screen 10 that offers the greatest visibility, and Solar Screen 5 which is somewhere in the middle. Each style of Solar screen comes in three different colors, each style coming in white, black and a third alternative that varies depending on the style.
Levolor's solar window shades are cordless, utilizing a spring-loaded design that's easy to use and removes the hazard that cords pose. As part of their line of Trim & Go roller shades, Solar screens qualify for Levolor's CustomSizeNow program in which your shades can be cut to custom width while you wait.
As an honorable mention, Levolor also offers custom Accordia cellular shades that, while not officially solar shades, offer immense energy savings. They come in two different collections: Exclusive Energy Shield that helps prevent air from entering or leaving through the windows, keeping homes cool in summer and warm in winter, and the higher-end Sheer Efficiency Collection for colder climates that includes Exclusive Energy Shield plus added features for passive solar heating and cooling.
Levolor roller shades with solar screen come with a limited lifetime warranty.
Phifer SheerWeave (5 out of 5)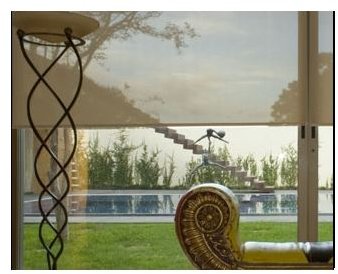 Phifer SheerWeave Interior Sun Control fabric is an elegant yet economical proprietary material that comes in a variety of styles including several that have been GreenGuard certified, ensuring the highest quality in interior shading fabric design for maximum indoor air quality and optimum health and safety of those inside the building. SheerWeave fabrics are woven from vinyl-coated fiberglass or polyester yarns. The fabric for SheerWeave Infinity style is 100% recyclable and PVC-free.
Phifer solar shades are available in one of the widest ranges of openness around, starting with a laminated blackout fabric with maximum opaqueness and going all the way up to the SheerWeave 1000 style with 25% openness.
Phifer SheerWeave solar shades come with a limited warranty.
References
Blinds.com: https://www.blinds.com/control/subCategory/categoryID,17
Blindsgalore.com: https://www.blindsgalore.com/products.asp?id=solar-screens/window-shades/#results
Images: All images direct from manufacturer