The Basics of Cross Stitch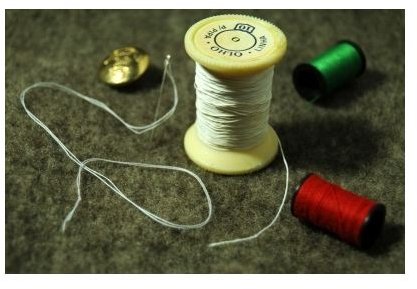 Overview
Simple items like cloth, embroidery floss, a tapestry needle and scissors are all you need to begin creating stitched items of beauty for your home or as gifts for family and friends. Don't forget an initial cross stitch lesson and cross stitch patterns, and you're set to begin.
About Cross Stitch
Cross stitch is one form of needlepoint, using X-shaped stitches to create colorful pictures. Stitchers learn how to stitch various designs, ensuring their stitches are uniform in size. As you learn how to cross stitch, using an even weave fabric makes the learning process easier for you. [1]
Other materials include a tapestry needle, sharp, small scissors and special embroidery floss. To create an easily recognizable picture from your floss, you also need a pattern, which uses symbols that tell you what floss color to use, how many stitches to make and in which direction you should take your stitching.
This is one of the oldest forms of needlepoint or embroidery and is found throughout the world. Stitchers in Europe are more likely to embroider an even weave fabric, using an eye-catching design, then frame their work and hang it on the wall for all to enjoy.
Cross stitching is popular enough that groups or "guilds" have been formed, teaching new cross stitch enthusiasts, working together on large items, giving stitchers the chance to get acquainted and making items for charity. [1]
The Materials
Embroidery floss, made from mercerized cotton, is the thread of choice. Embroidery floss is manufactured with six strands that are easily separated so you can use the required number of strands for your projects. Stitchers also have the choice of using wool threads, pearl cotton, rayon and metallic threads. Specialty threads are available for stitching and accenting certain areas of your work.
Even weave fabric – Aida cloth – is constructed with evenly spaced holes that make it easier for you to count your stitches as you work. You can also choose other kinds of even weave cloth, such as linen or other even weave fabrics, which have the same number of threads from top to bottom and left to right. [2], Cross Stitch Fabrics and Stitching Surfaces. Don't forget about perforated paper, which allows you to make 3-D projects and ornaments. Plastic canvas, or a plastic mesh, enables you to make sturdy items, like bookmarks. [2]
Cross stitch tapestry needles make it easier for you to thread your embroidery floss so you can create your projects. The point of a tapestry needle is usually blunt and the eye is larger than that of a sewing needle. The size of the needle depends on the count of the fabric you are working with. [2], Cross Stitch Tools - Tapestry Needles and More
Equip yourself with two pairs of scissors. The first pair should be larger so you can cut your embroidery fabric. Don't allow these scissors to be used on anything but your fabric, as other materials may dull the blades. The second pair of scissors should be a smaller pair to cut your embroidery floss.
The Process
To begin working on a new cross stitch project, start by figuring out the physical center of your project. Count how many stitches you have to make from the bottom of your pattern and do the same going from one side. Find the center of your fabric in the same way. The center of your design and the center of the fabric should be the same.
Thread your needle with the required number of strands and color of embroidery floss indicated on the bottom left of the pattern. Begin stitching, following the pattern. When you come to the end of a color in your current row, cut the floss and weave it under the stitches on the back of your fabric – do not secure your floss with knots because they are unsightly and will show from the front of your design.
After you have stitched the entire design, wash it in cold water with a gentle detergent, such as dish detergent. Gently squeeze the excess water out and roll the stitched fabric in an absorbent towel and squeeze the rest of the rinse water out. Lay the washed fabric out flat to dry. When it is almost dry, gently press it with an iron so the wrinkles and folds disappear. If you plan to frame your work, do so; if it is part of another design, continue working with it until you are done.
Items to Cross Stitch
Allow your imagination free rein when thinking about items you can make. If a holiday is approaching, such as Independence Day or Thanksgiving, look at items you may need – or want, find a pattern, check your supplies and get busy stitching. Christmas is one of the most popular holidays for cross stitch items, from tree ornaments to stockings and gifts. In addition, as your family grows, you can make items for new arrivals to your family. Cross stitch a new baby blanket or a hanging pillow.
If you have gift-giving occasions coming up (graduations, birthdays or weddings) make yourself the one people turn to for individualized craft items.
References and Image Credit
[1] DMC-USA: What is Cross Stitch retrieved at
https://www.dmc-usa.com/majic/pageServer/1z010000hy/en_US/What-is-Cross-Stitch.html
[2] About.com: Stitching Supplies - How to Choose and Use Cross Stitch Tools retrieved at https://crossstitch.about.com/od/stitchingsupplies/Stitching_Supplies_How_to_Choose_and_Use_Cross_Stitch_Tools.htm
Needle and Thread Free Digital Photos Credit Carlos Porto
https://www.freedigitalphotos.net/images/view_photog.php?photogid=345