How to Build a Modern Outhouse for Your Back Yard that Isn't Smelly
The benefits of building an outhouse in your back yard are that you don't have to deal with sewers or septic systems, your water bill from toilet flushing goes considerably down and you eliminate the odors associated with a bathroom from your home. With a few modern (and old-school) touches, you can even build a non smelly outhouse that eliminates those odors from your environment almost completely.
How to Build an Outhouse
Building an outhouse is not nearly as complex or intimidating as it may seem. All it takes is digging a deep enough hole and placing a simple wood shack over it. Then you add a fully-enclosed bench inside with a toilet-sized hole for seating and voila', you have an outhouse. In the Resources section of this article you'll find a number of links to outhouse building plans for a variety of outhouse designs detailing step-by-step exactly how to build an outhouse for your backyard.
A good-sized hole for an outhouse is about 3'-5' deep and an average outhouse is about 4' x 4' around and 7' tall. The bench, or shelf, should be about 2' wide and 2' high, and of course, completely boxed in. The hole can be about 10"-12" in diameter. Place your outhouse about 50'-150' away from the house. A tip to help keep down outhouse smells is to place it in a naturally shaded area.
For comfort and a more modern look, you can even place a store-bought toilet seat of your choosing over the hole. This serves the dual purpose of adding modern comfort and outhouse bathroom décor and, provided the toilet seat you choose has a lid, helping tamp down outhouse odors. This is just one of many embellishments you can add to ecological outhouses to make them more visually appealing and non smelly.
Modern Outhouse Designs to Make it More Appealing - And Non Smelly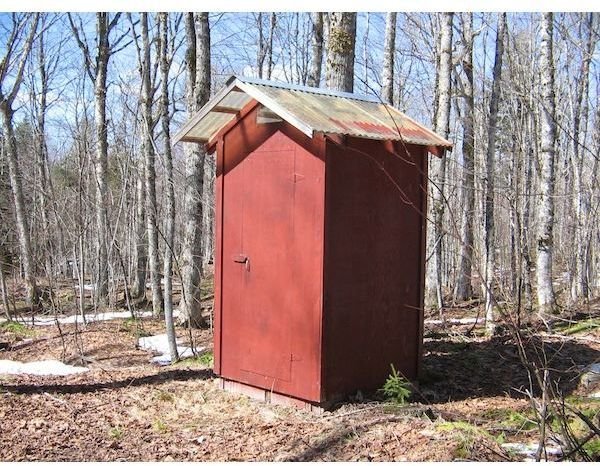 There are two ways to improve the appeal of an outhouse: adding visual appeal and eliminating odors.
To add some visual appeal to your outhouse designs you can hang shingles, tongue-and-groove, board-and-batting or other simple siding, or you can paint the outside of the outhouse solid white, deep red or even in a colorful nature-inspired design. You can install a window (which can double for ventilation, but I'm skipping ahead) and cover it with a curtain. Instead of, or in addition to, a solid wood paneled door you can install a screen door and enjoy a bug-free view of your yard (provided you've placed it right for privacy).
To make your modern outhouse non smelly, there are a number of steps you can take. Ventilation, for one, is paramount in reducing outhouse odors. A slated window placed high up on one wall is often sufficient to carry odors out of privy, especially if you have a classic sliver moon shape cut into the door to provide a light cross-breeze.
An old-school way to reduce outhouse odors is to keep a bag of lime or lye inside with a cup for sprinkling a bit on top of your waste each time you use it. For a truly ecological outhouse, a more modern alternative to that is to use sawdust or wood chips as they serve the same purpose but also compost and facilitate composting of the waste. Many green public outhouses now exist throughout the nation to provide additional inspiration.
A Privy-less Privy: Outhouses Without Toilets
The common use for an outhouse is as a no-flush toilet, but more and more homeowners are building privies in the backyards with no actual privy inside to speak of. Drawing on the classic rustic appeal of outhouse designs, possibly adorned with a few modern embellishments to your outhouse décor like shingles or other siding, many people are building outhouses in their backyards to use as novel storage sheds that display a bit of country character and charm.
The best part of this type of modern outhouse for your back yard is that, since you're only using it for storing gardening supplies and such, it's by nature a non smelly outhouse with soil and fertilizers the only real odors.
Resources
Mother Earth News: The Outhouse Out Back https://www.motherearthnews.com/Happy-homesteader/The-Outhouse-Out-Back.aspx
Jim Barry's WoodworkersWoodshop.com: Building Outhouses Construction Plans https://www.woodworkersworkshop.com/resources/index.php?cat=725
Habitat for Humanity: Quick and Easy Outhouse Plans https://teamfrostbite.uaa.alaska.edu/downloads/2009%20outhouse%20races%20bear%20paw%20registration.pdf
Images:
Lighthouse Keeper's Cottage Outhouse; Leonard J. DeFrancisci (Wikimedia Commons) https://commons.wikimedia.org/wiki/File:Lighthouse\_Keeper%27s\_Cottage\_outhouse\_%28Cape\_Florida\_Lighthouse%29\_001.jpg
Nova Scotian Outhouse; Oven Fresh (Wikimedia Commons) https://commons.wikimedia.org/wiki/File:Nova\_Scotian\_outhouse.jpg