Did Singer Make a Green Sewing Machine? A Little History on Earth Conscious Sewing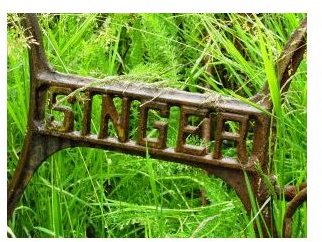 The First Singer
Before outright answering the question, did Singer make a green sewing machine, you first have to consider Singer's history in the home sewing industry. History alone will answer the question easily enough. Whether by conscious effort or simply a product of the times, there have always been options for environmentally friendly sewing.
In 1850, Issac Singer invented the world's first up and down, straight needle, lockstitch sewing machine. He developed the concept of using a treadle to power the machine based on spinning wheel designs. In 1851, with a patent for his new machine, Singer launched I.M. Singer and Company. By 1853, Singer was the leading manufacturer of sewing machines under the name Singer Manufacturing Company. Machines sold for a staggering $100 each.
The Introduction of Electric Motors and Electronic Sewing Machines
In 1880, the first ever motor-powered sewing machine was driven by an Edison electric motor. It took another nine years before a practical electric motor sewing machine became available. Again, Singer was the first to introduce this new device. By the following year, Singer boasted a staggering worldwide market share of 80%. Eight out of every ten sewing machines sold worldwide were Singers. Slowly, electric Singers replaced their treadle predecessors. By 1921, portable electric sewing machines were introduced. By 1975, sewing machines became entirely electronic, with the first computerized machines introduced in 1978.
The Rebirth of Treadle Machines
Did Singer make a green sewing machine? The answer is simple. Of course, Singer made sewing machines that are now considered green or eco-friendly. They simply did not manufacture them with the specific intent of being eco-conscious. Rather, early Singers used no electricity, relying instead on people power via a treadle.
Eco-enthusiasts and vintage sewing buffs have created a huge rebirth in the use of treadle and hand crank sewing machines. Singer never manufactured treadle machines to be environmentally friendly, nor have modern machines been designed as eco-conscious options. However, by their very people-powered nature, antique treadle machines and the people who restore them have helped fill the gap for the eco-conscious sewing hobbyist.
Sewing with a treadle sewing machine requires the user to pump a foot pedal with both feet to move the needle. Feet are placed at opposite corners of the pedal, alternating pressure to either corner to pump the pedal. When you stop pumping the foot pedal, the machine stops. The lack of electricity required for these machines makes them a perfect choice for environmentally friendly sewing. Not to mention, treadle machines offer a bit of a workout for the user.
Shopping for a Vintage Singer Treadle
Before rushing out to your local yard sale, flea market, or antique shop to find an old treadle machine, there are some things you should know. The original machines sold for $100 each in 1851. Today, however, a vintage treadle with cabinet in good condition will cost more than double the original price. If it has been completely restored to full working order and the cabinet is likewise restored, you can expect to pay far more. Part of this is due to the fact that Singer still provides limited support for these machines by way of downloadable owner's manuals and parts lists.
If you buy one that has not yet been restored, it's advisable to find someone with restoration experience first. Unless, of course, you want to scrounge through more flea markets, antique shops, attics, and online auction sites to find the parts you need. Naturally, restoring your own antique Singer treadle machine has its perks and rewards. However, it can become expensive and parts are at times difficult to find. The rewards, however, are remarkable. Not only will your machine be environmentally friendly, but it will always be an elegant piece of American history still capable of providing a useful service for generations to come.
References and Resources
Singer History Timeline https://www.singerco.com/company/history_pf.html
Treadle On, Support for Vintage Machine Users https://www.treadleon.net/
Image courtesy of Witold Barski, stock.xchng https://www.sxc.hu/photo/154113