How to Make a Hen House with Recycled Building Materials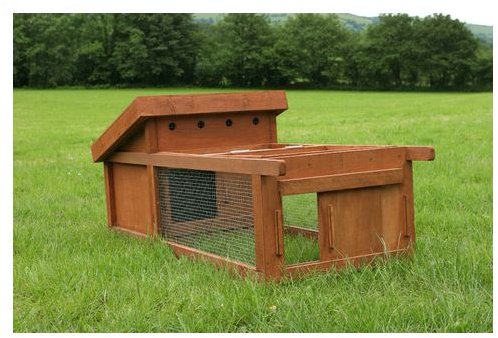 Fit for Purpose Hen House
When using reclaimed materials make sure the materials are suitable for building a hen house. Pressure treated timber is the most long lasting. Adjustable ventilation, a perch for the chickens to sleep on and dark nesting boxes help keep the chickens comfortable and healthy. Rodent proof the hen house floors with wire mesh or install a solid metal sheet lining the floor. Use a sliding down pop hole to keep the chickens safe.
Choosing a Design for a Hen House
The support timbers should be 2-3 cm thick, strong enough to support the house but not too heavy when moving the hut. Make sure in the design there is an overhung to angle water away, bituminized felt or Onduline are both used for roof material. Skids or wheels and handles make moving the house easier. A poultry keeper's door can be a lift up section of the roof to make easier access for cleaning. A solid dropping board and slatted flooring makes for easier cleaning and a rigid metal mesh floor helps to make the house rodent proof. To make slatted flooring using 1 x 1 inch timber and space 1 inch apart and make a frame around edge and place on top of dropping board.
Ventilation without drafts is important. Cover ventilation holes with galvanized wire mesh and make a sliding door to adjust during cold or hot weather. A pop-hole of 25 cm wide x 30 cm will be needed to allows the birds to get in and out of the house and can be secured at night to prevent predators from harming the chickens. Make sure to get a fox proof lock. Foxes are clever. Perches are needed as chickens like to sleep up for safety. There needs to be 20 cm of space per bird and the width of the perch needs to be 4-5 cm and rounded for easy grasping the height should be 45 cm and the perch should be removable for cleaning. Nesting boxes should be placed low and be located in the darkest part of the house. There should be one nesting box per every three birds with untreated wood shavings as a liner. Angle the nesting box so it slopes backwards. A door on top of the nesting boxes or to the side makes egg collection easier.
Sources of reclaimed materials
Freecycle.org is a good source of reclaimed materials from people who want to clear materials after a building project. Using a closely-spaced horizontal wooden frame made of rods of hazel or willow covered in feed or fertilizer bags and held down by wire mesh is a suggestion by John Semour. The inspection door for the nesting boxes can be made by hanging the fertilizer bags and weighing it down with a heavy batten at the bottom. Broad Leys Publishing Ltd has plans for how to make a hen house from a single sheet of exterior grade plywood that is suitable for three to four hens. The plans also come with instruction on how to build a run and a house for six to eight hens.
Dimensions and Materials Needed for Single Sheet Hen House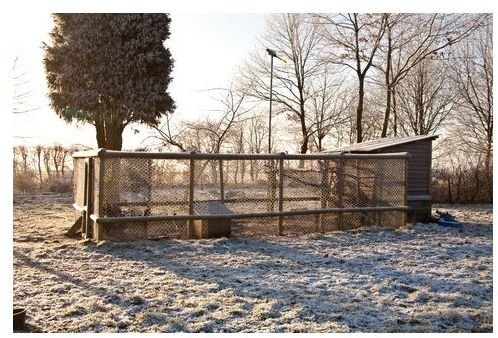 The dimension for the single sheet of plywood of 8 ft x 4 foot 2400 mm x 1200 mm 12 mm exterior plywood. The house measures 2 ft x 2 ft 8 ins (600 mm x 700 mm) internally. Laid out there are 10 cut pieces (front, base, two sides, back (with ventilation holes of 19 mm down 100 mm from top edge, and a cut out ventilation flap with battens attached above and below, make sure door slides in the runner. Use vertical off cut pieces of wood for poultry keeper door and ventilation flap to make it easier to open and shut. Cut and staple ventilator wire to cover flap.) On the front of the house there is a sliding door for pop hole. The pop hole door slides up and down on the inside of the wall, this prevents predators from nosing it open. Attach a cord to the inside of the pop hole door with staples, pass it through a cable clip above the top batten, drill a hole to the side of the ventilator, pass cord through, put a loop on the end and hook around a nail or screw above the ventilator. Allow a 5 mm gap at the side to allow for slight expansion. Cut out side for nesting box and attach three 50 mm hinges at the bottom for door to the nesting box. For the roof use batten around the edge for stability and allow a 100 mm overhang on the sides and at the front of a 190 mm. Cover with roof with roofing paper and attach with roofing screws. The house is raised on (75 mm x 50 mm timber of 800 mm length legs) 25 mm x 50 mm pieces of wood on each side of each leg and connected with wood along base, leaving an open space underneath the front of the house. Cover three sides with chicken wire or mesh. Build a chicken ramp lead up to the pop hole. Put thin strips of wood across the ramp to help the chickens grip onto as they climb up. The run is attached to the house at the front. The hen house should be positioned in a sunny spot with shade and wind protection. Nesting boxes should be lined with untreated wood shavings or sawdust.
Materials needed for Chicken Hut
Exterior grade plywood 12 mm recommended
1 x 2.4 m of 75 mm x 50 mm timber (feet 800 mm)
2 x 25 mm x 38 mm timber (door battens)
4 x 3.0 lengths of 38 mm x 38 mm treated softwood (battens for side, top and bottom battens of back)
2 x 2.4 m 25 mm x 50 mm softwood (for base, roof)
2 x 3.3 lengths of 12 mm x 50 mm softwood (corner trim for front, back, nest box)
Roofing materials
Fixtures and Fittings
2 x 380 mm zinc plated t-hinges (for poultry keeper door)
3 50 mm zinc plated butt hinges (for nesting box door)
50 mm zinc plated bolts (for attaching house to base)
8 x 1.5 countersink zinc screws (for three battens strips across floor, attaching back)
8 x 1inch zinc plated countersink screws (for battens for ventilator whole, battens to reinforce door)
6 x 0.75 in zinc plated countersunk screws (for batten on ventilator door)
6 x 0.5 zinc plated countersunk screws (for hinges of door)
8 x 2.5 roundhead zinc screws with plastic caps
Materials Needed for Hen House Run
Now that you know how to make a hen house, consider adding on a poultry run so your hens and other chickens can get exercise.
Materials Needed for Building a Poultry Run
11 of 4.2 m length of 50 mm x 25 mm sawn treated timber
Exterior grade plywood
Welded mesh
Zinc plated screws
2x 50 mm butt hinges, zinc plated
2 x 50 mm turn buttons, zinc plated
9 meters of 900 mm wide 25 mm chicken wire or 25 mm welded mesh
Wire staples
Tools Needed:
Tenon saw
Tape Measure
Hand or Electric Drill,
3mm drill bit
7 mm drill bit
Countersink bit
Hammer,
Square
Screwdriver,
Pencil
Sandpaper
Makes job easier:
Mitre saw,
G-clamps
Battery drill/screw driver
Electric taker/Staple Gun
The dimensions are 2400 mm by 850 mm with a door for access in the middle.
Resources:
Thear, Katie_, Build Your Own Poultry House and Run_, 2005,
Bland, David, Practical Poultry Keeping, 1996
Seymour, John, The Complete book of Self-Sufficiency, 1996
Images: Dreamstime