Log Bags for Wood Stoves and Fireplaces: Make a Simple Bag Sling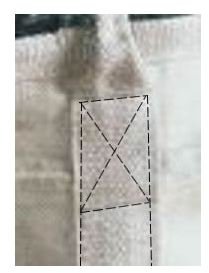 Do More in Less Time
Using log bags for wood stoves and fireplaces means you can carry more and make fewer trips out to the woodpile. The following simple pattern makes log bags that resemble a hammock. You can use upholstery fabric, hemp material, even old tarps to make these open sided bags. With a little creativity, you can even make a stand for your bags so they can do double duty as a carry bag and a wood holder. The handles can be hooked on pegs on either side of your stand to create a log hammock to hold your wood.
You'll need:
1 yard of sturdy upholstery-weight fabric or old tarp material
A sewing machine
A cloths iron
Pins, scissors, and other typical sewing supplies
Cutting Your Pattern
You only need basic sewing skills to make these log bags for wood stoves and fireplaces. So long as you can read a tape measure and make straight stitches with your sewing machine, you can make these bags. These instructions make one bag, but after you see how easy and useful they are, you may find yourself making a few of them.
Spread a 36" piece of fabric out flat, unfolding it if you're using traditional bolt-style stock. Measure and cut a length of fabric 30" long. Take the remaining 6" and cut it in half to make two long strips. Trim your large piece to measure 30" long and 20" wide. You should now have 3 pieces of fabric or tarp, one piece 30 x 20 inches, and two strips 3" wide, the full length of your original fabric.
Place the 30" piece of fabric flat, with the wrong side facing you. This is your base. Fold in the edges ½" all the way around to form a hem. Pin in place, then iron flat to making stitching easier. (If using tarp material, place a piece of cloth between the iron and the tarp to prevent melting.) Stitch a straight line down each hem, roughly ¼" in from the outer edge.
Trim your strips to under 30" long. Repeat the same steps above for each of your strips to hem the sides all the way around. You should now have 3 pieces of fabric neatly hemmed and ready for assembly.
Assembling Your Bag
The next step is attaching the strips to make handles for your sling. You will need to position the strips for the most comfortable handle for the size of your hand.
Fold each strip in half lengthwise. Place the loose ends so they meet in the center of your fabric base, with the folds towards the short sides. It may help to fold your fabric base in half both directions to find dead center.
Start with all four loose ends at dead center on the base. Move them out until you have extended the folds beyond the base's short edges. When you find the perfect handle length (4 - 4½" roughly,) spread the loose ends out evenly on the base to "open" the handles. Pin in place.
Stitch the length of the strips to the fabric base, from dead center all the way to the edge of the fabric base hem. Stitch all four sides of the strips, inside the hemline. Go back to each loose end of each strip and stitch a boxed X across the last inch of the strips. Do the same at the top edge of the strip, just below the hem on the base. (See photo.) These boxed X stitches are the final touches that will help add durability to your handles, since these bags will be carrying frequent heavy loads.
Tips for Using Your Bag
To maximize how much you can carry using these log bags for wood stoves and fireplaces, make two bags. This way, you can hold one bag in each hand and make fewer trips..
To load the bag, simply lay it flat on the ground next to your woodpile. Lay logs across the base, parallel to the handles. You should be able to fit roughly five or more logs, depending on their size and weight. When you finish loading, simply pick up the handles and your wood sits nicely in its sling for easy carrying.
Credits
Both pattern design and images courtesy of Sandi Johnson.