How to Make Your Own Self-Rising Flour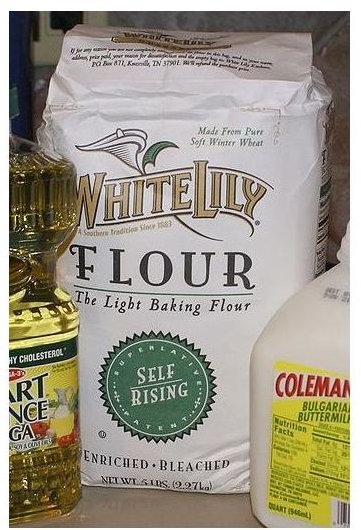 Self-rising flour is sold with salt and chemical leavening agents already sifted into it, and has a very smooth, uniform texture. Commercially made self-rising flour sometimes has a lower amount of protein or gluten in it. This type of flour is most commonly used to make cakes, biscuits, pastries, and other various desserts. One of the benefits of using self-rising flour is that it eliminates a step in food preparation and it also helps to reduce measurement errors. As opposed to other types of flour, baked goods made with self-rising flour tend to be extremely light and fluffy. When purchasing self-rising flour, it is important to check the label for the protein content, the amount of leavening agents in the flour, and the date it should be used by. However, you can easily learn how to make your own self-rising flour as it is perfectly acceptable in almost every recipe.
Recipe for Self-Rising Flour
When making self-rising flour, the ingredients you will need are all-purpose flour, baking powder, and salt.
The following recipe can be used:
1 cup all-purpse flour
1 to 1 1/2 tsps. baking powder
1/4 to 1/2 tsps. salt
Combine these ingredients in a large container. Thoroughly mix the ingredients and then sift the self-rising flour into your mixing bowl or storage container. This helps to ensure the baking powder and salt is combined uniformly and gives a light and fluffy texture to your baked goods. Store any unused flour in a cool, dark place. Over time, the baking powder may lose effectiveness so it is best to store it no longer then 6 months. However, storing it in an airtight freezer container will lengthen its shelf life.
Tips for Using Self-Rising Flour
When baking, precision and accuracy are required when following recipes in order to obtain the highest quality results. Keep in mind, however, that your baked goods can vary greatly depending on where you live, the ingredients used, and the temperature of your oven. The same applies when making substitutions and making your own self-rising flour. Recipes that call for self-rising flour do not have any measurements for leavening or salt and you may need to make adjustments to your recipes as you see fit. In addition, when using self-rising flour, the leavening is activated as soon as the wet and dry ingredients are mixed, and it needs to be put into the oven right away. If this does not happen, the dough will rise outside the oven and then collapse when it begins to bake. However, making your own self-rising flour will not change the taste or texture of the recipe, it is used for and it can be used as the ideal substitute.
There are many recipes that are enhanced with the use of self-rising flour, such as biscuits, muffins, doughnuts, pancakes, angel food cake, fried chicken, corn dogs, and pizza crust. Once your learn how to make your own self-rising flour, your cooking and baking options are limitless!
References
Better Homes and Gardens: Flour Information: Types, Storage, Sifting, Substitutes - https://www.bhg.com/recipes/desserts/baking-basics/flours-and-grains/
Betty Crocker: Flour, Self-Rising - https://www.bettycrocker.com/tips/glossary-page/ingredients/d-f/f/flour-self-rising
Image Courtesy of: WikiMedia Commons – Belinda Hankins Miller