Gift your Child an Eco Toddler Bed: Top 5 Choices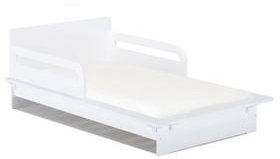 What do you get a child who has everything? An eco toddler bed! If you have had children or know anyone that has them, then you will know that while children are small, they come with a lot of things, and buying your child the newest, comfiest, prettiest item becomes an obsession of sorts. In an era of eco toddler beds and natural made baby cribs, you would be laughed (or scowled) out of mother and daughter club for making your child sleep in the bottom drawer like in the good old days. To give mothers a helping hand we have a list of the top five eco toddler beds and cribs.
Argington - Petra Toddler Bed
From Argington, the little one can spend the night in their own Petra Toddler Bed. This item tops the chart because it is elegant, space-saving and adapted to your child's growth. The wood has been finished using sustainable Baltic birch, which is non toxic and ensures the toddler stays in good health. The Argington - Petra Toddler Bed is available for $300.
Sam Crib from MUU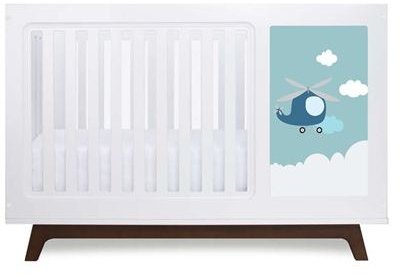 The favorite is from the customizable range from MUU, in particular their tailored Sam Crib. While looking fabulous it is helping the environment by using recycled wood fiber medium density fiberboard (MDF). Along with being eco friendly, it is also friendly to your pocket as this item can be changed from crib to toddler bed as your child grows up. Your child will love it as their personality can be added to it through the Muu Panel (shown on the website as a helicopter). These eco toddler beds can be customized over the years, using anything from helicopters to action men to Ben 10. Sam Crib costs $1175.
Oeuf Toddler Bed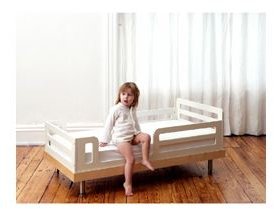 Coming in second is the Oeuf Toddler Bed for $570, perfect for when your big boy/girl does not want to sleep in a cot designed for babies, but you are not ready to risk your little one falling off the edge of the bed in the middle of the night. This bed has bars around the edge preventing your child falling as they sleep, yet it allows your child to get themselves up and out of bed should they need the toilet during the night. Ouef does their bit for the environment by fueling the factories with the wood that does not meet the high standards for their eco toddler beds.
Roh Crib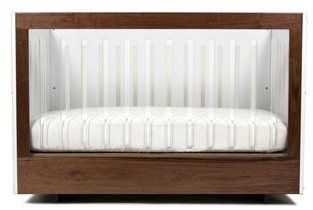 Costing $1590, the Roh Crib is very eco-friendly and is breaking the mold for cribs, making it perfect for your child's eco style bedroom. The company behind this innovation is Spot on Square. They have taken away the conventional bars leaving your toddler free to look through clear 100% recyclable acrylic and free of both BPA and Phthalate. While this crib is a little on the pricey side, it is much cheaper than sending them to college; … let us hope they stay this small forever.
Lullaboo Rocking Cradle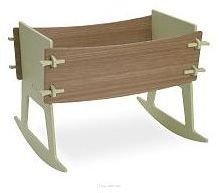 Last, but by no means least is the Lullaboo Rocking Cradle designed by Celery costs $510. Gone are the days of putting your newborn in a buggy and walking round the block until they drop off. Just place your child on their organic mattress swaddled in eco friendly bedding and rock them to sleep. This would make a perfect edition to any eco style bedroom as it is made out of bamboo and 100% recycled MDF, which is formaldehyde free and finished with low/zero VOC varnishes for your eco toddler beds.
With such fantastic options to choose, I am sure you won't look for a fancy decortaive bed which is not environment friendly.
References and Images
https://www.muukids.com/ProductDetails.asp?ProductCode=MUU-101B-907-2N-A
https://www.modernnursery.com/itemsDetail.cfm/OeufToddlerBedClassicBirch/0/item_num/OE-TB/pcid/76/cid/0/keyword/oeuf
https://www.spotonsquare.com/cart.php?target=product&product_id=32&category_id=15
https://www.eroomservice.com/furniture/lullaboo-rocking-cradle.html