EcoDrive and Blue&Me will Help You Reduce Auto Emissions - Fiat and Microsoft Have Joined Forces
EcoDrive
Fiat and Microsoft joined forces to create Blue&Me technology. Unveiled in 2006 at the Geneva International Motor Show, Blue&Me combines Bluetooth and USB, so drivers have hands-free phone control, integration of any brand of USB music player, hands-free texting, and navigation.
In certain Fiat models with Blue&Me, the EcoDrive will learn a driver's bad habits for him. There is a USB gate in either the dashboard or glove box of the cars. Any USB flash drive can be inserted into the gate to download and store EcoDrive information. When a driver arrives home, he removes the USB drive, then plugs it into the port on his computer or laptop. Fiat created software to work with the EcoDrive information, which you simply download to your computer. When the drive is plugged into your computer, the software translates EcoDrive information for you.
The point of the EcoDrive is to take CO2 reduction beyond the walls of the auto factory. It puts the power of emission reduction in the hands of the driver. Really, drivers can make the biggest difference in car-created CO2 emissions. When a driver looks at the EcoDrive information on their computer, they will see how many pounds of emissions they've created along with other performance information that affects the environment. The technology doesn't stop there. It will give you tips and tutorials based on your style of driving that will help you reduce emissions and gas usage, thus saving the environment and your wallet.
EcoDrive even scores your driving on a scale of 0 to 100, called Eco:Index. The efficiency is based on acceleration, deceleration, gear changes, and speed. It will also keep track of things like miles you've traveled and money you've saved by changing your ways. Saved money is always a good incentive to create new driving habits. As an added note, all of your data is private, so Fiat and Microsoft won't be spying on you.
eco:Drive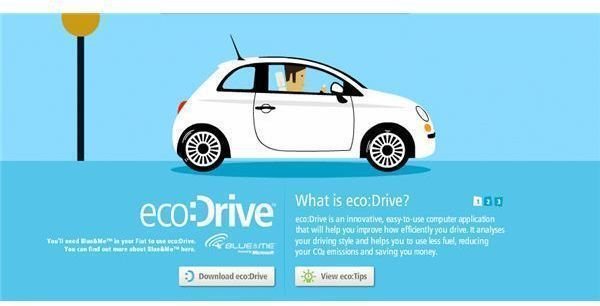 On The Web
EcoDrive is available free for download at Fiat.com/ecodrive. There is also an informative video all about EcoDrive. You will find tips for driving better with or without the EcoDrive. Don't forget to double check computer spec requirements before downloading EcoDrive software. EcoVille is Fiat's online community for drivers using EcoDrive. It is a neat little website that shows how much impact the combined total of EcoDrivers has had. Driver's can also communicate with each other and share goals and tips.