Save Money and the World with These Recommended Green Printers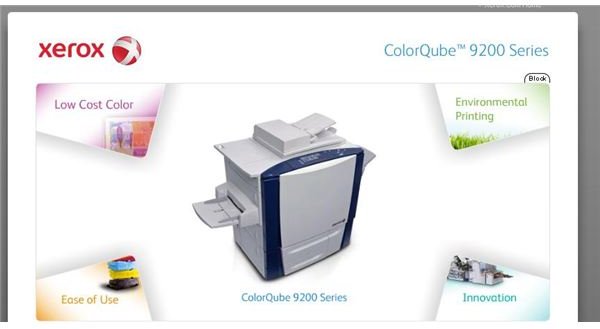 Xerox 9200 Series
One of the most recognizable names in technology is one of the leaders in the field of green printers to make printing in your office more eco-friendly is Xerox. This company not only
has taken the lead in manufacturing printers that are environmentally sustainable, they have led the charge to get the public and the business community on the bandwagon.
To facilitate the deployment of printers and copiers in a responsible way, Xerox has a sustainability calculator that is designed to evaluate the environmental impact of color and monochrome printer resources. Energy, consumers, paper, toner, and other factors that make printers pollution offenders are evaluated based on data punched into the calculator. The result is the environmental impact of the printing device.
Because Xerox takes an approach that encourages a reduction in the number of printers in use in the workplace and emphasizes responsibility by promoting environmentally friendly disposables, Xerox green printers represent some of the best green printer values that are available today.
Among the best of their green printers is the Xerox Color Qube 9200 printers that use solid ink to produce high quality color prints with the creation of 90% less incidental waste. Prices for printers in this product line vary based on usage and other factors, so contact Xerox today for a quote.
HP Officejet Pro 8500 AiO Series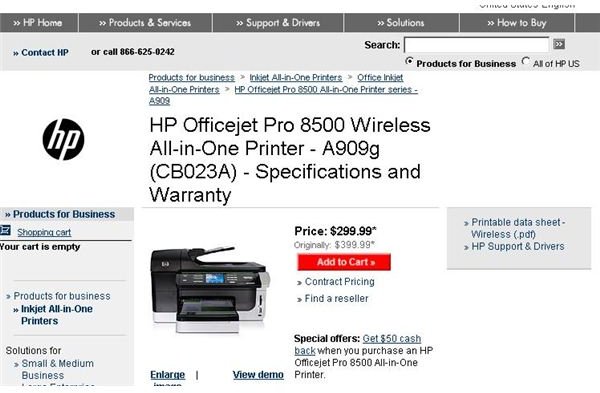 Not to be outdone by rival Xerox, Hewlett Packard (HP) offers its own carbon footprint calculator that works for evaluating printers and computers. Like Xerox, HP probably hopes that you will address your need to "go green" by purchasing their green printers for use at your home or office.
Besides providing a measurable way to reduce pollution and waste, HP operates a free printer recycling program that presumably is designed to stop poisoning the earth with the toxins that are used in producing the printers and their consumables. HP customers can rest assured that from production to disposal, their green printer has helped make the world a better place, reduced cost of ownership, and produced better quality outputs.
The HP Officejet Pro 8500 AiO is designed to use less 50% less power than most laser printers and has a carbon footprint up to half of that of products offered by competitors, making it an exceptional value that stands out in the market for green printers.
The OfficeJet Pro 8500 is available from HP for around $300.
Samsung ML 1660
Green printers do not need to cost a lot, just ask Samsung. Its ML 1660 green printer costs less than $100 and still saves energy and money while offering a very small carbon footprint. Made in environmentally responsible factories and designed to use less energy than other printers in its class, Samsung has even reduced the size of the ML 1660 to lower the materials required to produce it.
From its low carbon footprint packaging to its instant on power button designed to encourage users to turn it off when not in use, Samsung has designed this printer to be easy on your planet and on your wallet while delivering high quality printed results.
Green Printers and You
You have now seen some of the best values in green printers that are on the market right now. Check them all out and start printing green today.
Image Credits: Screen shots taken by Bruce Tyson