Zero-Watt PC's by Fujitsu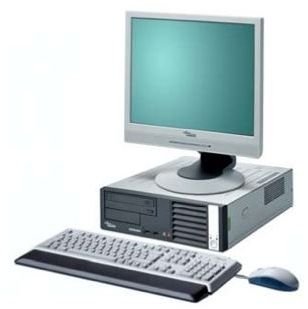 Esprimo Green: New Zero-Watt PC
Fujitsu Siemens Computers test drove their zero-watt PC through technology trade shows last year, debuting at the CeBIT Germany convention. Through a few modifications, their green computer is set to hit the retail market for mass production this coming summer.
Fujitsu calls the new PC series the ESPRIMO® Green and it is the latest conception in the green hardware movement. The main reason that this PC series is standing out is due to the small capacity drain from the power supply. The machines consume no power at all while it is in standby mode. No power, not even vampire power which is why the machine series is being touted as the zero-watt PC with the lowest carbon footprint on the market today.
Currently, the ESPRIMO® Green pc's that are being offered now through direct online ordering at www.computers.us.fujitsu.com are as follows:
ESPRIMO C: The smallest pc unit with only 1gram of lead on the mainboard.
ESPRIMO E: Extended long life cycle with the highest ROI in desktop quality.
ESPRIMO P: Compact microtower with expandability and customization.
The PC's themselves are still in administrable mode while also being in standby for zero-watt usage. This means that inside there is a circuit that will run off a rechargeable power source while in stand by, which allows the machine to keep tabs on ports and be ready for action instantly when you come back from zero-watt. The exact details of how the ESPRIMO® Greens work are of course kept under wraps by Fujitsu Siemens Computers company.
The main reason that Fujitsu Siemens Computers came out with the ESPRIMO® Green PC series is due to a successful run in creating the zero-watt monitors last year. Another consideration for the zero-watt capability being available now comes from the European Union's mandate that requires all new PC's sold in the EU to not exceed one watt usage by the year 2010. No word yet if the United States or other countries plan to make the same mandate for the technology industry.
*image courtesy of Fujitsu Siemens Computers