A Business Guide to Virtualization: Tips, What's New and What's to Come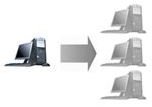 Virtualization is a technique that creates a virtual computing environment using virtual computing resources, such as virtual versions of operating systems, hardware, storage or network resources. The basic objective of a virtual setup is to provision and share computing resources so as to make computing more cost-effective. In most cases computers are never used to their fullest capacities, thus with virtualization, the number of machines can be kept significantly lower by increasing the utilization of the existing computing infrastructure. The added advantage it brings along is massive energy savings.
This business guide to virtualization will walk you through some of the most important aspects of virtualization. Is virtualization beneficial for your business? How can it help save costs? What are some of the virtualization solutions available? This guide has it all – right from basics to challenges and from free tools to software comparisons – that you may want to know about virtualization.
Get a grip on the basics of virtualization like what is it, what technology does it deploy, how does it work, what are the hardware requirements and more! Additionally, on a more practical note, you get to learn about which computing functions should be virtualized and which ones should be left out.
Virtualization vs. Cloud Computing: What Does Your Business Need?
Virtualization isn't the only contender for reducing costs and increasing computing efficiency. An equally good option is cloud computing. This comparison which places both the technologies side by side, will help you decide which one is the best suited green computing option for your business.
Key Questions Concerning Desktop Virtualization
Confused whether desktop virtualization is the right solution for you? Here are some of the pertinent issues, framed as questions, which must be addressed before going ahead with virtualization. Seeking answers to these seven questions will leave you in a better decision-making capacity.
Different Types of Virtualizatios
So you've decided in favor of virtualization, but what type of virtualization should you go for? Make the right choice with this brief but full of information post on the different types of virtualization. Depending on your business's needs you have the three most popular types of virtualization solutions to choose from – operating system virtualization, hardware emulation and Paravirtualization. The resulting performance and efficiency will depend greatly on how good a choice you've made in selecting the type of virtualization.
How Consolidating Through Virtualization Saves Money and Energy
For most businesses virtualization translates into cost cutting and increased energy efficiency, but how and how far can virtualization help you in achieving these two objectives? Here's a quick look at these two aspects of virtualization, supplemented with data from various studies. And, you certainly cannot ignore these two aspects - for these are the prime reasons for setting up a virtualized environment.
Find the Best PC Virtualization Software Solution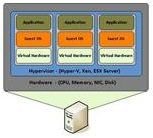 Software is the most important component of virtualization. Are you updated with your options are and what each of these PC virtualization software packages has to offer? Here's a sneak look at the three leading virtualization software – Windows Virtual PC, VMware and Oracle VirtualBox.
And if this sneak look doesn't work for you, here's a detailed three-part series that compares these software solutions with each other.
The Best Free Virtualization Tools
Are you equipped with the right tools to get the most out of your virtualized business environment? There are a range of virtualization tools that can be used to improve the efficiency and performance of the setup. While most such tools cost money, each tool on this list of the top ten virtualization tools can be had for free.
Virtualization: Best Security Practices
At the same time as adding efficiency and reducing costs, virtualization is known to bring in some problems too. And one such critical issue is the increased vulnerability to security threats. However, there are strategies to offset this vulnerability like - backup, undo and limiting virtual machine propagation.
And if you need more detailed information on virtual server security, here's a detailed guide in three parts.
Challenges to Server Virtualization Management
Virtualization comes with its own unique challenges, and understanding these challenges is critical for every business that decides to adopt it. These challenges range from managing critical resources like space, power and storage to ensuring low or no downtime.
Troubleshooting Performance Issues After Virtualization
Even the best planned virtualizations can suffer from performance issues. Here's help on troubleshooting guest machine configuration, resource pools and capacity related issues, which are usually associated with virtualization.
Are Some Applications Not Good Candidates for Virtualization?
Is virtualization the best bet for all businesses and their unique business applications? Unfortunately, the answer to that is 'no' - there are a lot of applications that fail to deliver with virtualization. So, before you get completely sold on the advantages of virtualization you must check which applications are good candidates for virtualization and which ones aren't.
Trends in Computer Virtualization
Since virtualization is being openly embraced by most businesses for its inherent advantages, constant development is making virtualization more and more effective. These developments are targeted toward optimizing computing capacity, memory, storage and operating costs. The trend report talks about some of the advancements being made in these aspects of virtualization.
We hope that this business guide to virtualization has proved informative and useful to you. Do bookmark this web page as we will keep updating the guide as and when we have more informative articles on virtualization.
Have a questions about virtualization not found in our guide? Drop us a comment and we'll find you the answers you seek!
References