Buying Guide: Top 5 Solar Panel Backpacks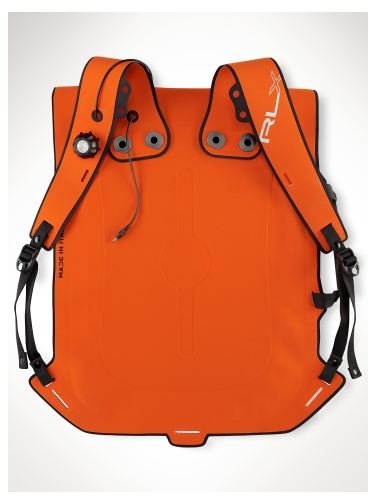 Let the Sun Shine In!
Going green isn't the only reason to take a look at solar panel backpacks—they offer the power you need to charge smartphones along with other smaller electronic devices—plus you'll look cool!
Start a trend today by picking up one of our 5 top recommended bags and here you'll find the trendy and expensive to the affordable for those on a budget.
1. Ralph Lauren
The name Ralph Lauren screams style and so does this backpack's price tag at $795 but what you can do with this bag is impressive. This backpack powered by the Sun is made in Italy and is water resistant and the LED panel acts as a charging station for your cell phone. Available in orange or black, not only does this bag come with thick shoulder straps, it also offers a side handle if you prefer carrying it like a bag, a neat little solar gadget for sure!
It's got the normal top flat so it looks like a backpack and zip pockets on one side and the LED panel will charge your mobile phone (even iPhones) in only three hours. Want to charge your iPod? No problem with this bag and its 3.45 watt current. Bag dimensions are 20 inches H x 14 inches L x 1 inch deep. Sure it's a little pricey but who doesn't want to be like Ralph? Find a link in the reference section if this backpack is for you!
2. Helius V-Dimension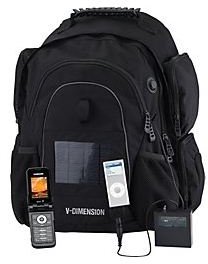 For those looking for a less expensive solar power backpack, this Helius model may right for you. At only around $100 at Staples, this bag comes in black only but what it promises is awesome. Helius says, "People will never be left out of touch or out of tune," with this backpack and with the items it charges, you will stay connected.
Along with cell phone charging (iPhones too), it can charge iPods and comes with adapters for both the iPod and iPhone, a mini-USB for Blackberry or Motorola Razr V3 phones and adapters for Samsung, LG, and Nokia—so no matter what smartphone you have, you're pretty much covered.
The bag is made from 840D nylon twill and can hold laptops up to 15.4 inches. The solar panel is made from crystalline silicon and has an anti-reflective coating. Have headphones? No problem as this backpack also comes with a headphone port so you can hear your favorite tunes during charging times.
Dimensions for this bad are 18.5 inches H x 13.5 inches W x 9.5 inches D and it weighs only 3.5 pounds! Again, find a link to buy this backpack in the reference section.
3. The Eclipse Bag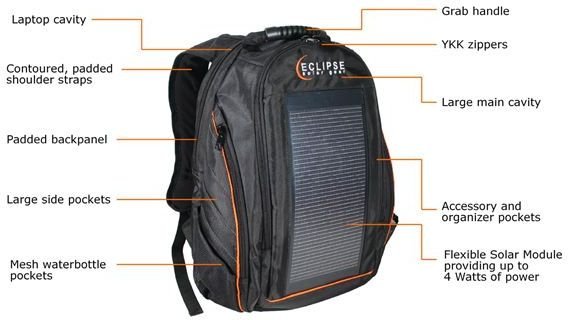 Eclipse Solar Gear offers this black and orange solar power backpack for around $160 and if you're patriotic this puppy is made in the good old USA—hard to find these days. You can carry a lot with this bag with the many organizer pockets it offers and the rear of the bag is padded for safe laptop carrying. The main part of the bag supports large items like books or even clothing and the front is equipped with organizers for pens, CDs and keys. If you want to carry extra water, the outside mesh pockets are great for that!
This bag provides 4 watts of power and will charge most handheld electronics and cell phones. It's made of Denier Nylon and is 18 inches H x 14 inches W and 8.75 inches D and weighs only 2.5 pounds. The bag's capacity is 1850 cubic inches so any 15 inch laptop will fit nicely in this bag. For comfort the straps are padded and contoured—and adjustable. Order yours today right from the Eclipse website (a link is provided in the reference section).
4. Voltaic Systems Bag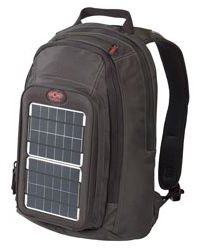 Available at Office Depot for around $180 this backpack from Voltaic Systems is made of 100 percent recycled materials (plastic soda bottles) along with being powered by the Sun. It's equipped with 2 solar panels that each offer 4 watts of power so that means you can charge cell phones, e-Readers, MP3 players and even digital cameras. It come with a USB port for charging and has padded area for laptops for safe carrying.
Inside it's packed with organizer space and dimensions are 18 inches H x 12 inches W x 6 inches D and has 970 cubic feet of capacity. The one year limited warranty is also a nice feature but because Office Depot considers this a special order item from Voltaic, if you buy one, it's not returnable.
This bag is recommended for shorter trips due to its size—it's not expandable like some other backpacks on the market. If this bag is for you, click on the Office Depot link in the reference section for more information.
5. Samsonite Bag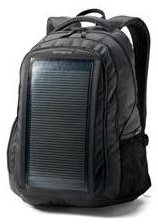 Find this Samsonite bag at Newegg for around $150 and it's very green too as it's also made from 450 Denier recycled PET fabric. Samsonite has always been a top name in luggage and this solar panel backpack made our list for its durability and its 4.5 watts of output power.
While like other solar bags, it won't charge a laptop, but it will charge almost any small electronic device and smart or cell phones. The solar panel charge is ready after exposure to the Sun for around four hours but it does come with a caveat—if you have Apple products, you may have to purchase an ESG PowerPack in order to charge your electronics or iPhone.
It only comes in black and its dimensions are 21.13 inches H x 12.75 inches W and 11 inches D and we liked the 3 year limited manufacturer warranty. Those who aren't Apple crazy will find this bag suitable as it's roomy and shoulder straps are comfy and adjustable. Click on the Newegg link in the reference section to learn more about this bag from Samsonite.
Screenshots and Product Information Courtesy Of:
Ralph Lauren Bag - Ralph Lauren Website
Helius Bag - Staples Website
Eclipse Bag - Eclipse Website
Voltaic Bag - Office Depot Website
Samsonite Bag - Newegg Website