Top 3 Resources for Green Business Cards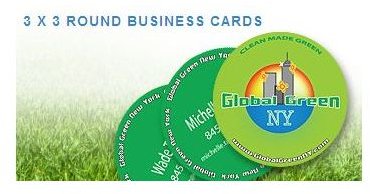 Your Business Card Says Quite a Lot!
Most of the time, when business owners attend trade shows or other meetings, the first or last thing they offer up is a business card. If your company strives to go green, that's a good selling tool so why not convey that by using green business cards? Let's take a look at the top three places to find these eco-friendly business cards.
Green Printer
The Green Printer offers up many unique styles of business cards that are green, including their unusual round cards (3" x 3") and the standard 3 ½ inch by 2 inch cards. They have aligned with many green partners including Green America and Carbon Free Shipping.
The price of business cards from this printer comes in two choices—proof or no proof. The no proof cards will cost you around $30 for 250 cards while the proof cards come in at $40 for 250 cards. The eclectic round cards will cost you more at around $55 per 250 cards. The proof or no proof shouldn't be a concern because the no-proof option walks you through an online form and if you're a good proofreader, there's really no need to go for the company employee proofing and the extra $10.
Based in Berkeley California this printer is a certified green printer and uses 80% recycled paper for their green business cards. They utilize vegetable and soy-based inks and low VOCs or volatile organic compounds. The Green Printer also uses renewable energy credits to lower their carbon emissions and partners with green initiatives such as the Bioneers, West Coast Green and Sustainable Industries Economic Forums. The Green Printer is a great place to visit not just for your business cards, but also for stationery and promotional items—all eco-friendly. Even their factory is powered by wind!
Pixxlz

At Pixxlz they focus on eco-friendly printing including green business cards. Pixxlz also uses soy-based ink and their cards are made from 30% to 100% recycled paper, depending on paper choice. For 500 cards if you go for the single-sided option, it will only cost you around $6. If you want print on both sides, for 100 cards it's only around $11. If you upgrade the paper type of your card, costs are a little higher around $20.
They also use a VOC toner in the process of green printing and the process for designing your card is easy. To get started choose one of their many template designs, enter your company and contact info and they say their turn-around time from order to your door is only 3-6 days. Along with their green business cards, they also offer green notebooks, flyers, letterhead and even eco-friendly labels.
ReBinder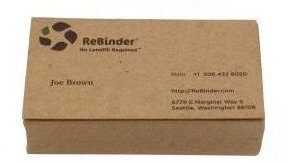 At ReBinder where their motto is "no landfill necessary" you'll find top quality green business cards printed on brown recycled paper. The standard 3 ½ inch by 2 inch cards are available and they offer online chat help—a nice feature. There are no setup fees and 250 of these green business cards will cost you around $55. Each card is made from 100% recycled paper and come in what they call their natural Kraft (brown) color with no VOCs!
ReBinder is considered a zero-waste printer meaning they make use of every resource in their printing processes. A nice feature of ReBinder is the hiring of AbilityOne certified disabled workers, and materials come from only FSC and SFI certified forest sources. Along with green business cards, ReBinder also makes file folders, sleeves and some cool notebooks and some innovative media storage folders.
Final Word
All of the above companies are great choices to order your green business cards, or you might want to learn how to make your own right from home. All of these printers allow you to design your own cards and if you're thinking of using the round-shaped business card, while they may not be the norm, they do still fit inside most wallets—in fact, they will stick out above the rest!
Screenshots & Product Info Courtesy Of:
Green Printer - https://www.greenerprinter.com/grp/jsp/BusinessCardLanding.jsp
Pixxlz - https://www.pixxlz.com/eco-friendly-printing/business-cards
ReBinder - https://www.rebinder.com/business-card-recycled-cards