Discover Who Has the Greenest Thin Client Workstation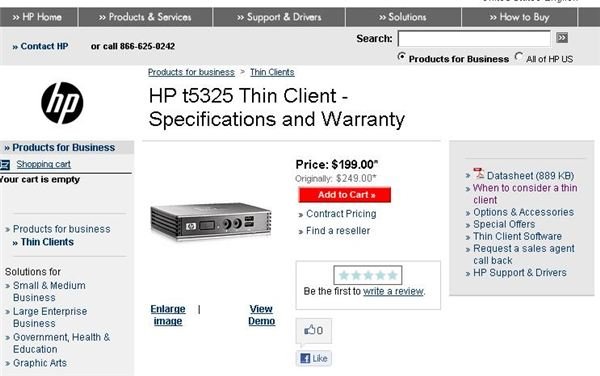 HP t5325 Thin Client (5 out of 5)
The HP t5325 Thin Client is very green, so it gets the "Excellent" rating without much hesitation. From top to bottom, HP has designed the t5325 as the standard for environmentally responsible computing.
Although most thin clients offer a lot in the way of power savings, IT purchasing managers will be hard-pressed to find a computing device that can satisfy an organization's productivity and security needs. Rated with a power consumption of just 7.442 watts at 120 volts, the t5325 can slash power consumption in the enterprise by a significant margin. The power draw of this HP thin client, however, is only part of its green story.
91% of the HP's t5325 system (including the thin client unit, power supply, keyboard and mouse) is made from recycled materials. Taken by itself 94.4% of the thin client box is made from recycled materials.
At end of life, the t5325 is 90% recyclable, demonstrating HP's impressive commitment to the environment.
In the t5325 QuickSpecs guide, HP lists all the known toxic materials that it avoids when building the t5325, so it can easily be processed for recycling without poisoning the earth. With the t5325, however, it's not just the thin client system that is green, but its packaging is green too.
The t5325 is packaged using environmentally friendly materials, which are made from recycled materials. The corrugated paper HP uses in packing is listed as containing almost 94% recycled materials and the foam material used contains about 6.25% recycled materials.
When properly disposed of, HP says that more than one-quarter of its packaging can be recycled, making the t5325 one of the greenest IT products on the market today.
While the t5325 is environmentally green, it saves a lot of green too, besides its energy savings. The t5325 can be purchased directly from HP for just $199, a remarkable price for equipping a worker with a high technology work station. Price and availability is subject to change without notice.
Devon IT, Inc. TC5XC Thin Client (3 out of 5)
The Devon IT, Inc. TC5XC Thin Client has excellent green credentials, and is worthy of consideration for any business seeking to do its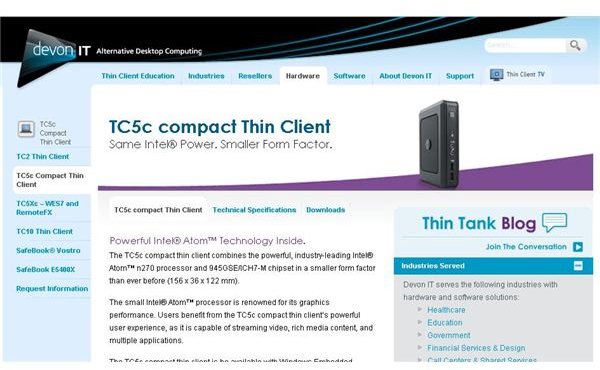 part for sustainable IT, and reducing its corporate carbon footprint.
The TC5XC boasts an average power consumption of just 13 watts, making it possible to bring enormous energy cost savings to the enterprise, although it consumes nearly twice the power of HP's t5325.
Devon IT representatives did not respond to inquiries concerning the recycled content of the TC5XC, or its packaging, in time for inclusion in this article. That information, together with its end of life recyclability data does not seem to be included in Devon IT's product documentation.
The TC5XC thin client takes a little more green when it comes time to buy. It sells at Dell.com for a little less than $469 (price and availability is subject to change without notice).
Wyse E01 Zero Client (4 out of 5)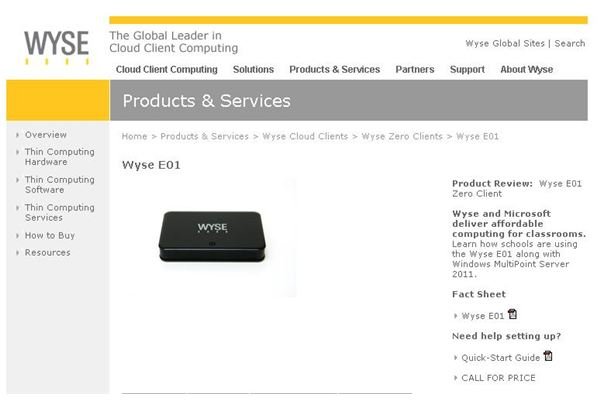 The Wyse E01 Zero Client is part of a new generation of thin client computer, that uses Windows MultiPoint Server 2011 to deliver incredible computing power to the desktop, with a minimal business carbon footprint. The E01 is perfect in a variety or environments, including schools, and can reduce the number of required PCs in an organization by 90%.
Physically, the E01 seems to be about as close to zero as possible. It measures less than an inch high, 5.2" wide and 3.43" deep, meaning that very little material is needed to produce the device. Information about the recycled content of the E01 and its packaging, as well as its end of life recyclability, is not currently available.
Power-wise, the Wyse E01 takes the proverbial cake. When used with a keyboard, mouse and monitor, the E01 uses just 3 watts of power
Who Has the Greenest Thin Client Workstation?
This evaluation of who has the greenest thin client workstation, awards the title to Hewlett Packard, because of its incredible commitment to environmental responsibility throughout the product life cycle. HP has produced an exemplary device, complete with documentation, that managers can use to back up their purchasing decision.
Wyse clearly should get an honorable mention with its near-zero power consumption specification for the E01. Although the low-wattage compact device clearly is green, the inability to determine the company's commitment to using environmentally friendly manufacturing processes and packaging materials keeps it out of the top spot.
Keep in mind that this article looks only at which thin client is the greenest, so users should carefully evaluate the capabilities of these devices prior to making any purchasing decisions.
References
"HP t5325 Thin Client - Overview and Features", https://h10010.www1.hp.com/wwpc/us/en/sm/WF05a/12454-12454-321959-338927-3640405-4063703.html
HP t5324 QuickSpecs
"TC5C compact thin client", https://www.devonit.com/hardware/tc5-compact/overview
Devon IT TC5XC Specification Sheet
"Wyse E01", https://www.wyse.com/products/hardware/zeroclients/E01/index.asp
Wyse E01 Zero Client Fact Sheet
Screenshots provided by writer