The Business of Going Green: Catching Your Office Up to the Multi-Million Dollar Green Industry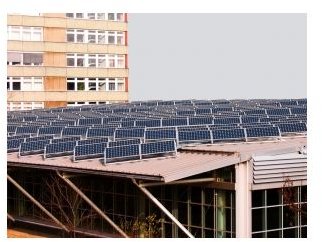 What Is This Business of Going Green?
The business of going green doesn't have to be a complicated process. Thomas L. Friedman, in his book Hot, Flat, and Crowded, called for a green revolution where businesses and individuals would make a commitment to "going green."
The question that arises, of course, is what is meant when individuals discuss the "business of going green," and what does that mean for individuals who wish to implement green technologies in their office. While many industries have been seeing a decline of revenue, green techologies have been thriving. Should you decide it is time for your business to go green, you'll be in good company. Bank of America, General Electric, and even Wal-Mart are all corporations that have been jumping on the green bandwagon.
What Does Going Green Mean for Green Computing?
One of the biggest trends seen in going green has been the increasing popularity of telecommuting. Because of the increasing commonality of software that allows remote access to an office, the ability to avoid commuting to work every day (thus saving on gas and oil) is a more common feature for most businesses.
Another trend in going green is the paperless office. By eliminating the need to print out contracts and invoices, companies can develop a better system for keeping track of finances while at the same time avoiding using some of the methods that have historically contributed to waste and the need for paper recycling programs in offices.
However, these are just two of the surface themes for going green. When you go deeper, you will see that the field of green computing and green IT is growing. This isn't just through the development of software that allows individuals to telecommute more easily nor is it through the development of new software applications to handle records and to keep business documents under wrap. The field of green computing is growing exponentially through the development of new technologies that make computing a more environmentally friendly task.
This means that, for the foreseeable future, green computing will continue to be an area of technology with huge potentials for growth.
What's the Financial Future of Green Computing?
There is much money to be made in green computing. By getting involved now, while the discipline is still relatively new, you can capitalize on the business of going green. Increasing awareness about the impacts that we have on our environment has also increased the demand for green technologies and methodologies. Some of the fields with the greatest potential for growth, should you be wishing to determine what niche to get into, include:
Developing alternative energy sources using water, sugar, sun, and wind
Reducing the carbon footprint created by computers
Developing solar computing solutions
Creating alternatives to lead usage in computers
Developing more energy efficient machines
Developing methods for disposal of computers and technology that no longer serve a function
If you are looking for a way to ride out the economic storm, you may wish to look into green computing as a legitimate field of business. In addition to growing demand for green technologies, there is also a number of government grants and incentives for companies making the decision to go green and join the sustainability movement.
References
"Green Busines Guide" https://www.business.gov/manage/green-business/
"Green Computing" https://thefutureofthings.com/articles/1003/green-computing.html
Image courtesy of sxc.hu/gallery/Ayla87