Microsoft Online Cloud Storage: How Does It Rate?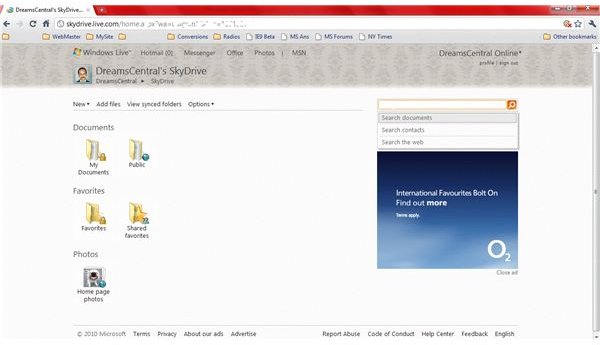 Microsoft Windows SkyDrive
The most used Microsoft online storage, Windows SkyDrive is one of the initial cloud service offerings. By saying "initial cloud service," I don't mean only Microsoft cloud services. The term refers to cloud services from other companies as well. What started as an experiment with the concept of cloud computing, SkyDrive is now the most preferred and easy to use Microsoft online storage.
This Microsoft cloud storage service does not impose any restrictions on the file types that you wish to store remotely. So far, I have uploaded almost all file types: MS Office file types, images, MP3s, videos (MPEG) and even Zip/Rar files to share them with others. Once you upload files to SkyDrive, you can access them from anywhere on the planet. All you need to do is sign into Windows SkyDrive using your Live or Hotmail ID. If you do not have these, you can create one at the Skydrive Login Page free of charge.
SkyDrive improved a lot since its inception. It now integrates with Office Web Apps and Office Live Workspace to offer you more flexibility; which I'll discuss in the following sections. The storage space is a whopping 25GB. You can also publish images and documents to SkyDrive simply by sending an email (even from your cell phone).
In short, SkyDrive is a popular Microsoft online storage that offers you 25GB of space on remote servers so that you can backup your files, upload files for remote access, and share files. In my opinion, SkyDrive is the best among the different Microsoft cloud services available as far as backup, sharing, and remote access.
Screenshot by author courtesy of SkyDrive
Microsoft Office Live Workspace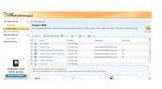 Another free Microsoft online storage service, Office Live Workspace allows you to:
Create different Workspaces for different projects;
Upload and/or create Word, Excel, and PowerPoint files to the workspaces;
Set up sharing for different files or entire Workspaces so that people can access only those Workspaces or files that you want them to;
Set up VIEW ONLY or EDIT privileges for different files and Workspaces for different people.
This service is also based on SkyDrive so you get 25GB per account. You can login into Office Live Workspace using your Live or Hotmail ID. As of now, this Microsoft cloud service is being integrated with Windows SkyDrive. With the introduction of Office Web Apps, Microsoft is transferring the Office Live Workspace to SkyDrive so that people can use them with the online versions of select MS Office applications.
In short, the migration process indicates that even if you open a new account with Office Live Workspace, you will be directed to SkyDrive for storage and other actions. Considering this, I recommend that you go for Windows SkyDrive and use all the facilities therein - including the Office Web Apps - for a better experience.
Screenshot by author courtesy of Office Live Workspace
Microsoft Office Web Apps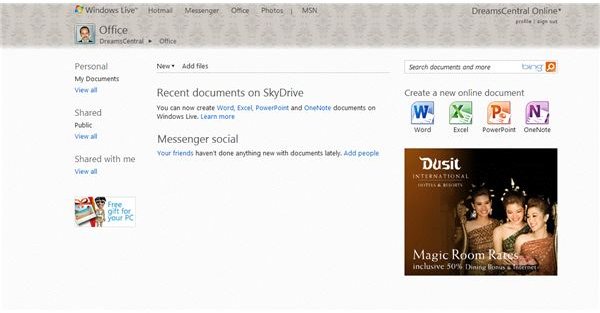 Office Web Apps are online versions of MS Word, MS Excel, MS PowerPoint, and MS OneNote. You can now use them directly from SkyDrive. Earlier, it was possible only to upload and share documents on SkyDrive. The integration of Office Web Apps allows you to create, edit, and share Word, Excel, PowerPoint and OneNote related files. Just login to SkyDrive and click on the Office link (on the top of webpage) to see the options for dealing with Office Web Apps. For more information, please read our article on Using Office Web Apps.
Tip: You can send files from SkyDrive to your Facebook friends as attachments without having to download them. Your friends can use Office Web Apps to open, read, and edit them if they do not have a local copy of MS Office 2010.
From what we studied so far, it is evident that the main Microsoft online storage is Windows SkyDrive. While Microsoft is shutting down Office Live Workspace, we can consider Office Web Apps as an extension to the SkyDrive.
Microsoft Cloud - Related Reading:
Business Productivity Online Standard Suite
Screenshot by author courtesy of Office Web Apps