How Long Should I Study for the GRE? Learn What to be Aware Of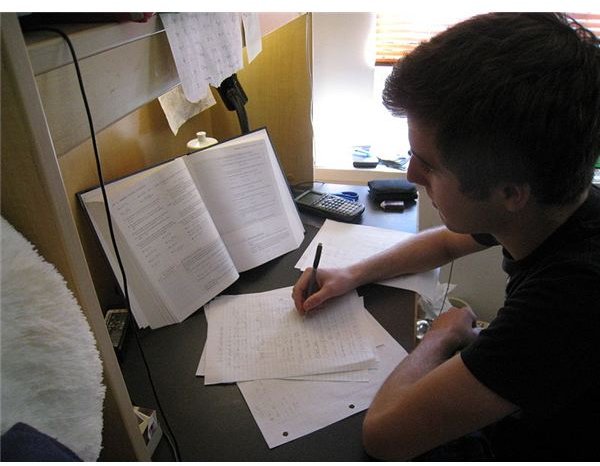 Length of Time to Devote to GRE Study
Some people spend no time studying, others prepare for months. The amount of time spent preparing for the Graduate Records Exam (GRE) varies from individual to individual.
This is not a new phenomenon. You've been surrounded by people with different learning styles since grade school. You already know your strengths and weaknesses as a test-taker and you know how to balance your school, work and social life.
So, let your individual needs as a student determine the amount of time you spend studying for the GRE or any other examination.
Plan for Months, Not Weeks
The GRE explorer recommends three months of preparation in order to be on the safe side. When in doubt, it will not hurt you to study more than you need and you will be thankful for putting in the extra time after you receive your scores. It is never too early to start looking over GRE test preparation booklets in order to get more of an idea of what you can expect to find on the GRE.
Some people who are pressed for time may elect to take a more intense approach by preparing for the GRE by studying for 6-8 hours a day for 4 weeks. Although it may be possible to attain the same results, this type of accelerated approach might not allow enough time for all of the information to sink in.
A great number of people benefit from a 20-hour or 40-hour GRE course concentrating on the things that you are required to know in order to obtain a successful GRE score.
Things to Consider
Ask yourself these questions when deciding how much time you need to study:
What is on the GRE? (Content)
How is the test formatted? (Style)
Do I have to school/work while I study? (Other obligations)
How much information can I absorb at a time? (Study blocks)
How much time is there before the test date?
Note: The Trinity Psychology Department advises people to not be very concerned with timing issues early on. Focus more on getting familiar with the problems and relevant material.
Content and Style
There are currently TWO general forms of the GRE: the GRE general test and the revised GRE general test. There are also TWO forms of the revised GRE test: hardcopy and computer-based. Regardless of the format, all exams test knowledge in three categories – verbal, analytical, and quantitative – using essays and multiple-choice questions.
The verbal portion of the GRE is multiple choice and success relies heavily on the students ability to comprehend the words incorporated in the readings. (20-25 questions, 30-40 minutes)
The analytical portion of the GRE requires test-takers to write two essays. The first essay requires you to present your take on an issue. The second involves analyzing an argument. (2 questions, 30-35 minutes each)
The quantitative section allows you to showcase your mathematics skills: basic arithmetic, algebra, geometry, data analysis and more. This section is much more important for certain majors that rely heavily on math such as accounting, business, and finance. (20-25 questions, 30-40 minutes)
The entire test session lasts 3 hours and 45 minutes, not including breaks. This is the exact same amount of time given to students taking the SAT. Additional time and other accommodations are made for students with physical or learning disabilities.
Great Tips
The folks at the University of North Carolina recommend the following:
Start slow. Study for one to two hours a day for the first week of preparation and slowly build up to longer study blocks.
Study in an environment similar to the test environment to improve recall. Don't study in bed.
Use practice tests to quiz yourself. The Education Test Service, who administers the GRE, offers free test questions on their website.
Take short, 15-minute breaks while you study. It will help stave off mental exhaustion.
Don't forgo sleep for cramming. Get a good night's rest every day, especially the day before the test.
References
Check out these resources for more information:
Photo Credit
"A Student of the University of British Columbia Studying for Final Exams" by Gnarlycraig. Creative Commons\Wikimedia.