Is It Worth Going to Graduate School? The Top Reasons to Go To Grad School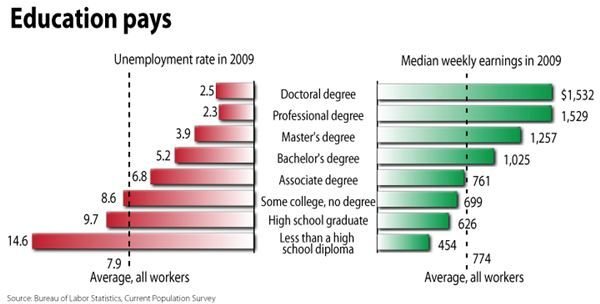 Overview
If the pursuit of advanced education is important to you, take the time to ask yourself, "Is it worth it going to graduate school?" Consider numerous good and valid reasons to go to grad school. You may want to gain a degree to assist you in advancing your career or perhaps open up new career opportunities for you. Maybe you have had a lifelong goal of completing your advanced degree. Many people with advanced degrees receive higher regard, along with higher pay, than their peers with less formal education receive. Take time to contemplate your top reasons to go to grad school, followed by conducting research into potential suitable grad schools and degree programs on your way to pursuing your dreams.
Career Advancement
If you currently feel "stuck" on a plateau at your job, going to grad school and obtaining an advanced degree may be your solution. Speak with your company's human resources manager to determine what type of education and degree may be necessary for you to gain a promotion within the company. Some companies even offer tuition reimbursement, partial or full, to those employees looking to grow with a company.
New Career Opportunities
Perhaps you are ready to consider a new career direction. The key to that decision may be to go to grad school and obtain a degree relevant to your potential new career path. Read career postings of interest to you and review what type of education and degree level makes job applicants eligible for the position. Pay particular attention to the stated "preferred" education and degree, as that frequently makes the difference in who gets hired and who does not.
Accolades and Remuneration
People with graduate degrees, especially at the doctorate level, often earn a higher level of respect and prestige among their peers and colleagues. Once you have spent the time and effort necessary to earn a graduate degree, you typically gain recognition as an authority or expert in your field. Along with the higher level of prestige, you can typically expect a higher level of pay.
According to the Bureau of Labor Statistics (BLS), people with graduate degrees increase their earning potential by percentages as high as 50 percent more than those who have undergraduate degrees and as much as 80 percent over those with only high school diplomas. In addition, people with graduate degrees typically have significantly lower unemployment rates as compared to those with undergraduate degrees and high school diplomas. This chart below from the BLS site displays those statistics (click on the chart for a larger view), current as of 2009. Although wages vary greatly based on geographical location and type of industry, the details at BLS state that potential weekly wages for full-time workers vary from about $600 for a high school graduate, to about $1000 for someone with an undergraduate degree, to as high as approximately $1500 for someone with a graduate degree.
Lifelong Goals
Perhaps you simply want to pursue what is a lifelong goal of obtaining your degree by attending college for the first time or returning to school for a graduate degree. Many older adult learners delay pursuing their own education while sending their children to college. After the kids are out of the house, adult learners may then choose to seek a first college degree or return to school for a graduate degree, particularly a doctorate degree, which will make a difference for their future.