Six Sigma Masters of Science Programs: Where to Find Them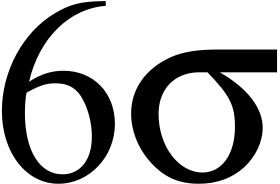 What Is Six Sigma?
For some time now, many top companies have been utilizing Six Sigma, a quality improvement process. Six Sigma may have first been utilized in the manufacturing and software world but it has moved on to the project management world as well.
The purpose of Six Sigma is to get to your end result with little or no defects in your processes or end product. This methodology uses DMAIC or define, measure analyze, improve and control process to ensure defects are kept to a minimum.
Six Sigma roles include Green and Black Belt Masters and Champion, and while you may not be able to find a Six Sigma Masters of Science programs, many education institutions offer master certificate programs or Masters of Science programs with an emphasis on Six Sigma.
Image Credit: Six Sigma by Share Alike / Wikimedia Commons
Six Sigma Masters & Certificate Programs
Here's a list of colleges and universities and while they don't offer Six Sigma Masters of Science programs, they do offer either certificate programs or degrees with an emphasis on Six Sigma:
A Degree in Six Sigma
The world of Six Sigma, Lean Six Sigma, Black, Green, and Champion certifications are on the rise. Most colleges or universities that offers Masters in Applied Statistics or Masters of Engineering do place an emphasis on Six Sigma training and courses. One enhancement of obtaining Six Sigma certification is how it can strengthen your career path. Most job recruiters estimate that jobs that require Six Sigma certification are offering salaries in the $90,000 to $100,000 range.
As quality process improvement becomes important in not just the engineering and statistical world, expect more higher education facilities to offer both undergraduate programs with an emphasis on Six Sigma and Six Sigma Masters of Science programs.