What Kind of Jobs Can I Get with a Reading Specialist Degree?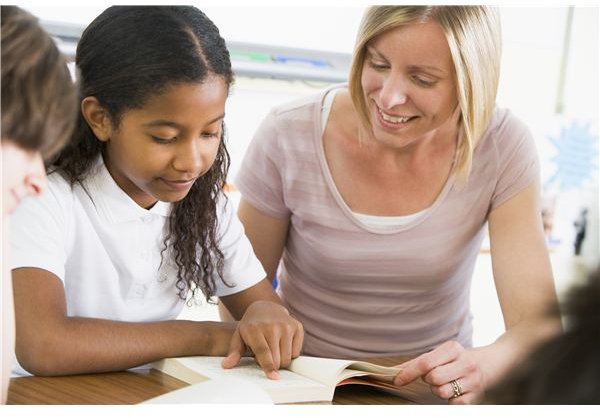 Obtaining a master's degree is a good idea for most teachers. It helps you keep up with certification, advance on the salary scale, and learn about educational trends to help your students.
Many teachers earn their reading specialist degree, especially since reading is such an important part of every subject you teach. Now that you have the degree, you may want to pursue a different position and find a new job. You can choose from several options to find one that works the best for you and your career goals.
Title I or Remedial Reading Teacher
One reading specialist job you could pursue is a Title I or remedial reading teacher. Title I is a federally funded program for students who are below grade level in both math and reading. Title I funds are based on the number of free and reduced lunch students your district or school has.
Some schools have Title I pull-out programs. This means that as the reading teacher, you will pull small groups of students out of the classroom to work on literacy skills in a small group setting–usually every day. Title I teachers use several different methods to improve literacy from guided reading to phonics instruction to echo reading. You may also work with students on spelling and writing.
Other schools have the Title-I push-in program. With this type of program, you would go into the classroom and work with the regular classroom teacher to target and provide extra help for students struggling with reading and other language arts skills. Usually, the Title I teacher and classroom teacher are given planning time to discuss students' progress and teaching methods.
Literacy Coach
Another job is a literacy coach. A literacy coach helps teachers in the building plan and implement reading curriculum. These teachers are behind the scenes and sometimes in the classroom. The difference between being a literacy coach and working as a reading teacher is that literacy coaches are helping teachers provide the best reading instruction possible and improving comprehension skills for all students in a particular grade level or subject area. Reading teachers usually target small groups of students who are struggling with reading.
Literacy coaches spend their days planning with teachers, looking for materials to help students and meet teachers' objectives, aligning curriculum, researching best practices and going into classrooms to model reading instruction. The literacy coach is the go-to person for the regular classroom teacher for any reading needs.
Other Jobs
Jobs in reading can also be found in private academic tutoring businesses or in reading clinics. In these settings, parents usually pay the company for their child to receive extra reading help, which you will give them as a reading specialist. Your job will include assessing the child to find his strengths and weaknesses as well as his current reading level. Then you will create a plan for his reading sessions and implement this plan to help the child improve their reading level. At these jobs, you will probably work one-on-one with students and will be able to gear instruction to their individual progress. The materials you use to instruct students will most likely be given to you by the company, and many of these reading clinics will also have set programs to follow.
Some reading specialists also do private tutoring in their home or at libraries. Parents pay these teachers privately. Reading tutors must claim these fees on their income taxes like a consultant. Schools often recommend reading tutors, so it helps if you can get in contact with a school and get on their list.
Your Career
Whether you decide to use your degree to switch positions and become a reading teacher or to help your students reading progress in your own classroom, you and your students will benefit from the degree. Reading is a fundamental key in every subject, and a reading specialist has the tools and knowledge to help all students succeed.
Resources
Personal experience as a Title I reading teacher
University of Maryland College of Education: https://www.education.umd.edu/EDCI/info/rdnggrad.html