A Guide to Earning a Ph.D. - Keys to Success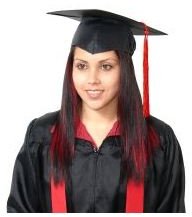 Higher Education at the Graduate Level
In most fields, the Ph.D. is the highest degree one can receive. The general process of earning a Ph.D. has become standardized over the years. Whether you're working on a Ph.D. in chemistry or a Ph.D. in philosophy, you can be sure that the process will include a class on professional development (commonly called a proseminar), an expectation that you will present at conferences and publish your original work, higher demands, the need to socialize with professors and colleagues, comprehensive exams, and the dissertation process. You will be expected at this level to produce your own, original research. If you write a paper or conduct research that could be easily replicated by an undergraduate in your field, you can forget about earning the acclimation of your peers. By understanding what you're getting into before you start the process, you can increase the likelihood that you will accomplish the end goal: earning a Ph.D. program of study.
The Top Ten Tips on Obtaining Your Ph.D.
When you're trying to put together your plan for applying to graduate school, it's important to assess whether you really need to make the commitment of going to a graduate program. Learn about different tips to help you assess whether you're really going back for the right reasons.
Motivating Yourself to Pursue a Ph.D. in Your Field
Especially if you're applying while you're still in school, it can be hard to motivate yourself to go for the gold. Here are some valuable tips on pursuing your Ph.D. When you're feeling like you just can't fill out another form, it will be really important to have something on hand that will help remind you why it is that you're going for the Ph.D.
What Are Simple Things You Can Do Toward Getting a Ph.D.?
Getting a Ph.D. is a process. Because this advanced degree is often seen as something that is widely unattainable, it's important to realize there are things you can do that will make your journey a lot easier. Learn what you can do to simplify your march towards a doctorate and how you can make your experience an enjoyable one.
Plan Out Your Steps for Achieving the Completion of Your Ph.D. Education
When you're going for your doctorate degree, it is vital that you carefully plot out each step along the way. One of the first things you should do upon being accepted to a program and choosing to attend the school is get your hands on the graduate student handbook. Make note of all important dates and deadlines. Find great tips for planning your progress through your Ph.D. program.
Learn What's Typically Involved in Getting a Ph.D.
No matter what school you go to and what your field of study is, there will be things that all Ph.D. candidates will be expected to do during their studies. It is important to be familiar with the process since a big part of obtaining the Ph.D. is meeting the formal requirements. It can't be said enough times, read your student handbook. You'll be told exactly what you need to do to complete your degree in this document.
What Are the Issues Involved with Returning to School After Time Off?
When you're an older student looking at returning to school to attain your Ph.D., there are some things to consider. What are the pros and cons involved with returning to graduate study after an absence? Learn why making sure you have solid motivation for doing so is an important part of making that decision.
Setting Goals When it Comes to Obtaining a Ph.D.
When you're working toward a Ph.D., it can be hard to see the forest for the trees. If you instead take the time to plan out what you're doing in grad school and why, then it will be much easier to remain motivated and focused throughout the process. Learn why setting SMART goals is a necessity for all graduate students.
Your Road Map to Graduate Study
When you're studying at the higher education level, it's important that you know what you're getting into. By planning out your journey from the get go, you'll have a higher likelihood at succeeding in getting your Ph.D. It's so important that you know what you're getting into when you're going into when you're going into it.
Putting together an Effective Personal Statement for Your Ph.D. Application
When you're applying to your Ph.D. program, it will be important that you are able to clearly communicate about who you are and what you're hoping to accomplish through your pursuit of higher education. Find some great tips on writing a personal statement that captures the attention of the admissions committee - without going completely overboard.
How to Pin Down Your Research Question When Working Toward a Ph.D.
Some people are lucky enough to enter into their Ph.D. programs knowing exactly what they want to work on and research. When you're not one of those people, then it's important to pin down what you want to do your dissertation on as early in the process as possible. By squaring this away, you can maximize your success as a Ph.D. candidate.
Figuring Out What You Should Write on for Your Dissertation
Believe me when i say this, the best dissertations are narrowly focused. It can be hard to find something to write on where you're adding new knowledge to the field. It is sometimes quite difficult to find a topic that is narrow enough to allow you to finish your dissertation in a small time period and yet rich enough to where you don't feel that your project is trite.
Putting together the Ph.D. Dissertation Proposal That Won't be Met with Rejection
When you're going to be putting a significant amount of time and effort into researching a topic, it's important that you're able to communicate to others exactly what the merits of that time and effort are. By reading up on the various tips for success in writing your dissertation proposal, you can be ready for this often intimidating task.
Creating a Ph.D. Dissertation Proposal That's in the Right Form
Not only do you want to make sure that you're conveying your ideas properly, but dissertation proposals need to be in the proper format. By making sure you know the proper format to use when putting together your proposal, you'll be sure you're not committing some proposal writing faux pas. Specific details may vary depending on what school and department you're in, so make sure you also double-check what your graduate hand book has to say on this matter.
Ouch! How Much Does That Ph.D. Cost Again?
It's important when you're working toward a Ph.D. to be sure that you do the research so you know exactly where you're going to be at financially. After reading about what costs are involved in getting your Ph.D. (and what types of funding are available), you'll probably want to double check the job placement record of that dream school you'll be attending.
Funding Your Ph.D. with Grants
Grants are an important part of any person's Ph.D. journey. They are vital to education - and they allow students to attend school for a much lower cost than students would otherwise find themselves paying. Because grants do not have to be paid back as do loans, students can reduce the debt load they need to carry in order to finish obtaining their advanced degrees.
When you take time to make sure that you've adequately prepared for your journey on the academic path, your experience will be a smooth one. One of the stumbling blocks often run into by Ph.D. candidates is running out of steam. It can be really difficult to leave academia when you've fallen into this trap. Instead of plugging away without a sense of where you're going or why, mapping out your journey can help keep you going - and help pace you - so that you can combat burnout.
References