A Guide to Graduate School: From Application to Graduation Day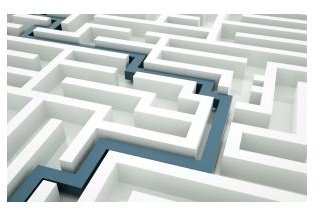 It Doesn't Have to be a Maze
When it comes to grad school, the best advice I can give you is to plan your journey carefully. Here's a guide to graduate school that covers from application to graduation. As soon as you think you might want to apply to graduate programs, start making folders for each program, tracking deadlines on calendars, and thinking about who you would like to ask for a recommendation letter. It helps if you have an idea of what you would like your focus to be going into your program, so start thinking about the areas in your field you are most interested in studying now. The process of succeeding in graduate school doesn't have to be like wandering through a forest at night without a flashlight. By taking the time to consider your options ahead of time and plan your road-map through the process, you'll know exactly what you can expect along the way.
Should You Go to Graduate School?
Not everyone is cut out for the rigorous demands of attending graduate school. When you're trying to make the decision whether or not you should apply to an advanced program, there are important things you'll need to consider. Learn what you should take into consideration and why you might want to hold off on going into a post-graduate program.
Applying to Graduate School: Putting together Your Application Package
If you're wondering about the general process of applying to graduate school, it's good to understand all the components to getting in. While many schools don't require interviews with graduate students, some do. Learn what universities expect so you can begin putting together your plan for application.
When you're putting together your application package, you'll want to have a strong GRE score. There are three parts to this test. There is a verbal section that involves reading comprehension and the ability to demonstrate knowledge of vocabulary. You'll have to tackle mathematical, or quantitative questions, and you'll need to prove that you can formulate a cohesive analysis of an argument.
Mastering the GRE Analytic Writing Section
If you're nervous about writing your analytic writing section for the GRE, prepare for it well. In a four-part series, you'll learn what to expect from your writing section overview, how to write an opinion essay, how to write an argument analysis, and tips on the best way to prepare for the GRE analytic writing section. Don't get caught off guard - prepare for your test ahead of time.
Putting Together a Winning Personal Statement
A personal statement describes to the admissions board about who you are and what you're intending to study. It's important to be both succinct and thorough in this short sample of writing. You'll want to have one of your advisors look it over and give you some advice on revising the personal of statement. It should be one of the strongest components of your application.
Do You Need a Resume to Apply to Graduate School?
Sometimes when you apply to graduate school programs, especially if it's been a little while since you received your undergraduate degree, you will be asked to provide a resume or CV. Learn what graduate programs expect to see from you, how to format your resume, and more. By putting time and effort into your resume, you can be sure to give a great first impression.
Getting a Good Letter of Reference for Your Graduate School Applications
When applying to graduate school, there is a variety of things that you are judged upon. The letter of reference is one of those things. By having stellar references when you apply, you can increase the likelihood of acceptance. Be sure to ask people who are both well-known and well-respected and who know your work well and can speak to your abilities.
Is it Possible to Achieve a Good Graduate Education at Home?
In short, yes, you can earn a good graduate education from home. It's important before you go into a program to do your research. Make sure that the program you're applying to is not only well-known, but that it's actually well-respected as well. Some programs will promise placement, but this isn't necessarily true, and you could wind up hearing snickers when you say where you graduated from.
What to do Now That You're A Graduate Teaching Assistant
Serving as a graduate teaching assistant can be overwhelming when you're doing it for the first time. It's so important that you know what you're doing. Why don't you pick up some tips on how to complete your duties as a graduate teaching assistant successfully? Besides understanding what is expected of you, it's important that you learn to communicate expectations clearly and more.
Do You Want to Fund Your Graduate Education Using a Graduate Fellowship?
Fellowships are great methods for funding your graduate education. Many graduate fellowships come with an air of prestige. Fellowships are often quite competitive, and a limited number of them are available to students each year. Learn what you need to do to score one of these great funding opportunities.
Why You Should Consider Applying to a Study Abroad Program as Part of Your Graduate Study
Applying to a study abroad program as a graduate student poses many benefits. You should consider applying to such a program so that you can enrich your educational experience. Not only can you gain additional experience in the native language of the country you visit, but you can also gain first-hand access to archives so that you are able to further your studies easily.
Will Getting a Graduate Degree Help You to Get into a Law School Program
Sometimes people undertake a graduate degree in order to be more competitive in the workforce. However, many go after a graduate degree in order to get into the law school of their choice. Is this a rational choice? Should you apply and attend graduate school as a stepping stone before attending law school? Will having a graduate school degree help you to get into the law school of your choice?
A graduate degree is an asset - whether you're obtaining the degree to further your own job possibilities, using the degree for your own enrichment, or hoping that your degree will help you get into another program. When you're sitting in graduate school, and you're wondering what you were thinking when you applied, remember your original goals and the passion you had for the subject.
References
Maze image courtesy of http://www.sxc.hu/photo/1328372
Ronda Roberts has been through the graduate process twice - first in her MA program and then through attending a PhD program.