Learn How You Can Earn a Doctorate in Ancient Greek Language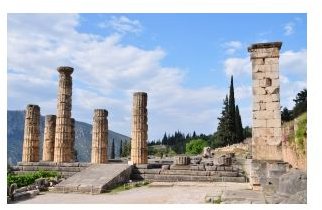 Why Get a Doctorate in Greek Language Studies—The Language is Dead, isn't It?
No matter how much you enjoy classics (the study of the ancient world), as you consider your desire to earn a doctorate in Ancient Greek, language concerns may plague you. For one, if you get a doctorate in the Greek language, what will you do with that degree? While not many people are taking Greek courses anymore, there is still a use for the Greek language. Many universities offer courses in Ancient Greek both for classics majors and for majors in other disciplines (history, philosophy, art history) who would like to study the ancient period of their discipline. Many who earn a doctorate in Ancient Greek language studies go on to become professors, work as archeologists, work in libraries and work at museums.
You may also worry about how you will pay for your education, how to apply to get a doctorate in Greek language, what the best schools for study are, and what the requirements will be once you enter the university.
Schools Where You Can Earn a Doctorate in Ancient Greek Language
Before you decide whether earning a doctorate in Greek language studies is for you, you'll want to do some research into the different schools where you can get such a degree. Here's a brief list of schools that offer a doctorate in Greek language studies. You'll want to ask your professors about their suggestions for schools to apply to as well. They will be well-versed in the current status of different programs, and since you'll need to obtain recommendation letters anyway, you'll benefit from their expertise.
Duke University: This program allows students enrolled in the Classical Studies graduate program to focus on the ancient Greek language as their area of specialization. Graduate level Greek courses include Greek Drama, Seminar in Greek Literature and Greek Literature Survey.

City University New York (CUNY): CUNY's program offers an intensive language focus. Students are required to read a set number of works in Ancient Greek. The course offerings at CUNY are more diverse than those offered at Duke. Choices include Greek Metrics, Greek & Roman Didactic Poetry and Aeschylus.

Bryn Mawr University: This university is known globally for its classics program and it produces the prestigious Bryn Mawr Classical Review. Class size at Bryn Mawr is small, and students can take classes at Princeton and University of Pennsylvania to fill out their education. Prospective students will be especially enthusiastic about the ability to study abroad in Athens, Greece at the American School of Classical Studies in Athens.
While these three programs are among the most well-known for earning a doctorate in Ancient Greek, there are many, many more programs that offer an excellent course of study. Williams College (reference at end) provides a very nice list for your convenience.
Choosing and Applying to Schools
When applying to graduate school, it is advisable that you select at least five schools to apply to. It is not uncommon for someone to apply to 15 or even 20 schools. When choosing the schools you will apply to, you should have an even distribution between top-tier schools, mid-level schools and safety schools. Before applying, don't be afraid to contact graduate students and professors at the schools you are considering to ask them about their experiences.
When applying to a school for a doctorate in Ancient Greek, you will need to submit your transcripts, competitive GRE scores, recommendation letters and a personal essay. Some schools will also want to see a list of books you have read in the original Greek, additional foreign languages and even a writing sample. When applying to a Ph.D. program, you should be sure to double check the requirements for each school as these can vary.
You will also want to apply for graduate school financial aid through filling out a FAFSA. Financial aid for graduate school most usually comes through stipends from acting as a teaching assistant. However, sometimes you may get a fellowship or grant.
Requirements for Obtaining the Degree
Again this is an area where requirements will vary a bit from school to school, but most programs will have the following benchmarks:
Courses in Greek
Courses in Latin (Many Greek texts were translated into Latin)
A specific number of course units
Proficiency in German and French
Passing a qualifying exam involving translation and demonstration in competency in languages
Research and composition of a dissertation
Finally, the average time for completing the degree is five to six years, longer if you have to work or if you have children. Be prepared to make a commitment to your studies. Depending on your field of focus, you may find yourself needing to study abroad for part of your studies. Discuss the decision to earn your doctorate in Greek with any family members that the decision may impact. Most of all, have fun! Remember why you chose this field of study and every day, find something to love about it.
References
Duke University, https://classicalstudies.duke.edu
CUNY, https://web.gc.cuny.edu/Classics/
Bryn Mawr University, https://brynmawr.edu/classics/
Williams College, https://web.williams.edu/Classics/after_williams/gradprograms.htm
Image courtesy of sxc.hu/gallery/babykrul, https://www.sxc.hu/photo/1331056