Looking to Enroll in Distance Education Meteorology Course? Information You Need to Know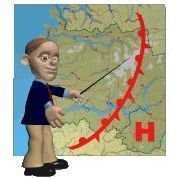 What is Meteorology?
Distance education meteorology programs provide opportunities to students who aspire to become weather forecasters and research meteorologists (climatologists). Meteorology is the study of earth's atmosphere, physical characteristics, motions and processes. Using sophisticated technology and earth's satellites, a meteorologist predicts the weather, identifies climate changes, research earth's air pressure, humidity, temperature, precipitation and wind velocity.
Besides weather forecasting, meteorologists work in several other areas - including analyzing ozone levels, hurricanes etc. As weather forecasters, meteorologists also work in television and radio bulletins. A student enrolled to a distance education program in meteorology can avail the benefits of several courses and study materials to have in-depth knowledge and expertise in this field.
Courses
Those pursuing a degree in meteorology can enroll to an operational meteorology program, or a broadcast meteorology program. Courses offered in the operational meteorology distance education program include meteorology overview, applied and statistical climatology, radar and satellite meteorology, weather prediction basics, oceanography and thermodynamics meteorology to name a few.
Those who wish to become television broadcasters can apply for a broadcast meteorology program which offers various courses such as synoptic meteorology and climatology. In addition to general education requirements, students can take these courses successfully to apply for American Meteorological Society's (AMS) Certified Broadcast Meteorologist Program, which further raises the professional bar and certifies that the person has the required knowledge to become an expert broadcast meteorologist.
Best Distance Education Programs for Meteorology
The Mississippi State University offers a variety of courses, both for operational and broadcast meteorology. A total of 17 courses are offered on the semester system, with a different course in Fall, Spring and Summer semester. To apply for a distance education meteorology program, students will have to fill the online application form for admission and submit transcripts from each school, submit high school records and SAT scores (not required if the student has earned a bachelor's degree).
Mississippi State University has received accreditation from the Commission on Colleges of the Southern Association of Colleges and Schools. A degree earned in operational or broadcasting meteorological program will enable students to pursue higher certification and salary. Course materials include textbooks and videotaped lectures in DVD formats.
The Graduate School also offers a Meteorology Certificate program for students who wish to pursue as a weather broadcaster, professional or instructor in the field of meteorology. A student enrolled to the certificate course will certainly meet the basic requirements for Federal Government qualification standards for meteorologists. The AMS also requires students to apply for the Graduate School's Meteorology Certificate courses as one of the criteria to apply for its certified broadcast meteorologist program. The required courses of the Meteorology Certificate program include Dynamic Meteorology, Satellite Meteorology, Synoptic Meteorology as well as Integral and Differential Calculus. The Graduate School has received accreditation from the Commission of the Council on Occupational Education (COE), an accrediting body at the national level, which is recognized by the U.S. Department of Education.
Career Prospects in Meteorology and Annual Salary
The estimated employment growth in the field of meteorology is 15 percent over the 2008-2018 decade. Although applicants will face tough competition, numerous jobs in the private industry are expected to grow. The demand for weather forecasting consultants is ever-increasing in the private consulting firms. In a nut shell, the opportunities is limited in the government sector, but job prospects is bright the private industry.
Median annual salary of meteorologists was 81,290 USD in May 2008. In the Federal Government, the average annual salary was 93,661 USD in March 2009.
This is all good news for students looking to enroll in distance education meteorology programs who will find that they can pursue their dream career as a weather broadcaster or a weather forecasting consultant.
References
https://www.bls.gov/oco/ocos051.htm
https://www.graduateschool.edu/index.php?option=com_content&task=view&id=35&Itemid=281
https://www.ametsoc.org/memb/correspondence99.html
https://www.distance.msstate.edu
https://www.shiksha.com/getArticleDetail/87/Meteorologists-Nature-Of-Work-Employment-Avenues
Image Credit:
Image of a Weatherman (Public Domain) https://commons.wikimedia.org/wiki/File:Weatherman.png