The 10 Best Universities for Psychology for Distance Education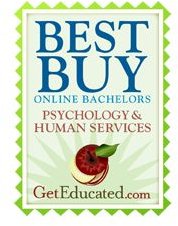 Why an Online Education for Psychology
Distance Education (D/E) is a great way for busy people to continue their education (online); in fact, many students say that D/E has prevented them from leaving their job and other activities just to pursue an educational goal.
Both online psychology courses and online psychology degree programs do exist. Psychology courses are normally not any harder done online than other course subjects as long as students do their readings and keep up with their assignments, etc. Furthermore, the amount of course material covered in a D/E psychology course is normally the same as one would receive in a classroom.
How to Find the Right Online Psychology School and Degree Program
Follow these tips to help find top schools teaching psychology courses via distance education…
Tips
Check the accreditation of the school (National or Regionally Accredited)
Review the programs of the psychology degrees offered (Associates, Bachelor's, Master's, Doctorates, PhDs)
Check the tuition and fees (Is it costly or affordable? Does the school offer tuition assistance, financial aid, etc.?)
Review the school's admission requirements (GRE, ACT/SAT, etc.)
Review the course/degree program requirements (The amount of time, the number of courses, and total credits needed)
Note: The 5 tips should point prospective students to top online psychology schools. It's now up to the student to choose which school(s) has the best course(s) and degree program(s) as well as will meet their needs (and budget).
Online Psychology Schools
Here are some of the more popular universities for psychology (by public perception) offering distance education with their degree programs…
University of Phoenix
AA - Psychology
BS - Psychology
MS - Psychology
PhD - Industrial/Organizational Psychology
Argosy University
BA - Psych - Substance Abuse, BA - Psych - Organizational Psychology, BA - Psychology

MA - Industrial/Organizational Psychology, MA - Sport-Exercise Psychology, MA - Forensic Psychology

DEd - Counsel Psychology
Capella University
MS - Industrial/Organizational Psych, MS - School Psychology, MS - Leadership Coaching Psychology,

MS - Sport Psychology, MS - Clinical Psychology, MS - General Psychology

PhD - Educational Psychology, PhD - Industrial/Organizational Psych, PhD - General Psychology
Liberty University Online
AA - Psychology
BS - Psychology
* Note: Students are satisfied (as shown at GetEducated.com) with the Schools' online degree program.
Regent University
AA - Psychology
BS - Psychology
Saint Leo University
South University
Southern New Hampshire University
BA - Psychology, BA - Psychology - Child & Adolescent Dev
University of Maryland University College Online (UMUC).
* The school has received the "Best Buy" stamp (as shown in the image to the right) for this online program.
UMassOnline
Above are only ten among several other highly recognized universities. For those prospective students who are interested in one of the schools' degree programs, they should check with that school for more details (such as admission, tuition, requirements, etc.); otherwise, consider some of the reference links (at the end of the article) to help find the one right school and degree program in psychology.
Another top school and program in the spotlight is…
Walden University with several online degree programs in Psychology. Not only does the school provide a quality education, the Walden learning experience offers a unique approach to distance education. Go to their website for more information.
Job Outlook
Employment
"Employment of psychologists is expected to grow 12 percent from 2008 to 2018 … [In the past] educational institutions employed about 29 percent of psychologists in positions other than teaching, such as counseling, testing, research, and administration. About 21 percent were employed in health care, primarily in offices of mental health practitioners, hospitals, physicians' offices, and outpatient mental health and substance abuse centers. Government agencies at the State and local levels employed psychologists in correctional facilities, law enforcement, and other settings." [1]
Salary and Career Options
As pointed out from the GetEducated.com Web site, "the American Psychological Association surveyed masters-level members in 2009 and found an average salary of just under $60,000 for psychologists." [2] For a more current median salary for people with jobs in psychology, consider checking out the U.S. Bureau of Labor Statistics (BLS) website. It will also provide students with psychology career options, such as for people wishing to do clinical work and counseling.
References Section
[1] U.S. Bureau of Labor Statistics (BLS) - Psychologists
[2] Get Educated, Vicky Phillips - Online Masters Psychology: Best Salaries, Careers and Jobs
Ranking of U.S. Undergraduate Psychology Programs: https://www.socialpsychology.org/gunder.htm
Psychology Colleges - Psychology Schools: https://www.allpsychologycareers.com/psychology-colleges.html
Careers in Psychology, Psychologist Jobs, and Career Information: https://www.careeroverview.com/psychology-careers.html
Image: Get Educated - Online Degrees in Psychology: Top Best Online Colleges - Affordability Rankings
This post is part of the series: Online Psychology Degrees
Here we cover all of the many kinds of online psychology degrees available to the online learner.