Online Degrees for EMTs: BS Degrees in Health System Management and HealthCare Informatics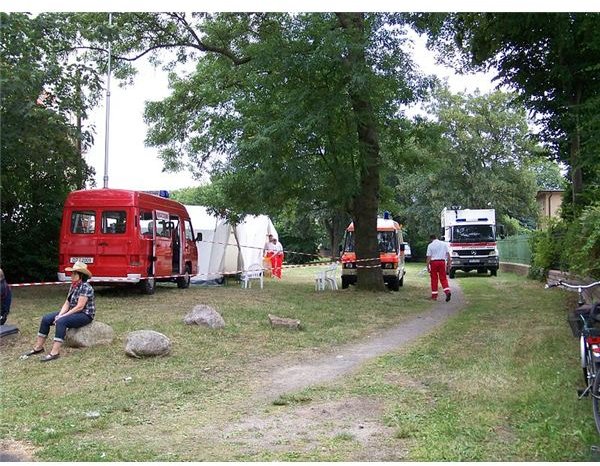 Harnessing Online Education
It is predicted that a lot of health related career advancements will be opened for EMTs or paramedic professionals. Those that are most likely forecasted to land the jobs are the degree or certificate holders. Learn what online degrees are available and which individuals with well-rounded experience in the field of healthcare can participate without the need of discontinuing a present job.
BS Health Systems Management
In taking up an online degree in BS Health Systems Management, one's background and expertise as an EMT will be enhanced by additional knowledge in health care management, health care law, health policies, epidemiology, risk management, accounting and upper-level courses that deal with health management.
Nonetheless, the online courses are also open to undergraduate students who have completed the general education requirements with the average grade required by the institution you will be enrolling in. General education here includes English, math, oral communication, literature, philosophy, social science, biology, physical science, and computer literacy.
Examples of universities offering BS Health Systems Management online are:
Globe University/Minnesota School of Business - formerly known as Globe College, which was founded in 1885. Its campus is located in Woodbury, Minnesota. The university is accredited by the Accrediting Council for Independent Colleges and Schools (ACICS), an accrediting agency duly recognized by the U.S. Department of Education and the Council for Higher Education Accreditation
The university is offering a distance learning program for a "Bachelor's Degree in Health Care Management" with a curriculum that covers U.S. health systems and health care management. There's a broad range of topics to be covered, which includes public, health, health care law and ethics, ambulatory and long-term care, health politics and policy and hospital administration:
Students are being provided with training and knowledge on how to act effectively as health care management administrators or as leaders of healthcare management teams. Studies include learning about policy development, problem solving exercises, and business communications.
Franklin University - This university is accredited by the North Central Association of Colleges and Schools and is located in Ohio. It boasts of an online virtual campus and has partnered with more than 250 community colleges in providing their students with continuing studies for bachelor's degrees online.
The degree offered here is called a BS in Health Care Information and Systems Management. The degree also aims to prepare the students to become effective leaders in the health care field. Emphasis is about training for leadership and team building, which is at pace with the current health care industry trends and ethics.
Franklin University offers a degree-completion program called "Allied Healthcare Management" for those with education and/or work experience in the field of health care. The program allows the transfer of 24 patient-care technical credits toward a bachelor's degree completion.
The following are the course offerings under the university's Allied Healthcare Management degree-completion program, although not all of these courses will be offered every trimester:
Healthcare Terminology (2 cr. hrs.)
Healthcare Management (4 cr. hrs.)
Healthcare Financial Management I and II (4 cr. hrs/ course)
Community Health (4 cr. hrs.)
Healthcare Informatics (4 cr. hrs.)
Healthcare Outcomes Management (4 cr. hrs.)
Legal Aspects of Healthcare Management (4 cr. hrs.)
Contemporary Issues in Healthcare Management (4 cr. hrs.)
Healthcare Management Capstone (4 cr. hrs.)
Independent Studies in Healthcare (1-4 cr. hrs.)
Bachelors of Science in Health Informatics
This online course combines knowledge in information technology, health care, and leadership skills to provide leaners with knowledge and proficiency in developing, designing, and managing health care informatics systems. The student will earn additional certificates for IT recognitions, CompTIA A+ and CIW Database Design Specialist, which are incorporated in the degree's tuition fees. Below are some of the universities to check out:
Western Governors University - is NCATE and CCNE accredited and enjoys the reputation of being a recipient of USDLA's "Best Practices in Distance Learning Award".

The university offers courses that are provided via distance learning and are being offered to healthcare professionals interested in enhancing their IT skills for healthcare related information or to those who intend to make a career move in the field of healthcare informatics. They are likewise open to highly motivated individuals who wish to combine career and business expertise in the said field.
A student's progress will not be based on credit hours accumulated but by an assessment of the competency and skill in a particular subject area. They will be tasked to meet challenging tests and assignments as well as written papers to prove that he or she has acquired the required knowledge and skills. As learners, students will work out their study programs with mentors, including their schedules for competency assessment.
Admission requires a student to be at least a high school graduate or its equivalent. Passing the three-part WGU Readiness Assessment test is also required, since this is an online admission test to gauge the student's likelihood of completing the degree. Basic tuition is at $2,890 for every six-month term. Those who have extensive experience can have the advantage of shortening the course term from a 4-year course down to a three or two-year term; hence, they can expect to pay less.
Capella University - Accredited by the Higher Learning Commission of the North Central Association of Colleges and Schools. The university boasts of more than 29,200 online learners coming from all walks of life from the fifty U.S. states as well as from fifty-six other countries.
The university offers a bachelor's degree that aims to prepare the student with the use of technology in improving the quality of health care services. The objective of the exercises also aims to bring down the current health care costs. The course curriculum covers electronic information, systems management, integrity of data, security of information, and compliance with policy regulations.
However, the course is offered to students who are at least 24 years of age or older. The university's acceptance of students who are 23 years of age or under is subject to additional conditions that require:
(1) 90+ quarter credits/60+ semester credits
(2) Associates Degree or higher
OR
(3) Active Military Status
Employment Outlook
Career advancements and job opportunities are expected for people with online degrees for EMTs since there is a rising need to replace retiring health care workers and those who have been elevated to other positions. In addition, the U.S. immigration department is now imposing tougher immigration rules. The influx of foreign healthcare workers has slowed down, hence, creating a larger gap that needs to be filled in by local U.S. healthcare providers. Since degree earners and certificate holders are forecasted to be the obvious choices, the best thing is to be ready and prepared when an opportunity presents itself.
References