Inexpensive Online Graduate Degree Programs that are Nationally Accredited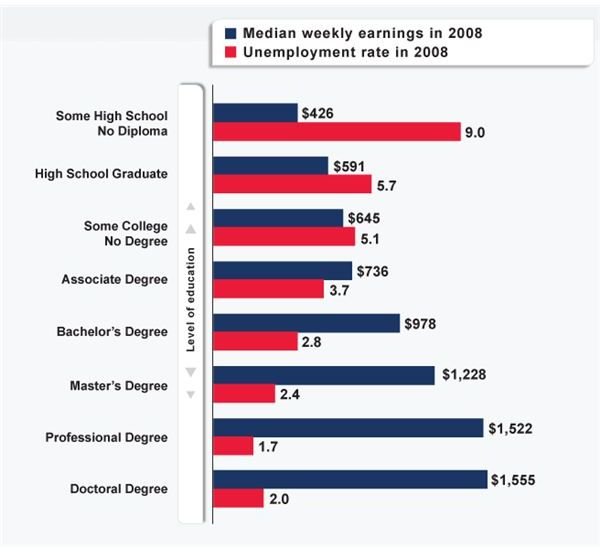 Advantages of an Online Degree
An online education can provide students the ability to go to school without giving up one's job, family, hobby, duties, or any other type of daily routine. The method of education is much the same, but requires self-discipline on part of the student that needs to dedicate enough time to his or her studies. Many students find the experience (of earning an online degree or taking online course) a great way to continue a higher education. The advantage of this type of education is that it is convenient and flexible for busy people.
For more information, see: What is Distance Learning and What Do I Need to Know?
Understanding Accreditation
Learning about Accreditation of Schools
Students interested in knowing more about accreditation will want to visit either the Council for Higher Education Accreditation (CHEA) Web site or the U.S. Department of Education Web site for detailed information concerning both national and regional accrediting institutions (and their recognized accreditors).
For more information, see: The FAQ's on Accreditation of Online Universities
National vs. Regional Accrediting Institutions
For detailed information, see: Regional Accreditation versus National Accreditation
Inexpensive Nationally Accredited Schools
Here is a list of schools that are affordable, are "Nationally Accredited Online Graduate Degree Programs," and are all currently accredited by the Distance Education and Training Council (DETC).
Listing of Schools
American Sentinel University offers low-cost tuition. The school has the following Master Degree programs:
Master's Technology program has a tuition of $385 per credit hour.
MBA, MBA Healthcare & MSBI has a tuition of $420 per credit hour.
MSN has a tuition of $410 per credit hour.
Note: The indicated prices do not include books or other course/program fees. If needed, the school offers financial aid and assistance support for students. There are a total number of 36 credit hours to earn the degree (for all programs).
California Coast University offers Tuition Payment Plans as well as Military Tuition Rates. The school has the following Master Degree programs:
M.B.A.
M.B.A. Human Resource Management
M.B.A. Management
M.B.A. Business Marketing
M.S. Psychology
M.Ed. Curriculum and Instruction
M.Ed Administration
Tuition Rates for Graduates:
- U.S. Students will pay $230.00 per unit. Each course is 3 units, so that equals $690.00 (per course).
- International / Outside the U.S. students will pay $260.00 per unit. Each course is 3 units, so that equals $780.00 (per course).
Grantham University offers both financial aid and scholarships for students. The school is "[i]ncluded in the Top 20 Military-Friendly Colleges & Institutions by Military Advanced Education." [1] The school has the following Master Degree programs:
MBA General
MBA Information Management
MBA Project Management
MS - Health Systems Management
MHA - Master of Healthcare Administration
Master of Science IM - PM
Master of Science Information Management Tech
Master of Science Information Technology
Tuition Rates for Graduates:
- Standard rate is $265/credit hour
- Military and DoD Employee rate is $250/credit hour
Paying for School
Students who find it hard to find the right school with the right price may want to see: Ideas for How to Pay for College Online
Advice: Finding ways to help cut the cost of tuition is smart; something that many students (who are on a budget or not) do. Students are encouraged to apply for financial support, if it's needed. Not all students will receive financial assistance, but they won't know for certain, if they don't try!
Avoiding Scam Schools and Programs
Here are a few checks a student must do in order to find the right school and the right program (for your money) on the Internet:
Check Accreditation of the School
Check Credibility of the School
Check Program and Payment Plans of the School
Tips: Students must take their time when searching the Web and finding a school. They also need to look over the school's background, characteristics, and popularity, etc.
For more information regarding education scams, see: Avoid Education Scams
Job Outlook
More Education = More Job Opportunities
More times than not, earning a higher education may help people find better jobs or positions, as well as lead to making more money for themselves.
According to a BLS report, Occupational Projections and Training Data, 2006-07 Edition, "Between 2004 and 2014, the fastest percentage growth in new jobs, 19.0 percent, will go to those with a bachelor's degree or higher education …" [2]
More Education = More Money
According to the U.S. Bureau of Labor Statistics (BLS), on the average, people who earn a higher education will earn higher earnings as well be less likely to become unemployed. These findings come from a 2008 BLS survey. The image (below) displays the results.
Sources, Schools and Useful Web Sites
Sources
[1] BrainTrack: https://www.braintrack.com/college/s/grantham-university
[2] PayScale: https://blogs.payscale.com/content/2007/01/does_higher_edu.html
Schools
American Sentinel University: https://www.americansentinel.edu/
California Coast University: https://www.calcoast.edu/CCU/
Grantham University: https://www.grantham.edu/
Useful Web Sites
eLearners: https://www.elearners.com/guide-to-online-education/regional-and-national-accreditation.asp
Online Graduate Certificate: https://www.universities.com/Distance_Learning/Certificates_Graduate_Certificate.html
The College Board: https://www.collegeboard.com/parents/csearch/know-the-options/21385.html