Pursing an Online Bachelor Degree in Web Design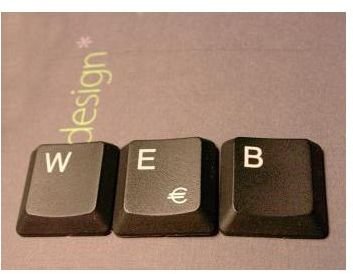 Online Web Design Degree
A bachelor of applied science degree in web design will augment the creativity and technical knowledge of a prospective student. The world of web design has specializations like graphic design, multimedia, and other related fields. Most multimedia designers offer clients web design and animation deliverables. The majority of the graduates in this field are working as video game designers, graphic designers, animators, or using multimedia features to create value in a business. Graphic designers generally take up work opportunities in places like advertising firms and design agencies.
Graphics and multimedia options are made by experienced web designers and then delivered to consumers who use them on their websites. An online bachelor degree in web design will train students not only in design but also in how to sell their deliverables to the right people. Apart from designing and marketing, students are also trained on technical aspects of web design. CSS, HTML, and JavaScript coding languages, PERL and PHP dynamic scripting languages, and databases are also taught in detail in most bachelor courses. These courses provide students with leadership, management, communication, and critical thinking skills along with the technical and designing skills.
Most courses require students to specialize in either the coding or the designing field. However, it is also recommended for students to opt for modules that give a basic understanding of both the fields. Generally, most large corporations hire different individuals to work on the coding and designing of a project but the majority of freelancers would be required to do both. Earning an online bachelor degree in web design is an excellent education path that will help web designers find a job in the field.
Job Outlook and Salary Potential
If you are already working in the technology sector and are looking to build your skill set or increase earnings, consider web design. After completing the bachelor of applied science degree in web design, graduates would be able to work in design firms, corporate environments, advertising firms, and engineering companies. Read more about web design and development careers at "Different Web Design and Development Careers." Graduates also have the option of working on a freelance basis. According to the the U.S. Bureau of Labour Statistics, twenty-five percent of all graphic designers are self-employed.
According to the U.S. Department of Labour, employment opportunities in this field are growing at a much higher rate than most other fields. This is primarily because of the increasing importance of the Internet.
According to the Occupational Employment Statistics, the median annual salary for web designers was $42,400 in 2008 with most earning between $32,600 and $56,620. Computer system designers earn a median salary of $47,860, advertising firms and PR firms give 43,540, while newspaper and print publishers pay about $36,910.
According to the American Institute of Graphic Arts, the median salary for entry-level designers was $35,000 in 2008 while senior designers earned a median salary of $60,000. Freelancers have been reported to have a median salary of almost $57,000.
Please continue reading on page two for specific information on earning an online bachelor degree in web design.
Online Schools
The biggest advantage to an online bachelor degree in web design is the decrease in cost and time. The bachelor of applied science degree in web design can be attained online at a much lower cost and more quickly than many conventional universities. Moreover, these courses have been designed in a way that they are flexible in response to your needs. Some of the most popular online schools offering home study programs to learn web design are further discussed below.
American Intercontinental University (AIU) Online has designed a program to develop the imagination and creativity of students. The program trains students to work in the commercial world of design by honing their creativity and artistic ability along with polishing their technical skills and knowledge. Students can develop their skills in web design, Flash design, Digital artistry, Internet marketing design, and web production. The teaching staff includes faculty with real-world experience. The entry requirements include an A.S. or A.A. degree, completion of a minimum forty-eight credits in general education courses and forty-two credits in electives. The university is accredited by the Commission on Colleges of the Southern Association of Colleges and Schools.
The Art Institute of Pittsburgh has designed an online program to hone its students' artistic abilities along with technological skills. The course integrates topics related to video, audio, animation, text, data, and still images. The courses focus on website design, digital image manipulation, visual design, digital video, animation, digital audio, text, marketing, business, and project management. The entry requirements include a high school GPA of 2.0 or GED certificate with 225+. The institute is accredited by the Accrediting Council for Independent Colleges and Schools, which is recognized by the U.S. Department of Education.
Westwood College has designed its courses to integrate technology, design, and creativity. Learning starts from developing strategic website projects where the knowledge of JavaScript, HTML, PHP, HTTP, CSS, and ActionScript will be honed. The idea is to impart real-time knowledge and experience rather than textbook theory. Other modules include SEO, new media, and web marketing. The entry requirements include a high school diploma or GED certificate. Westwood College Online is accredited by the Accrediting Commission of Career Schools and Colleges of Technology.
Full Sail University is designed to balance techniques, programming, and coding with design. The modules include programming technologies like CSS, JavaScript, Flash, XML, XHTML, and ActionScript. For applicants applying to the university, the minimum requirements are a high school diploma or GED certificate.
The American Sentinel University is designed for those who would like to advance their career in the field of website making. The core of technology revolving around webpage structure, behavior, and styling is taught in the program. Design, coding, testing, and optimizing web graphics are also taught in the courses. Students graduating from this program will be able to sit for the CIW Site Designer Certification. The university of accredited by the Accrediting Commission of the Distance Education and Training Accrediting Commission of the Distance Education and Training Council. For applicants applying to the university, the minimum requirements are a high school diploma or GED certificate.
The Future of Web Design Degrees
The future of web design graduates is definitely bright. As days pass, more and more things are becoming virtual. Thus, the need of website development and design will only increase. The growing dependence on the Internet surely guarantees a demand for graduates in web design. Competition among graduates for positions can be harsh, but the web design industry is sure to boom, and pursuing a degree from schools with home study programs to learn web design is sure to be an advantage.
Sources
Occupational Employment Statistics: https://www.bls.gov/oes/
Web Design Glossary: /internet/web-development/articles/25605.aspx