Colleges with Italian Degrees and Studies Online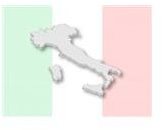 Facts About Italy
As you may know, Italian is a romantic language, and Italy is a country rich in history, culture, and art. It is also known for its high fashion, auto design, architecture, music, and cuisine. For more information on Italy, Bright Hub has a few articles that may be of interest to you. (See Reference Section.)
See it, learn it, and speak it.
Why Italian Studies?
The near-perfect knowledge of a foreign language and culture is a valuable asset in today's global economy. Italian is a lovely language to learn, know, and share.
A bachelor's degree in Italian can be extremely helpful if planning to work for a company with business interest in Italy (whether it's physically present in Italy or has Italian firms as a customer).
This degree can also help secure a teaching position, a job in government with foreign language requirements, or work as a translator.
Italian Degree Programs
Charter Oak State College
Students can earn a bachelors degree with a concentration in foreign language from Charter Oak State College.
Requirements include:
- Must be 16 year of age or older,
- Possess a minimum of 9 acceptable college-level credits
- Computer with required features
- Computer skills
Offers portfolio assessment

120 credits needed to graduate

Asynchronous courses

Residency is established with only a 3-credit capstone experience

Tuition is $236 per credit per residents of CT; $310 for non-resident as of 2011

Regionally accredited by The New England Association of Schools and Colleges

Offers special conditions to active duty military and spouses
For information about the schools, visit their website:
Online Italian Courses:
Online language courses to be transferred to both programs are also rare to be found. However, the following universities do offer Italian language courses online or through correspondence courses:
University of Arizona Outreach College: https://outreachcollege.arizona.edu/corresp/hs_courses.html#ital

Allan Hancock College: https://www.hancockcollege.edu/Default.asp?Page=828

College of San Mateo: https://www.smccd.net/accounts/csmla/foreign.html#italian
Alternative option: To choose an on-campus education. (Check here: https://www.universities.com/edu/Bachelor_degrees_in_Italian_Studies.html)
Benefits of Getting the Degree Online
Getting a foreign language degree online is a rare possibility offered to students as normally language study requires practice, listening, and speaking.
Getting the degree online, however, helps when the student is unable to attend traditional classes and has enough self-discipline to find alternative ways to gain the practice needed to learn a new language.
Advice: Do learn Italian at the undergraduate level, and if you enjoy studying the language why not continue on at postgraduate level. This will likely increase employment opportunities. And, to improve your Italian Studies, students can always decide on a Degree in Italian Language and Literature as well.
Job Outlook
Foreign language teachers or bilingual teachers continue to be in high demand. Students with competency in Italian could be able to apply for specific jobs in the military or be able to join the Foreign Service. According to the Occupational Handbook, individuals classified as language specialists for the Federal Government earned an average of at least $76,287 annually.
Translating is also a great career for students with an online bachelor's degree in Italian. According to the Occupational Handbook, there is still a strong demand for Italian translators. Projected employment is supposed to rise by 24% in 2016. And, the median hourly earning is over $17.10.
Italian Language Information
Read More About It In BH:
Image: Guide to the Italian Language
.
References
This post is part of the series: Italian Studies
Having a degree in Italian is fun and rewarding. Besides Italy being a beautiful country, Italian is a lovely romantic language to learn, know, and share.