Online CPR/AED Certification: Is Online CRP Certification Valid?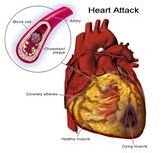 Why Go After a CPR Certification Online or In Person?
Signing up for an online CPR/AED certification course prepares you, if you run across an emergency situation where someone is having a heart attack; you may have a chance to save a life. Cardiac arrest is coming very close to being the leading death of Americans. There are an estimated two and half MILLION heart attacks every year. People who experience heart attacks and receive CPR immediately, double their chances from a 20% survival rate to a 40% survival rate. You can be the person to give another human a chance to live. Stressful, sure; but you might feel pretty good, right? I'm also sure the person you performed CPR on will greatly appreciate you saving their live as well.
How Does Death Occur From a Heart Attack?
As soon as your heart stops, blood filled with oxygen on its way to your brain immediately stops. This is not good. You have about 8-10 minutes to avoid complete brain death.
What Type of Online CPR/AED Certification Course is Provided and How Much is It?
Prices will vary for the CPR certification online or the online CPR/AED certification program. I saw programs as low as $19.99 and some that went up to $35.00. The classes are taught through streaming video that you can pause at any time and access 24/7. Most of your classes will teach CPR techniques and also AED (automated external defibrillator) use, which is the electronic shocker device that has doctors yell "clear" and give you a nice little jolt of electricity to get your heart going.
Some of the online classes you can expect to take are:
Introduction
Good Samaritan Laws
Recognizing Emergencies
Deciding to Act (CPR)
Chain of Survival
Universal Precautions
CPR on Adults
CPR on Children
CPR on Infants
Recovery Positions
Conscious Choking
Unconscious Choking
AED
There is no official "Accreditation" but most CPR certification agencies follow the recommendations of the American Red Cross and American Heart Association for CPR and AED techniques
There are also hybrid programs that offer online classes but have you physically attend a session where you can bring your crash test dummy back to life after you have gone through your previous classes. Be sure to know what will be the required option for you, if you are doing this as part of your job certification.
Testing and Online CPR/AED Certification
You will take your test online and if you pass, you can immediately print out a temporary CPR certification card or your CPR/AED certification card. The agency will also mail out your official card you can keep in your wallet or provide to your employer if needed. Now go out there and save some lives, people!