How Much Does a Master Degree Cost? More Than Just the Tuition!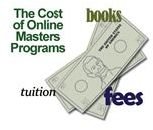 It Costs How Much?!
In this part of the series dedicated to comparing online masters programs, the issue of cost is examined. Cost is an important consideration for virtually every student and is of critical importance in comparing masters programs. However, the actual cost of a program is not always readily apparent because every school has its own way of listing charges. In order to conduct a full and correct comparison of online masters programs, it is critical to determine the full cost of completing each of the degrees in question.
More Than Tuition
It is a mistake to confuse tuition with the price of a particular academic program because there is almost always more than tuition required to complete a course of study. True cost comparisons meticulously account for all of the costs a student will incur in the process of completing the degree programs. This takes a concerted effort because schools rarely list a grand total for any program. Therefore, students that want to get an accurate total for an academic program include not only college tuition costs but also include:
Book and Special Course Fees
Residency Requirement Costs
Hardware/Software Costs
Books and Special Course Fees
Online education involves the use of virtual classrooms, virtual presentations and in some cases the use of virtual books. Some schools list the cost of the e-books as part of the tuition but students should not assume that is the case. Other schools may require traditional paper books. In every situation, students will need to scrupulously examine all elements of the program and identify each fee for which they are accountable. This effort is important for identifying fees that may not be clear such as "Special Course Fees," "Online Resource Fees" or "Testing Fees." Not each school imposes such fees but it is a good practice to verify that fact rather than make a potentially costly assumption.
Residency Requirements
Some degree programs include periods of residency that impose additional expenditures and raise the total cost of the program. Residencies may last days or sometimes weeks. The length, number and distance that must be traveled to reach the residency location must be included in the calculations. Lodging, travel and any other expenses involved in a residency are the responsibility of the student and should be added into the total cost of the online masters course.
Hardware/Software
With online programs there is always a minimum technological requirement that may represent an additional cost for the student. The technological requirements include both hardware and software. These descriptions are not always comprehensive and may omit certain software titles that should be obtained by the student. A careful review of the class descriptions can usually provide clues regarding which software is required or may be extremely beneficial to have. As with other fees, it is incumbent on the student to identify all of the requirements and add the costs into the grand total.
Finding the Costs
Finding the true cost for each program is not always easy but the information is available to those who look for it. Often, a school website will not list the costs on a regular page but will provide the information in a searchable .pdf document such as a school catalog. Students that carefully account for all of the costs for the online masters program will conduct more accurate comparisons and avoid unpleasant and expensive surprises.
This post is part of the series: Finding the Best Online Masters Degree Program - For You
This series explores the costs, accreditation, admission requirements and length of online masters programs. Each area is examined in detail to help students create a method of comparing various programs. The comparison empowers students to find the course that best meets their specific needs.