List of State Colleges with Online Undergraduate Business Degree Programs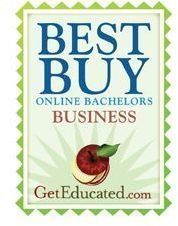 Why an Online Education?
With more and more state college students interested in e-learning, the method to teach education online has grown in popularity among schools.
Online education has its advantages over attending a traditional classroom setting. For instance, online education is a great way to take college courses from far away schools.
Online learning has its benefits… "Online education is truly about student convenience." [1]
Top-ranking and Affordable Online State Colleges
Here are a few affordable state colleges with online undergraduate business degree programs:
State University of New York (SUNY) at Binghamton tops the list of Kiplinger's 100 Best Values in Public Colleges 2009-10 for out-of-state rankings …" [2] Available degree program: The School of Management offers Bachelor of Science programs in accounting and management. Note: Online courses are offered during Winter and Summer sessions only. The Business Undergrad Degree Program core courses include: Financial Accounting, Financial Management, Organizational Behavior, and Introduction to Marketing.

Arizona State University (ASU) offers a Bachelor of Arts degree in business with a concentration in communication at an affordable price. "U.S. News and World Report ranks ASU in its top tier of U.S. universities, and Forbes considers ASU among America's best colleges." [3] ASU is listed by The Princeton Review as one of the "100 Best Colleges for 2010" (as presented by USA TODAY–Website: https://www.usatoday.com/news/education/best-value-colleges.htm). The school's Business Undergrad Degree Program has courses that will help their students utilize communications in the business world.

Colorado State University (CSU) offers a Bachelor's in Business Management. The school provides an affordable and convenient online education. For program details, visit the CSU-Global Campus Web site. Also, the school has a College of Business Undergrad Program in Business Administration, which students can choose between one of six concentrations: Accounting, Finance, Marketing, Real Estate, Computer Information Systems, and Organization and Innovation Management.
According to the "Best Buy" image, GetEducated.com says the following schools are worth looking into for an affordable undergraduate business degree online…
Fort Hays State University offers a Bachelor Business Administration
Thomas Edison State College offers a Bachelors of Science in Business Administration / General Management
SUNY Empire State College offers a Bachelor Science Business, Management, Economics/Business Administration
Rogers State University offers a Bachelor of Science Organizational Leadership
Charter Oak State College offers a Bachelor Business Administration
Dakota State University offers a Bachelor of Business Administration in Management of Information Systems
Note: The six schools listed above have the "Best Buy" stamp of an "A" rating.
For more Online State Colleges or Online Business Degrees, students may be interested in U.S. University Directory - State Universities and College Rankings Home Page (https://www.stateuniversity.com/). At this Web site, there is a great link called "Most Popular Schools by Program," which describes the business degree plan of study and provides its list of expected course subjects. Also, it suggests degree related majors as well as career possibilities.
Image Credit: Top Ranked Best Buy - Online Bachelors Degrees Business & Management
Job Outlook
According to PayScale, an undergraduate degree in business can earn a descent pay. A degree plan in International Business has a median pay of $42,600 and a mid-career median pay of $73,700, while a business degree plan is $41,100 and $70,600 (as listed by PayScale: https://www.payscale.com/best-colleges/degrees.asp).
Advice: An Associates Degree in Business is good, but a Bachelor's degree in Business is highly desirable for anyone wanting to be an asset in this competitive field.
List of Schools
Sources and References Section
[1] What is Online Education?: https://www.online-education.net/articles/general/what-is-online-education.html
[2] 10 Best Colleges For Out-of-State Students: https://www.onlineuniversities.com/rankings/10-best-colleges-for-out-of-state-students/
[3] About Arizona State University: https://schools.collegedegrees.com/forms/arizona-state-university/publisher/bestcollegesonline