Bright Hub's Review of Learn to Speak Italian v3.3 – Language Learning Software
Learn to Speak Italian v3.3
Learn to Speak Italian is a language learning application that is targeted toward beginners who are just starting their Italian language studies and more advanced students looking for supplemental learning aids.
The software package includes a conversational unit that teaches common words and phrases. These language bits are shown in text form, along with their English translation, in addition to being spoken. A dictionary that translates from both Italian to English and English to Italian is also part of the package. A third component, called the Reader Angel, allows users to input any block of text that they would like to hear spoken. This text can be manually typed into the reader or pasted in from other sources.
Installation (5 out of 5)
The download and installation of Learn to Speak Italian was typical, and no problems were encountered. The software is compatible with Windows versions 9x and higher, including Vista.
Ease of Use (4 out of 5)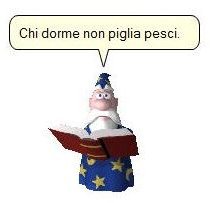 Learn to Speak Italian contains a number of separate components including a dictionary, reader, and a conversation kit that teaches common words and phrases.
While each of these individual modules of the software is easy to learn and use, there is no cohesive interface that links them together. That is, you have to run one application to use the dictionary, another one to use the reader, and so forth.
This may ease up the strain on system resources for those who only want to use one specific component, but it makes the package as a whole seem somewhat "clunky" and it can get annoying when you do want to access multiple modules.
Features (3 out of 5)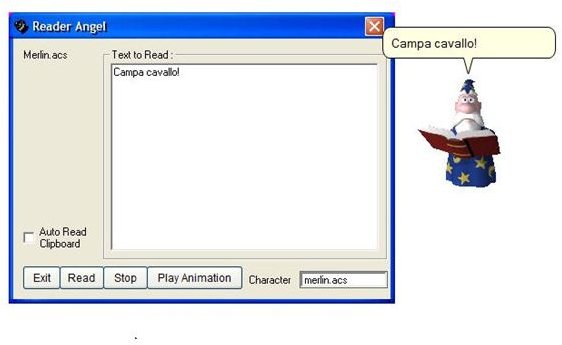 Learn to Speak Italian is definitely not lesson-based, and if you are looking for a more structured language course, it would be better to check into other options. However, this application may still serve a function as a supplement to other learning materials.
On the other hand, if you are just trying to get a feel for the Italian language or you are in the market for a desktop translator, the software does offer a number of benefits. In particular, the Reader Angel does a fairly good job when translating text to sound. So, if you have other text materials that aren't accompanied by audio files, they can be pasted into the Reader Angel interface and allow you to actually hear how the spoken language should sound.
Price to Value (4 out of 5)
The software package retails for $29.95, much less than most other language learning applications. However, this is a fairly good trade off since other Italian language courses are generally more robust and have a more structured format. All in all, though, Learn to Speak Italian seems appropriately priced for the type of instruction it offers.
Overall Rating (4 out of 5)

While I definitely wouldn't recommend this application as a singular solution for those looking to immerse themselves in the study of the Italian language, I do feel that Learning to Speak Italian is a viable option for those wanting to just gain a familiarity with the language or students who are seeking supplemental materials for other texts and software packages.
On the plus side, the application is very lightweight so you won't have to worry about it taking up valuable system resources, especially if you want to run it in the background. If you're interested in trying it out for yourself, a free demo version is available.