Palm Island Dubai: UAE Land Reclamation Project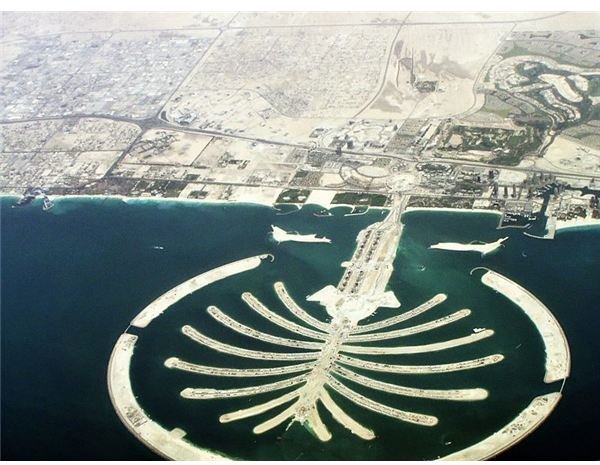 From Sea, Rocks, and Sand to Luxury Resort
The Palm Island Dubai is a series of three artificial islands that are often referred to as the Eighth Wonder of the World. They were
created to increase tourism to the United Arab Emirates by providing a one-of-a-kind destination for visitors. Each island will have a larger number of residential, leisure, and entertainment centers including world-class hotels and upscale services. The design of each of the three islands, Palm Jumeirah, Palm Jebel Ali, and Palm Deira, is in the shape of a palm tree with an encircling crescent. When complete, the islands will add approximately 520 kilometers of beach area to the city of Dubai.
The islands are being constructed by Nakheel Properties. This property developer in the Unitied Arab Emirates, hired Jan De Nul and Van Oord, two Belgian and Dutch dredging and marine contractors, to help them with the work. The first island, Palm Jumeirah, was started in June 2001. Palm Jumeirah includes two islands call Logo Islands. They will be the personal islands of the UAE Prime Minister. The final island, Palm Deira, was announced in October 2004.
The islands are comprised of rocks quarried in UAE and sand dredged from the bottom of the Persian Gulf. The rock is used in the encircling crescents or breakwaters. The breakwaters are meant to protect the islands from the gulf weather. Each rock of the breakwaters was placed individually by a crane in the appropriate location. The crescent of Palm Jumeirah, for example, contains over 7 tons of rocks. The crescent's surface is over 13 feet above low tide sea level and at its deepest point is anchored in 34 feet of water. One interesting feature of Palm Jumeirah is that the breakwater has two openings to allow water to completely circulate within the island complex every 13 days.
The Dubai palm islands themselves are constructed from ocean sand. The sand was sprayed by the dredging ships using Differential Global Position System (DGPS) into the correct area of the design. The spraying process used by the dredging ships is called rainbowing. The term rainbowing is used because the sand is spraying in a large arc. Palm Jumeirah is made from 3,257,212,970.389 cubic feet of sand which has been placed to within 0.39 of an inch of the correct location by using DGPS.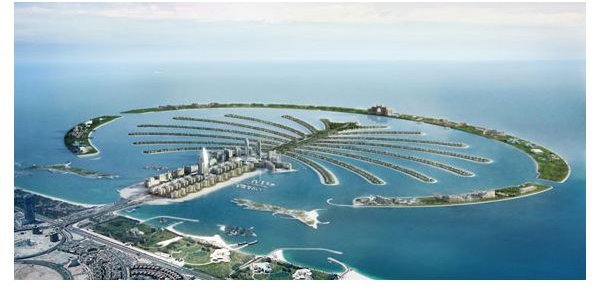 The first residents began to move to Palm Jumeirah at the end of 2006, which was five years after the original project began. Unfortunately, due to the current economic crisis, construction on the largest and final island, Palm Deira, has been stopped. The majority of the Deira Islands Front's reclamation had been completed when the project was stopped by the developer Nakheel in late 2008.
Although the Dubai palm island is not yet complete, it has already become the largest man-made attraction on the Earth. The island can even been viewed from space with the naked eye.
Reference, Image Credits
Palm Islands, Foundation World
Dubai's Palm Islands – The Eighth Wonder, Advocates for Mammoth
Dubai Palm Jumeirah, Tour Dubai
Palm Islands, Dubai City
Image credits: wikimedia.org, palmjumeirah.ae