About Tudorbethan Architecture: Subset of Tudor Revival Architecture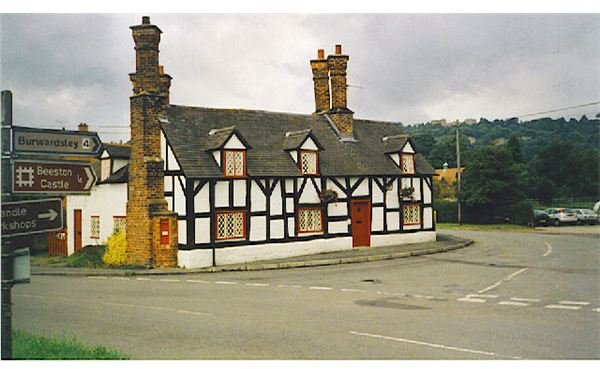 The Tudorbethan style is a subset of Tutod Revival architecture. One of the reasons that people find it appealing is that it has a distinctive warmth and character that may often be missing in the blandness of modern structures. It opens the door to the nostalgic and romanticized past.
Of course, as with most styles, it has been overdone or poorly done in many cases, leading to a caricature of itself. But some good examples of Tudorbethan architecture include the Ascott House in Buckinghamshire (designed by George Devey for the Rothschild family) and the English Country homes designed by Edwin Lutyens. In the latter case, the houses often came with gardens designed by the garden designer Gertrude Jekyll (yes, sister of the Reverend Walter Jekyll, whose surname inspired that of the character in R. L. Stevenson's novel Dr. Jekyll and Mr. Hyde), creating some outstandingly attractive dwellings. Of course the Lutyens-Jekyll partnership produced designs that were actually more personalized than anything Merrie England ever knew, but they have a special vernacular feel for all that.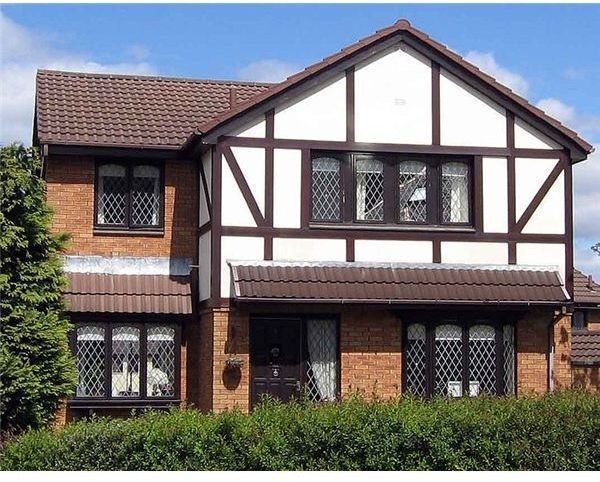 Tudorbethan architecture is a style of architecture that became popular in the United Kingdom in the mid to late nineteenth century and then found a following in other parts of the world as well, particularly in the United States, Canada, New Zealand, and Singapore. Although mostly eclipsed by modern architecture in the present age, Tudorbethan architecture still finds adherents for its rustic, old-world charm.
The Tudorbethan architectural style is derived from a combination of architectural styles adapted from the Tudor, Elizabethan and Jacobean periods. Hence the name Tudorbethan; it has also been called Mock Tudor. The style evolved as a result of the Art and Crafts Movement that arose in reaction to the mass production trend of the Industrial Age. The designer William Morris and the architects Norman Shaw, George Devey, Mackey Hugh Baillie Scott, Blair Imrie, and Edwin Lutyens were particular proponents of the Tudorbethan style.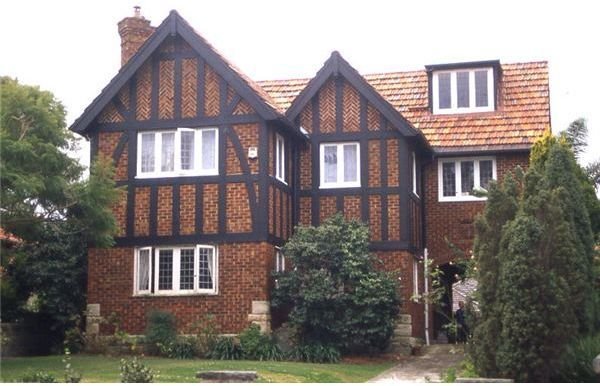 Disctinctive features of the Tudorbethan style include:
Gabled, steeply sloping roofs that are either slate-covered or thatched.
High decorative chimneys.
Timber-framed structures like in the original Tudor buildings, except, in Tudorbethan structures, the exterior frames and beam ceilings are no longer load-bearing and are installed purely for decoration purposes. Artificially aged wood or wooden boards are used, but plastic made to look like wood or bricks painted to give a similar effect are also commonly used and make maintenance a lot easier. The frames and beams may be stained black, although blue and green frames are also quite popular in modern times.
Herringbone pattern walls in bricks or blocks in between the timber-frames.
Sand or ivory colored exterior walls.
Windows that are tall and mullioned.
Pillared porches with overhanging first floors.
Cozy and quaint interiors with a dining room or sitting room taking the place of the great hall of the original Tudor style.
Larger, airier rooms as compared to the ones found in original Tudor cottages.
Eye-catching stairway or stairways.
Inglenook fireplaces, albeit large ones with artificial fires these days.
References