Fundamentals of Dump Trucks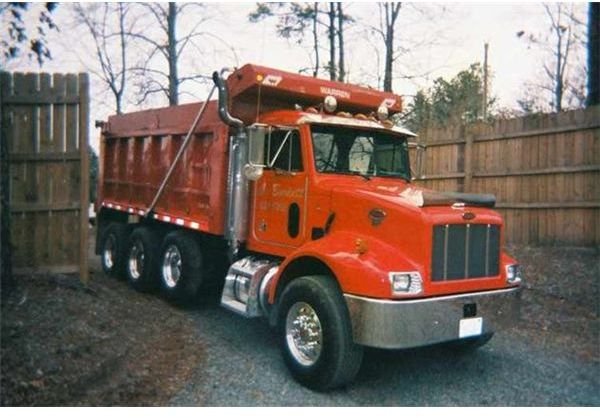 Characteristics Of A Dump Truck
A dump truck is a vehicle that is used for the transportation of varied material like dirt, sand, or gravel, etc. The truck was initially envisaged during the first quarter of the 20th century by attaching a box to a flat bed automobile. The lifting arrangement included a winch that was connected with a cable. This cable moved over a pulley. The cable was coupled with the box front end, and pivoted at the rear of the truck. The box was lowered by turning a crank. A normal dump truck of the present era has a hydraulically operated open body pivoted at the rear. The front of this body can be raised to permit the load to be placed on the ground at the rear. Hoisting kits for conversion of flatbed trucks have been developed that can convert normal trucks into hydraulic dump trucks. It is a simple kit that can raise the bed by using a hydraulic pump. The bumper is welded to the rear hinges.
Configuration Of A Dump Truck
There are numerous dump truck designs. However, the essential mechanism of the dump trucks is almost similar. The truck body is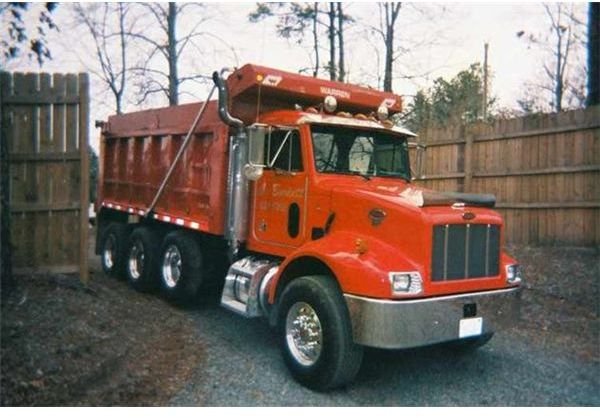 normally similar to a flatbed vehicle. There is one axle below the cab, and one, two, or three axles under the box. There is a hinged tailgate that opens mechanically during the dumping operation. The truck has a gasoline or a diesel engine. The engine has significant power to accept the load. Modern dump trucks operate hydraulically. A normal dump truck has a complete chassis with a dump body that is supported on a frame. The dump body can be lifted by a hydraulic mechanism that is mounted at the front, between the dump body and the cab. A short wheelbase increases the maneuverability of the dump trucks. The axles at the rear are powered, while the front axle is used for steering purposes. The intermediary axles support the weight of the truck.
Lifting System
The truck lifting system pivots the body rearward, or towards the front, for the unloading of the contents in the body. The machinery includes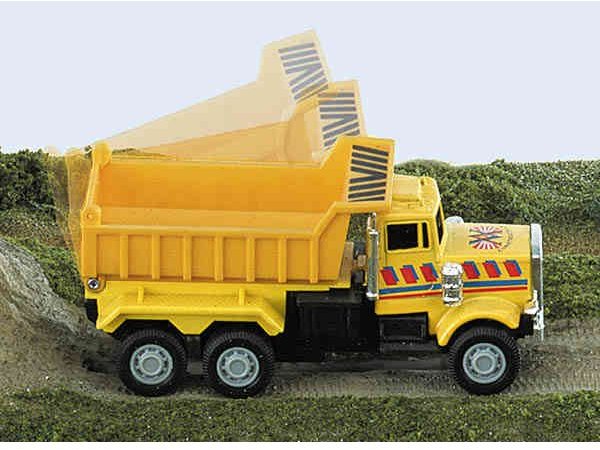 the lift arm mounted pivotally on the hoist frame and connected with the body. A hydraulic cylinder connects the hoist frame and the lift arm. During lowering, the hydraulic liquid is released gradually, allowing the box to return to its original position. Power for the hydraulic system is obtained from the truck transmission. Thus, the box will usually not operate if the truck is not running. Power is transmitted from the transmission to the hydraulic lifting system by the power take-off, also known as the PTO. It is a driveshaft that is connected to the transmission box and delivers power to the pump.
Limits of Lifting
The dumping operation has to be performed within some design limits, including the height of lifting, and the speed during the raising and lowering. The load weight, its distribution in the body, and the capacity of hydraulic cylinders will restrict the maximum lifting height of the box. The hydraulic systems are designed to attain specific heights. Furthermore, the speed for raising and lowering the dump box is determined by the hydraulic system's power. The downward speed is controlled by the use of regulator valves to prevent sudden falling of the dump box