Great People, Biography and History - Engineers - Nathaniel Wyeth, 2-litre Soda Bottle Inventor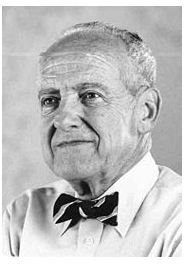 Nathaniel C Wyeth

Childhood
Nathaniel C. Wyeth was born Newel C. Wyeth in Chadds Ford, Maine. His first name was changed to Nathaniel when he was 10. Born into a highly intelligent and creative family, Wyeth showed great potential as an engineering student, graduating with bachelors and masters degrees from the University of Pennsylvania.
Loyal to Company
Wyeth went to work for DuPont in 1936 as a field engineer. He was later an assistant laboratory director, and was named DuPont's first engineering fellow in 1963. Then, 12 years later, he was named DuPont's first senior engineering fellow, DuPont's highest technical position. In 1976 he retired and went to work as a consultant with DuPont's College Relations Section.
The Invention
In the mid 1970s, Wyeth created the biaxially oriented polyethylene terephthalate (PET) bottle, also known as the plastic soda bottle. It quickly became the standard for two litre soda bottles, then became ubiquitous in other sizes and for other liquid products, too. The reason the PET bottle revolutionized the packaging of carbonated beverages was that it was extremely lightweight, virtually unbreakable, stood up to pressurized liquids, and did not chemically contaminate the bottle's contents.
Wyeth was also the inventor of the stretch blow molding process, which is a method of making a plastic container from a pre-form that is stretched in all dimensions into its desired shape. It can be used with many types of plastics, including PET.
Unbelievable Popularity
In 1977, the U.S. production of PET bottles was negligible, but within three years, it grew to 2.5 billion containers, making the glass container for many sizes of soda obsolete. By 1985, U.S. soft drink bottles alone accounted for 5.5 billion PET bottles. The invention of the PET bottle earned Wyeth the 1981 International Award for Outstanding Achievement from the Society of Plastics Engineers, and by 1986 he had been elected to the Hall of Fame of the Society of the Plastics Industry.
Other Interests
But Wyeth's accomplishments included much more than just the plastic soda bottle. All told, he was inventor or co-inventor of 25 products and processes. These inventions were in the fields of plastics, electronics, textile fibers, and mechanical systems. Most of Wyeth's inventions were designs that sped up production, or made production less costly and/or more efficient. Wyeth's career covered the development of polymer processing equipment, synthetic textiles, foamed plastic wire coating, a plastic aerosol valve, a process for bonding non-woven polypropylene sheets, and the development of a process to manufacture plastic parts to replace some sheet metal in automobiles.
Wyeth Honors
Wyeth earned a number of professional honors throughout his career. He was a Fellow of the American Society of Mechanical Engineers, a member of Pi Tau Sigma, the mechanical engineering honor society, and was honored by the Society of Professional Engineers (SPE) in 1981 for Outstanding Achievements in Engineering and Technology. In 1986 he received the SPE's International Award.
Unfortunately, Nathaniel C. Wyeth had a stroke in 1989, and died in 1990 at the age of 78.